Government must deal harshly with those who support Israel, otherwise the people know how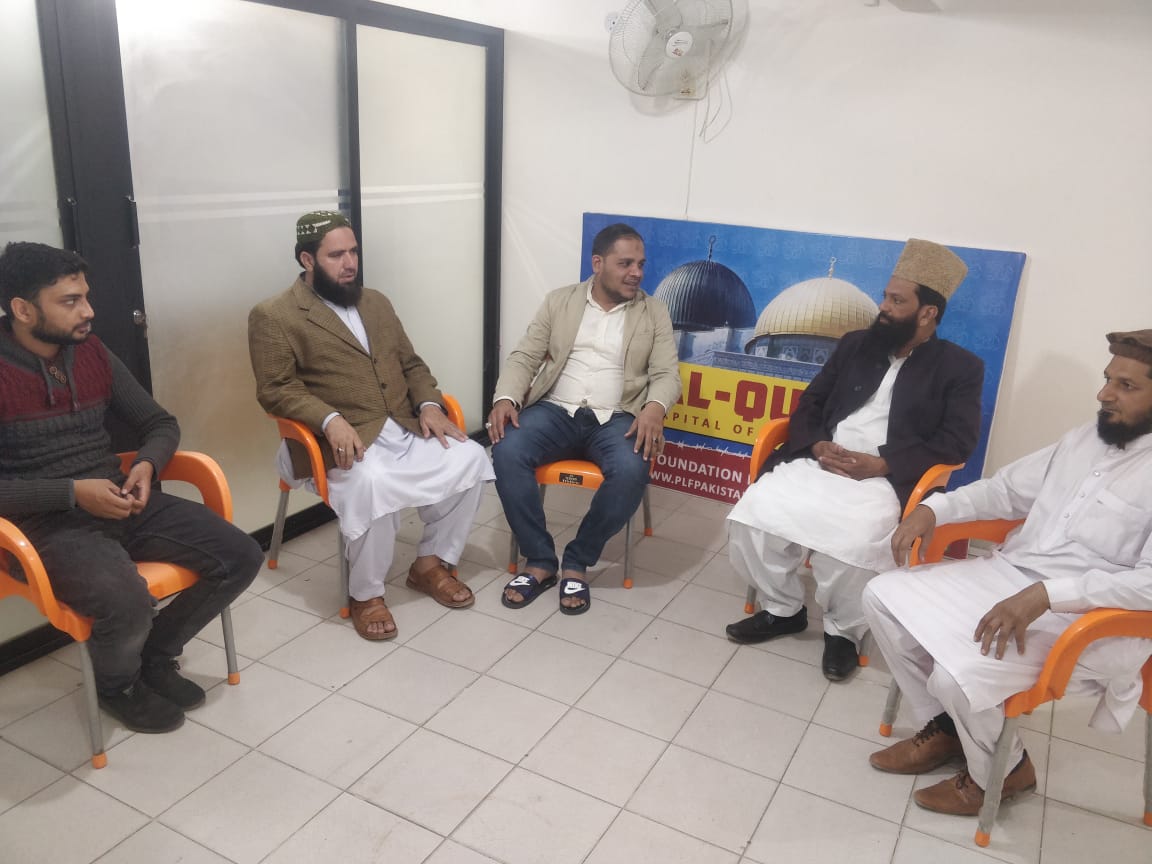 Karachi (PNIC): Allama Qazi Ahmad Noorani Siddiqui was welcomed at the office of Quds News Agency by Dr. Sabir Abu Maryam, Central Secretary General of Palestine Foundation Pakistan. He appreciated Quds daily for broadcasting Urdu news related to Palestine in Pakistani society.
Allama Qazi Ahmad Noorani Siddiqui, a central leader of Jamiat Ulema-e-Pakistan, has said that supporting Israel and speaking in its favor is in fact an insult to Pakistan's ideology. He said that there were great concern and anger in the religious circles of Pakistan over the issue of surrender to Israel. Recently, some journalist elements have made statements in support of Israel, proving that the Zionist lobby in Pakistan is buying people and getting them to support Israel.
Allama Qazi Ahmad Noorani said that the history of Palestine is bright and even in this history for thousands of years there was no state called Israel. He said that in 1948, British colonialism and the United States, through collusion, established a fake state on the land of Palestine called Israel, which today is not only engaged in shedding the blood of Palestinians but also poses a threat to the world peace.
Allama Qazi Ahmad Noorani said that Pakistan has a long-standing relationship with Palestine. The people of Pakistan have a relationship with the Palestinians that can never be broken. He also demanded that the Prime Minister take a firm stand against Israel. Pakistan's position should be the same as that of Quaid-e-Azam Muhammad Ali Jinnah. The Quaid-e-Azam had called Israel an illegitimate child of the United States, meaning that Israel is a fake state, but in no case can Israel be recognized. Palestine belongs to the Palestinians, and to talk of Palestine on the 1967 borders is tantamount to relinquishing Palestinian rights and turning away from the Quaid-e-Azam.
He further said that the workers of Jamiat Ulema-e-Pakistan should be vigilant across the country and keep a close eye on those who raise their voices in support of Israel. He said the government should deal harshly with Israel's supporters, otherwise, the people themselves would know how to deal with them. Referring to the black sheep in the journalistic community, he said that these few black sheep are not the spokespersons of Pakistan whose sole purpose is to salt the US dollars. He said that every child of Pakistan is with Palestine. He demanded that the government take stern action against those who spoke in favor of Israel and India and set a precedent by punishing these elements severely.