Government of Pakistan and senior religious leadership should declare their support to Intifada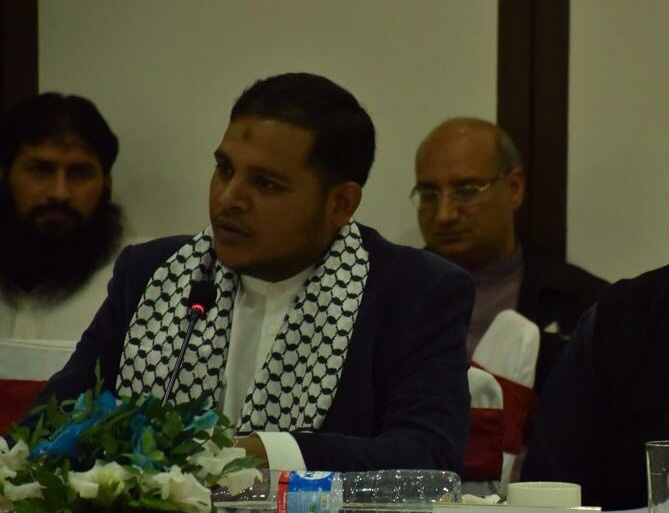 Sabir Abu Maryam's address to Milli Yakjehti Council's summit session Central Secretary General of Palestine Foundation Pakistan Sabir Abu Maryam participated in the All-parties summit meeting organized by Milli Yakjehti Council in Islamabad. All, big or small, religious parties of Pakistan
participated in the conference that was chaired by central President of Jamiat e Ulema e Pakistan Dr. Sahibzada Abul Khair Zubair. Ameer of Jamat e Islami Pakistan Senator Siraj ul Haq, Secretary General Liaqat Baloch, MWM Pakistan's Deputy Secretary General Allama Ameen Shahidi, Ameer of Jamat ud Dawa'a Hafiz Muhammad Saeed, senior leader of Jamiat e Ulema e Islam (F) Haifz Amjad Khan, leader of Islami Tehreek Pakistan Allama Arif Wahidi, renowned Islamic scholar Allama Saqib Akbar, Professor Abdul Rahman Makki, Peer Mahfooz Mashhadi, Allama Muhammad Khan Laghari, Allama Abdul Ghaffar Rohri, Hafiz Akif Saeed, Peer Abdul Raheem, Dr. Muhammad Ameen, Qazi Zafar ul Haq, Abdul Rasheed Turabi, Professor Ibrahim, Nazeer Janjua, Abdullah Gul, Naeem Qureshi, Sabir Abu Maryam and others were also present during the meeting.
It should be clear that more than 150 Ulema and religious scholars of Pakistan's 28 religious organizations were present there.
Central Secretary General of Palestine Foundation Pakistan said "Secular conduct of rulers of Pakistan shows that senior religious leadership of the country did not perform its responsibilities well due to which the whole country has been facing the consequences today". While talking about the topic he said "the US and Israel are the sole reason for all problems of Muslims and Muslim countries all over the world, including Pakistan. Prime Minister of an Islamic state like Pakistan is now talking about making the country a secular state". He further said that no one should be doubted about the involvement of US and Zionist forces in such planning and statements.
While talking about the current situation of occupied Palestine central leader of Palestine Foundation Pakistan said "although indifference of international community is really sad but even Muslim Ummah did not play the role it should have played for the defense of first Qibla, with Palestinians. He questioned senior religious leadership of Pakistan that did oppressed people of Palestine and Kashmir ever asked them for financial aid? Or ever asked for arms? They never asked for any such support then why have we left all our responsibilities and not give importance to Palestine issue? He further said "US and Zionist forces are involved in all conspiracies from Palestine to Pakistan and has not only effected Palestine but also Syria, Lebanon, Iraq, Afghanistan, Libya, Tunis, Egypt, Jordan, Nigeria, Sudan, Middle Eastern states, Pakistan and occupied Kashmir".
He also stated that Zionist forces have nourished the formula of dividing the nation in Pakistan. Many anti-Pakistan and anti-Islam schemes had been planned in US Consulates in Pakistan and they were also linked to Israel.
Sabir Abu Maryam said "Palestine is the country of Palestinians and Islamic leadership of the whole world, including that of Pakistan, should support Palestinians. Although people of Palestine do not demand us to support them but being a Muslim it is our religious and moral responsibility to continue supporting oppressed Palestinians both politically and morally. According to the saying of Last Prophet (PBUH), Muslims are like a human body and if a part of the body gets hurt the whole body feels the pain but sadly, we have been so involved in our internal issues that we do not have time to consider the issues of Ummah. For this very purpose, Zionist forces created problems in our countries so that we would not be able to struggle for the independence of Bait ul Muqaddas. It was for securing Israel's interests that Daesh and other such groups were established in the Muslim world. The most shameful is the fact that Arab and gulf countries of west Asia have been equally participating in such crimes".
In the end, Sabir Abu Maryam demanded the religious leadership of Pakistan to declare support for Intifada and demand the government of Pakistan to raise this issue on international level. Al leaders of religious parties present in the meeting agreed to Sabir Abu Maryam's resolution, condemned Israeli oppression and announced support for Intifada and demanded the government of Pakistan to do the same.
Pakistani journalists stand against normalisation of Arab-Israel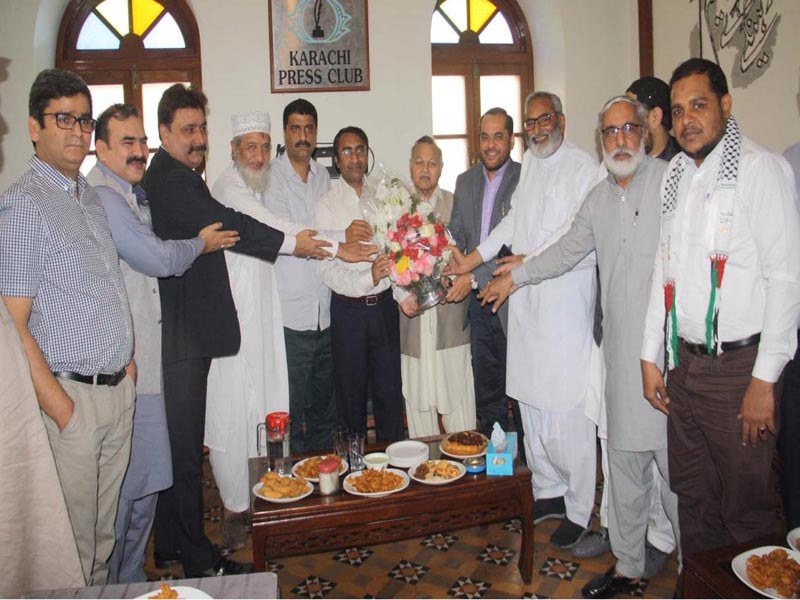 KARACHI (PNIC): Pakistani Journalists community categorically condemn normalisation of Arab-Israel and pressure on Pakistan to normalisation with Zionist's Fake regime Israel. In a meeting with Palestine Foundation Pakistan's delegation at Karachi Press Club on Wednesday Secretary of Karachi Press Club Expresses fully support and solidarity with oppressed nation of Occupied Palestine.
A delegation of Palestine Foundation Pakistan led by Guardian Council Member Former MP Muhammad Hussain Mehanti net with newly elected secretary and members of governing body of Karachi Press Club and congratulated them. Among the delegation, Muslim Parvez of Jamat-e-Islami, former MP Mahfooz Yar Khan of MQM-Pak, senior leader of Pakistan Tahreek Insaf (PTI) Israr Abbasi, additional advocate General Syed Arshad Naqvi of PPP, Pirzada Azher Ali Hamdani, Qazi Zahid Hussain of PMLN, Syed Shabbar Raza of Jafaria Alliance Pakistan, Rai Nasir Ali of NPCIH and Sabir Abu Maryam of Secretary General Palestine Foundation Pakistan were present.
Secretary of Karachi Press Club (KPC) Arman Sabir and Vice President Saeed Sarbazi expresses their views in support and solidarity with Palestine and they strongly condemn the Government foreign policy which soft corner for Zionist Israel in recent wave of normalisation.
We don't care if all world can accept Israel but we never abandon our oppressed people of Palestine and never abandon the ideology of father of the nation Muhammad Ali Jinnah who categorically rejected creation of zionst's fake regime of Israel and leave his foot prints for Pakistani nation to not recognise or normalise with Zionist's Fake regime Israel.
At this movement they announced full of their solidarity and support for all oppressed nations in the world including Palestine, Kashmir, Rohingiya and others.
During the meeting Sabir Abu Maryam briefed all of them about the creation of Palestine Foundation Pakistan and aims and objectives with ten years local and international achievements.
KPC governing body assured fully cooperation to promote and highlight the cause of Palestine in Pakistan.
Pakistan's Palestine Policy: We will never abandon Father, of Nation Jinnah's footsteps. Mamnoon Hussain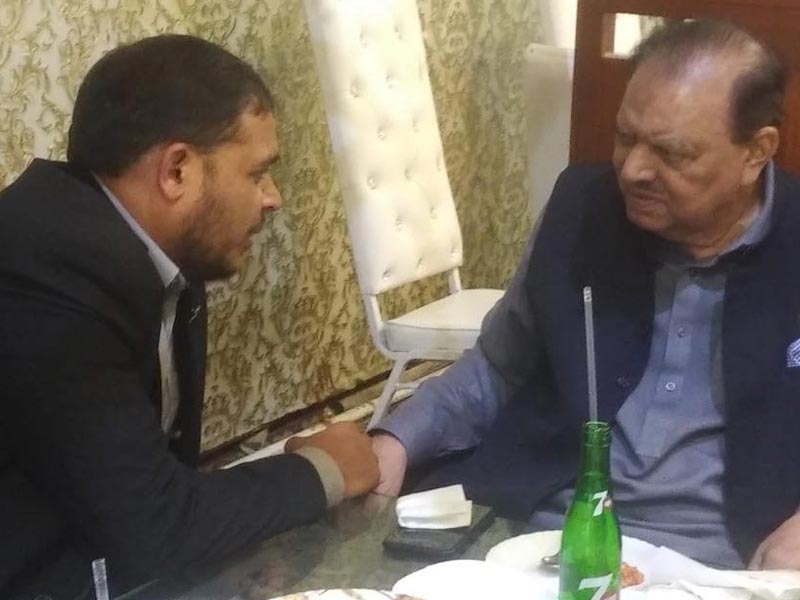 KARACHI (PNIC):-Former President of Islamic Republic of Pakistan Mr.Mamnoon Hussain says that we are bound to follow the path of great founding father of the nation Qauid e Azam Muhammad Ali Jinnah and his stance on Palestine.
Pakistan always Standing with oppressed nation of Palestine and will remain. Mamnoon Hussain says.
PLF General Secretary Mr.Sabir Abu Maryam Met with former President of Islamic Republic of Pakistan Mr.Mamnoon Hussain and discussed various things about the issue of Palestine and Pakistan's stance in it.
Former President Mr.Mamnoon Hussain expresses his fully support with oppressed people of Palestine and categorically said that that Israel is an illegitimate state and we always followed Founding Father Qauid Azam Muhammad Ali Jinnah's stance on Palestine and will never get back even an inch from that stance.
He appreciated Palestine Foundation's great struggle in Pakistan and assure his Cooperation with PLF too.
Israel is an ideological threat to Pakistan: accepting Israel equal to no question of Kashmir. Gen (r) Ghulam Mustafa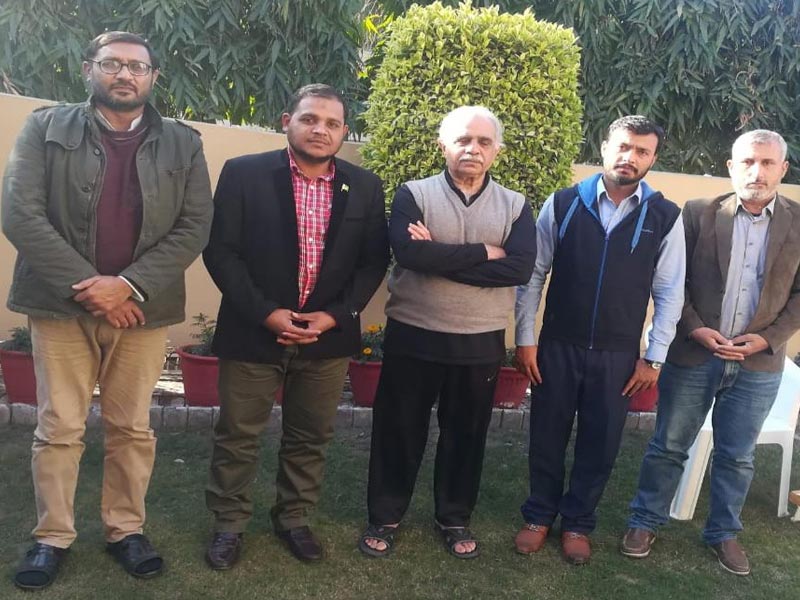 LAHORE (PNIC):-Former Army General Ghulam Mustafa expresses his fully support to Palestinian cause. According to Report during a meeting with Palestine Foundation Pakistan (PLF) delegation he said that Israel is not only threat for Palestinians but for whole region of Middle East and Golf.
Palestine Foundation Pakistan's delegation led by General Secretary Sabir Abu Maryam along with Ansar Abbas, Zahid Murtaza and Yasir Habib met with former army Gen Mr.Ghulam Mustafa at his residence on 16 December Sunday.
During the meeting PLF's Secretary General informed him various issues about Palestine and policy of Arab and Muslim regimes specially developments in Pakistan. He also discuss about some efforts of pro-Zionists factors in Pakistan to normalisation with Zionist regime and Pakistan.
A defence analyst and well known Army Gen Ghulam Mustafa categorically stated that those people are thinking that Israel is friend of Pakistan are in wrong side.
Israel is an ideological threat and enemy of Pakistan and will never benefit to Pakistan: he said.
Gen (r) Mustafa said that if Pakistan accept and protect in tel Aviv but in next step Israel never tolerate Pakistan so normalisation with Zionist regime mean no question of Kashmir.
Even if my head is cut off, I will not accept Israel: Gen (r) Ghulam Mustafa stated. He also affirmed his full support for Palestine Foundation Pakistan.