Government should mark and adopt Al-Quds Day; MYC and PLF demanded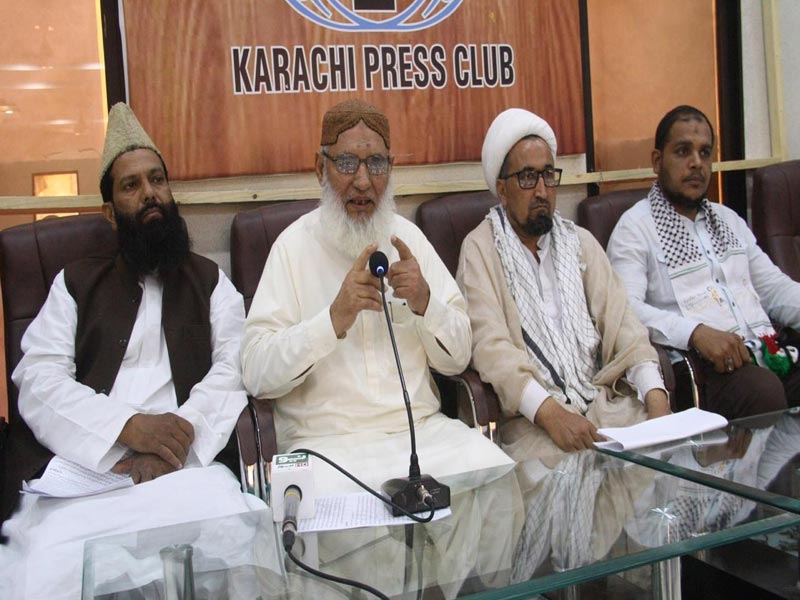 KARACHI (PNIC) – Mr.Asadaullah Bhutto president of Milli Yekjehti Council (MYC) alongwith Allama Qazi Ahmed Noorani, Muhammad Hussain Mehnati and PLF secretary General Sabir Abo Maryam, demanded to Giovernment of Pakistan should adopt Al-Quds day as Pakistani national days. He was addressing a joint press conference held at Karachi Press Club.
They said that the establishment of a fake state of Zionists (israel) on Palestinian sacred land has been completed today 70 years. It is unfortunate that the governments and organizations of the world and the Muslim countries have failed to end the occupation of Israeli occupied forces. They announced the full support of the Great Return March of the Palestinian and the Right of Return of the people of Palestine.
Palestinian Secretary of Pakistan, Amir Muhammad Hussain Mohtai of Jamaat-e-Islami Sindh, Jamiat Ulema-e-Insaf, Pakistan's President Allama Qazi Ahmed Noorani Siddiqui, Maulana Sadiq Jafri of Majlis-e-Islami Pakistan, Mufti Ejaz Mustafa, Organization of Islamic Protection, Shuja-ud-Din Shaikh of Islamic Organization, Jamiat Atat-ul-Islami Sindh's Hizbullah-ul-Khurrro, Al-Aqeel-ul-Anlam, Against Israeli establishment on Palestine) at Karachi Press Club Addressing the conference,
According to the report, the leaders have appealed to the people of Pakistan to observe last Friday as International Al-Quds Day and stand with oppressed people of Palestine.They appealed to President of Pakistan and Prime Minister, to insist on the government's efforts to crush the Zionist's conspiracy, to declare the government to celebrate the last Friday of Ramzan as Al-Quds Day in Pakistan as national day.
They strongly condemned the American decision by declaring Jerusalem's declaration as "capital" of zionist's fake entity. Jerusalem is an integral part of Palestine and eternal capital of Palestine. World is not bound to the American President's decisions. They had to say that any state including the United States does not have the right to decide the destiny of Palestinians. Palestine is the homeland of Palestinians and Israel is a fake state.
US President is constantly scattering the threat of international law and the world community is keeping criminal silence. They further added that Israel is a fake state in the region and poses threat to not only Palestinians but also for the whole region and the peace of the world.
Speakers demanding the end of Gaza's siege and to protect human life. They has appealed to the Sermon of the congregations of all the people belonging to media sector including media owners, media, columnists and teachers, especially Friday prayers Imams to highlight the problem of Palestine in front of the people. Describe the importance of the International Al-Quds Day, describe the history of the al-Quds day, TV channels and newspapers Specially broadcast programs and columns should be broadcast.