Hezbollah says Israel will be wiped off the map if Pakistan, Iran,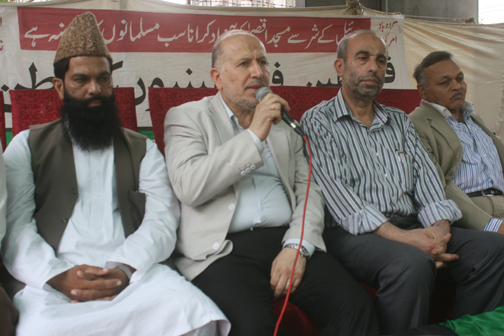 Hezbollah says Israel will be wiped off the map if Pakistan, Iran, Lebanon, Egypt & other Muslim countries join hands Dr Ahmad Malli, Incharge, Political Cell of Hezbollah has said that Israel would be wiped off the map if Muslim countries including Pakistan, Iran, Egypt and Lebanon start united struggle against it. Speaking at a press conference
at Karachi Press Club on Wednesday, the Hezbollah official said, that people living in Israel feel them unsafe.  Dr Haidar Dekmak also spoke at the press conference. They were invited by Palestine Foundation of Pakistan whose officials Allama Qazi Ahmed Noorani, Mehfooz Yar Khan and Sabir Karbalai were also present.     "It doesn't matter if Israel returns to pre-1967 borders. We don't recognize any entity that calls itself Israeli state. Nor we recognize agreements of Egypt and Jordan with Zionist entity," Dr Malli said answering a question. He clarified that Israel is the name of illegitimate occupation of Palestine by Zionists. To another question, he said, Israel has never acted upon the terms and conditions of these agreements that she made with Arab countries and Palestinians. Instead, Israel intensified the atrocities and brutalities on Palestinians. He praised Pakistan for Pakistanis support for Palestine and struggle against Zionist Israeli regime. He said Hezbollah loves Pakistan. He recalled Pakistan was the first government who condoled with Hezbollah over the martyrdom of martyr Abbas Mousavi in 1992 and condemn the Israeli terrorism. Dr. Haidar Dekmak said that Israel has demolished more than 3000 houses of Muslims around al Aqsa mosque. Israel was preparing for 5400th anniversary of Heikel-e-Sulemani (Solomon Temple). He said that Israeli regime was massacring Muslims in al Quds. He said that plots were being hatched to reconstruct Heikel-e-Sulemani in the place of Aqsa mosque. He said that Hezbollah was trying its best extend all out help and assistance to Palestinian brethren. "Unfortunately, Arab countries played a dubious role. They should have played an Islamic role like a united Ummah," he said.   He further said that Israel poses serious threat to humanity. He also condemned the criminal role of the United Nations for its inaction in sorting out the Palestine issue.