International Conference announces 2015 the year of return of Palestinians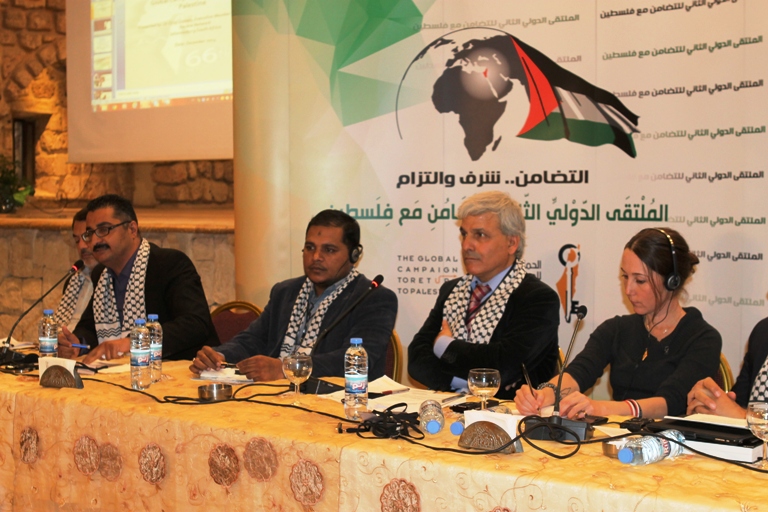 Palestine Foundation's Muzaffar Hashmi and Sabir Abo Maryam represented Pakistan at the two-day conference that was held in Lebanese Capital Beirut. Delegations from Palestine, Russia, U.S., U.K.,
Canada, Italy, Iran, Iraq, Egypt, Jordan, Pakistan, India, Indonesia, Turkey, Tunisia, South Africa, Senegal, Nigeria, Ghana, Cameroon, and Lebanon attended.
Representatives from Islamic national resistance of: Lebanese Hezbollah Dr Ahmad Malli, Abu Imad al-Rifaai, and Hasan Fariha of al-Quds Foundation Beirut (International) also attended the conference.
The participants reviewed their performance for Palestinians rights and also explored the possible future course of action to continue pro-Palestinian struggle. Apart from observance of 2015 as a year of return of Palestinians, they decided that they all would observe November 29, 2015 as "Global Injustice to Palestinians Day." The philosophy behind this idea is the fact that Palestinians have not got anything under November 29 UN resolution, that was aimed at partition of Palestine into Arab and Jews but Israel was illegitimately established citing that resolution.
They decided that a Care Centre would be set up for psychotherapy of the war-stricken children of Gaza. The delegation from Senegal proposed that they would dispatch an aid-caravan to Gaza next year and all other participants agreed to become part of that caravan and contribute in the relief activities.
{gallery}plf_conference_lebanon{/gallery}