International Palestine Conference held in Beirut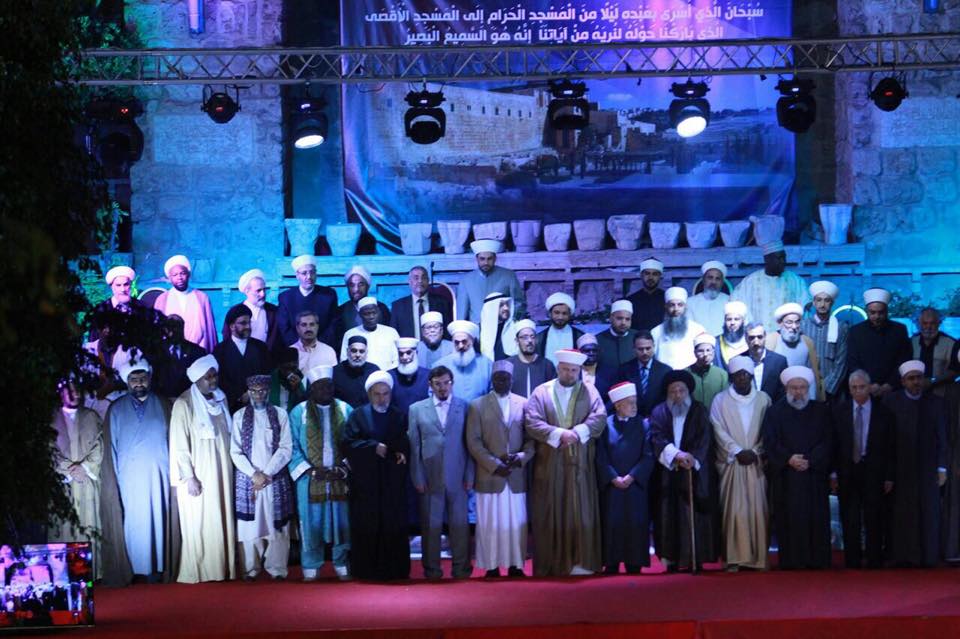 Beirut – 3-day International Palestine Solidarity Conference of Islamic Scholars (IPSC) held in capital of Islamic Resistance Beirut – Lebanon on the occasion of "Mairaj-un-Nabi SAWW" (May 16 to 18).
Scholars and politicians from all parts of the world, including Asia, Europe, Africa, Latin America, attended the international conference, organized by Global Campaign to Return to Palestine (GCRP).
A Pakistani delegation comprises on Dr Sahibzada Abolkhair Muhammad Zubair of Jamiat Ulema Pakistan (JUP), Dr Raheeq Abbasi of Pakistan Awami Tahreek (PAT) and Sabir Abo Maryam of Palestine Foundation Pakistan (PLF) also took part in the Conference.
Speaking to the IPSC participants Mufti of Al-Quds Muhammad Hussain, said that Palestinian issue must be In the top priorities among the Islamic Nations and International community.
He Said that Muslims leaders come forward to defuse sectarian issues which is created by Zionist regime of Israel and its patron United States.
Today Islamic Resistance is more powerful to resist any threat comes from Zionist regime Israel and Islamic Resistance proves ability to confront Zionist scheme in the region and specially in Palestine, Mufti of Al-Quds added:
Special advisor of Iranian Supreme leader Aytoallah Khamenei Mr Dr Ali Akber Welayati said in his speech that al-Aqsa Mosque is the first holy Qibla and third holiest place for all the muslim nations and now al-Aqsa is in danger and under threat. It is our responsibility to confront more powerfully and effectively against the Zionist Israel.
Dr Ali Akber Welayati said that we do strongly believe that Palestine is the homeland of Palestinians and it should be liberated from the occupations of Zionist regime of Israel.
It is the responsibility of all Islamic Nations to make a unified strategy to liberate Palestine and Al-Quds, Welayati Said.
Voices for Right of Return for Palestinians not only raise from Lebanon but from all countries. Palestinian people suffering from last 67 years so it is most important duty of Islamic Scholars to propagate realities of Palestinian issue among the Muslim Nations across the world. Dr Ali Akber Welayati added.
We are with Palestinian people, struggle and Islamic Resistance and will never abandon Palestine and it people alone in front of Zionist regime of Israel, Mr Welayati Said.
Grand Mufti of Lebanon Sheikh Maher Hamoud also point out threats to Palestinian cause in his speech and said that all surroundings of Palestine are under fire due to Israeli backed terrorists organizations those are destructing the real face of Islam and trying to disunite Muslims Nations. In this critical situation Palestinian issue must be in our top priorities and we believe that all the issues will be solve with the Palestinian issue.
Speaking to the conference Sheikh Yousof Abbas of GCRP said that Palestinian issue is a humanitarian issue so it is the main responsibility of all Islamic Scholars to create public opinion in own countries and make a big public support for Palestinian cause.
Those who attended IPSC included Grand Mufti of Al-Quds Muhammad Hussain, Grand Mufti of Lebanon Sheikh Maher Hamoud,Special Advisor of Supremem leader of Iran Aytollah Khamenei Mr Dr Ali Akber Welayati, Grand Mufti of Syria Sheikh Abdulla Katmato, Grand Mufti of Iraq Sheikh Muhammad Mehdi Al-Sumaeidi, Grand Mufti of Masqat Abdullah Bin Saeed and Mufti Dr Muhammad Bin Saif, Grand Mufti of Sodan Jalaluddin, Mufti from Al-Azher University Egypt Mufti Mehmood Ibrahim Abduhu, Grand Mufti of Kuwait Abdul Aziz Qattan, Sheikh Miqdad Ali (Thailand), Sheikh Abo Jafar and Sheikh Rehan Raza from Scotland, Sheikh Sohail Assad (Arjentine), Sheikh Muhammad Naeim (Turkey), Sheikh Jawad Riyazia (South Africa), Grand Mufti of Borkina Faso Dr Aliedo Sana, Sheikh Mohiyuddin (Tajikistan), Sheikh Hameed Jalala (Tanzania), Sheikh Hussain Muhammad Bowa (Uganda), Grand Mufti of Malysia Haji Ahmed Wang, Muhammad Al-Shehabi (Bahrain), Khaled Abo Saleh, Ismael Abo Jihad,Dr Obaisa (Syria), Aytollah Jazaeiri and Sheikh Mobalighi (Iran), Jinan Ayoubi (Kuwait), Sheikh Yousof Abbas, Dr Abdul Malik Sukarya, Sheikh Ali Abdullah, Dr Haider Dekmak , Sheikh Abdul Fattah Al-Ayoubi (Lebanon), Sheikh Rizwan Farhad, Dr Mahmood Saleem, Sheikh Ismael Zarra and others from Palestine.
Leader and representatives of Islamic Resistance Movements Islamic Jihad Palestine, Hamas and Hezbollah including Abo Ammad Al-Rafai, Dr Ali Al-Barakah, Dr Attaullah Hamoud, Dr Hassan Hudroj, Dr Ahmed Malli and other were also present during the Conference.
Former Prime Minister of Palestine and leader of Islamic Resistance Hamas Ismael Hanya, From Church of Quds Attaullah Hanna and a delegation of Islamic Jihad of Palestine also addressed to the participants in the last session of conference.
Participants of IPSC stressed on the Unity among the Muslims Nations and unanimously passed a resolution that Palestinian cause not only related with just Palestine but it is related with all nations of the world so it must be solve and raise as International Humanitarian Issue.
End.
Pakistani journalists stand against normalisation of Arab-Israel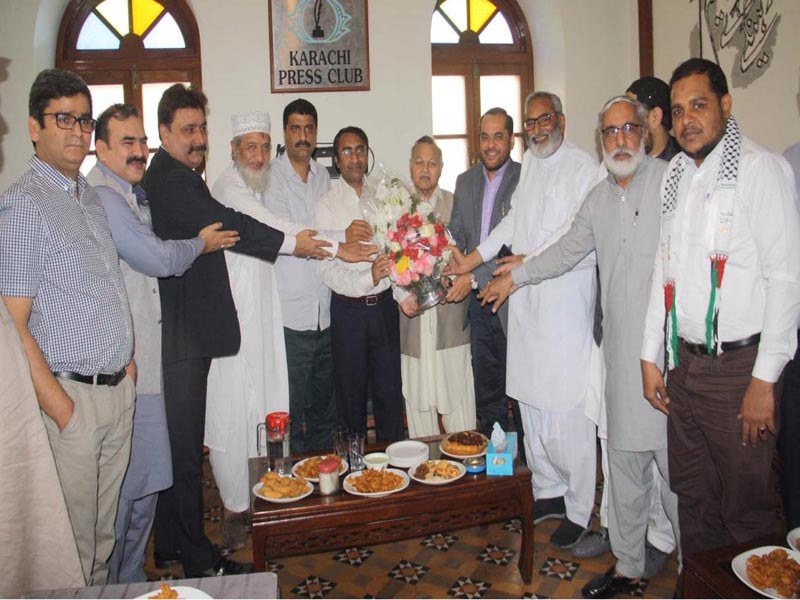 KARACHI (PNIC): Pakistani Journalists community categorically condemn normalisation of Arab-Israel and pressure on Pakistan to normalisation with Zionist's Fake regime Israel. In a meeting with Palestine Foundation Pakistan's delegation at Karachi Press Club on Wednesday Secretary of Karachi Press Club Expresses fully support and solidarity with oppressed nation of Occupied Palestine.
A delegation of Palestine Foundation Pakistan led by Guardian Council Member Former MP Muhammad Hussain Mehanti net with newly elected secretary and members of governing body of Karachi Press Club and congratulated them. Among the delegation, Muslim Parvez of Jamat-e-Islami, former MP Mahfooz Yar Khan of MQM-Pak, senior leader of Pakistan Tahreek Insaf (PTI) Israr Abbasi, additional advocate General Syed Arshad Naqvi of PPP, Pirzada Azher Ali Hamdani, Qazi Zahid Hussain of PMLN, Syed Shabbar Raza of Jafaria Alliance Pakistan, Rai Nasir Ali of NPCIH and Sabir Abu Maryam of Secretary General Palestine Foundation Pakistan were present.
Secretary of Karachi Press Club (KPC) Arman Sabir and Vice President Saeed Sarbazi expresses their views in support and solidarity with Palestine and they strongly condemn the Government foreign policy which soft corner for Zionist Israel in recent wave of normalisation.
We don't care if all world can accept Israel but we never abandon our oppressed people of Palestine and never abandon the ideology of father of the nation Muhammad Ali Jinnah who categorically rejected creation of zionst's fake regime of Israel and leave his foot prints for Pakistani nation to not recognise or normalise with Zionist's Fake regime Israel.
At this movement they announced full of their solidarity and support for all oppressed nations in the world including Palestine, Kashmir, Rohingiya and others.
During the meeting Sabir Abu Maryam briefed all of them about the creation of Palestine Foundation Pakistan and aims and objectives with ten years local and international achievements.
KPC governing body assured fully cooperation to promote and highlight the cause of Palestine in Pakistan.
Pakistan's Palestine Policy: We will never abandon Father, of Nation Jinnah's footsteps. Mamnoon Hussain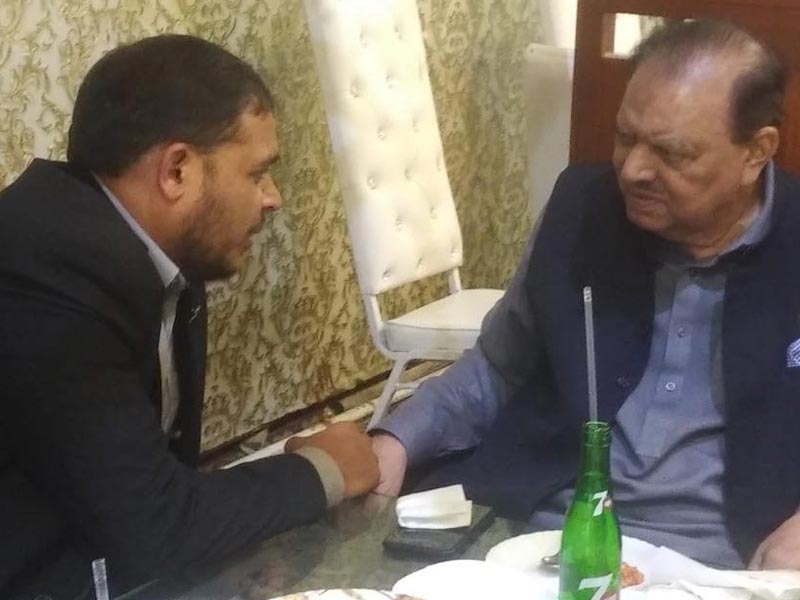 KARACHI (PNIC):-Former President of Islamic Republic of Pakistan Mr.Mamnoon Hussain says that we are bound to follow the path of great founding father of the nation Qauid e Azam Muhammad Ali Jinnah and his stance on Palestine.
Pakistan always Standing with oppressed nation of Palestine and will remain. Mamnoon Hussain says.
PLF General Secretary Mr.Sabir Abu Maryam Met with former President of Islamic Republic of Pakistan Mr.Mamnoon Hussain and discussed various things about the issue of Palestine and Pakistan's stance in it.
Former President Mr.Mamnoon Hussain expresses his fully support with oppressed people of Palestine and categorically said that that Israel is an illegitimate state and we always followed Founding Father Qauid Azam Muhammad Ali Jinnah's stance on Palestine and will never get back even an inch from that stance.
He appreciated Palestine Foundation's great struggle in Pakistan and assure his Cooperation with PLF too.
Israel is an ideological threat to Pakistan: accepting Israel equal to no question of Kashmir. Gen (r) Ghulam Mustafa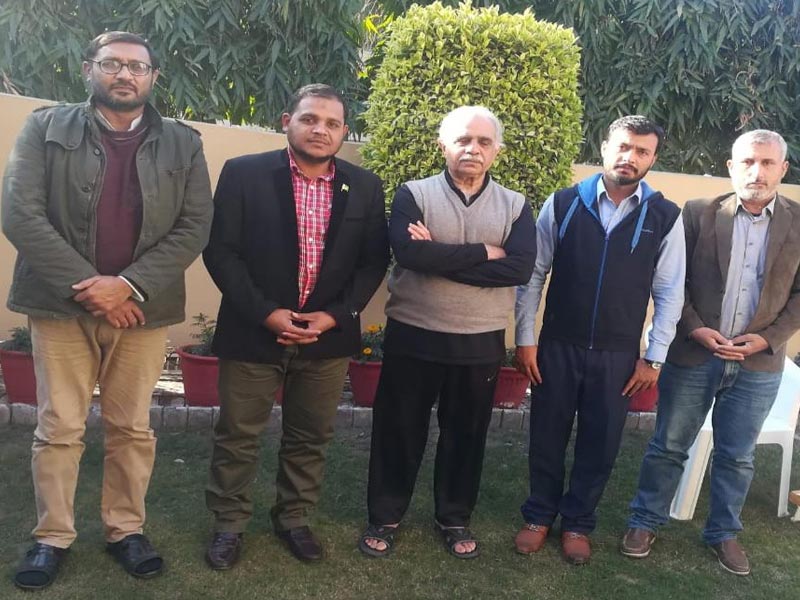 LAHORE (PNIC):-Former Army General Ghulam Mustafa expresses his fully support to Palestinian cause. According to Report during a meeting with Palestine Foundation Pakistan (PLF) delegation he said that Israel is not only threat for Palestinians but for whole region of Middle East and Golf.
Palestine Foundation Pakistan's delegation led by General Secretary Sabir Abu Maryam along with Ansar Abbas, Zahid Murtaza and Yasir Habib met with former army Gen Mr.Ghulam Mustafa at his residence on 16 December Sunday.
During the meeting PLF's Secretary General informed him various issues about Palestine and policy of Arab and Muslim regimes specially developments in Pakistan. He also discuss about some efforts of pro-Zionists factors in Pakistan to normalisation with Zionist regime and Pakistan.
A defence analyst and well known Army Gen Ghulam Mustafa categorically stated that those people are thinking that Israel is friend of Pakistan are in wrong side.
Israel is an ideological threat and enemy of Pakistan and will never benefit to Pakistan: he said.
Gen (r) Mustafa said that if Pakistan accept and protect in tel Aviv but in next step Israel never tolerate Pakistan so normalisation with Zionist regime mean no question of Kashmir.
Even if my head is cut off, I will not accept Israel: Gen (r) Ghulam Mustafa stated. He also affirmed his full support for Palestine Foundation Pakistan.