International Palestine Solidarity Conference proposes united struggle for Palestine freedom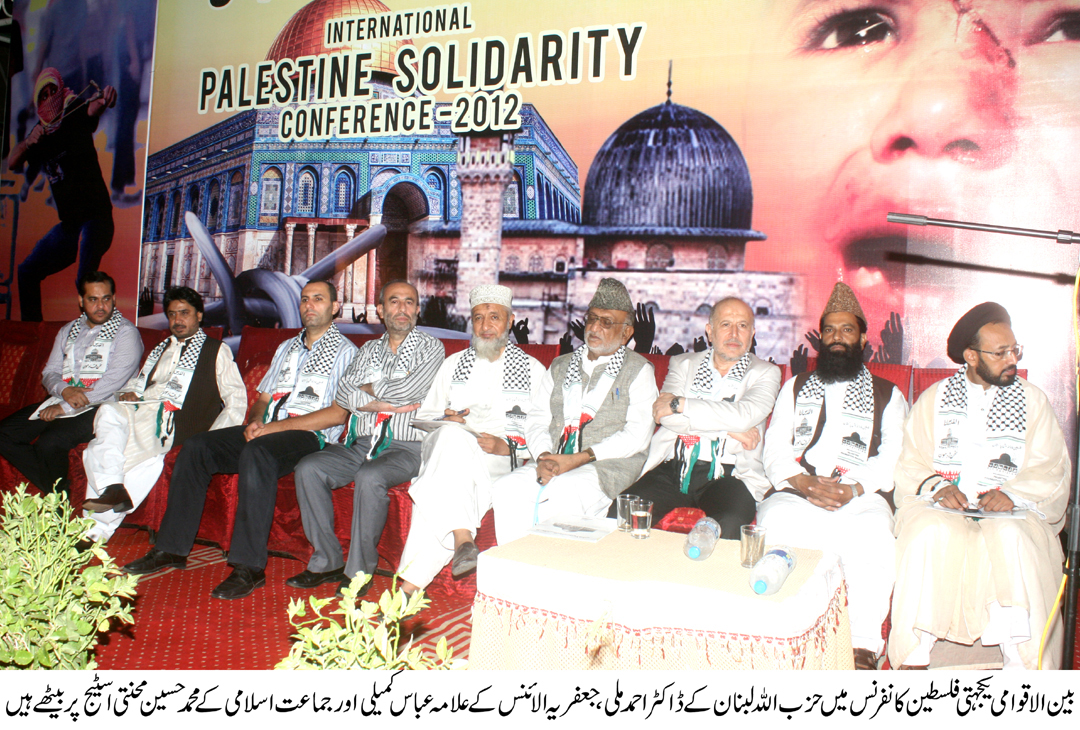 International Palestine Solidarity Conference proposes united struggle for Palestine freedom The speakers at "International Palestine Solidarity Conference" emphasized on unity of Muslims and united struggle for freedom of Palestine.  Palestine Foundation held the conference late on Tuesday night in collaboration with Jamaat-e-Islami,
Jamiat Ulema-e-Pakistan, Majlis-e-Wahdat-e-Muslimeen, Imamia Students Organisation and Al-Haider Scouts.   Speaking at the conference, Ahmed Malli, incharge, political affairs of Hezbollah paid tributes to Pakistani nation for their steadfastness against Zionist regime of Israel. "Pakistan is the land of Mohammad Ali Jinnah and Allama Iqbal," he said adding that Allama Arif Hussaini and Mohammad Ali Naqvi are the great martyrs of Pakistan who gave their blood for the sacred cause of Islam and al Quds. He also eulogized the services of JI's founder Abul Aala Moudoodi. He warned that the enemies of Pakistan and Muslims have hatched conspiracies of divide and rule through sectarian division. He said they were using media outlets to field Muslims against each other. He said these plots were witnessed in Pakistan, Lebanon, Syria and Afghanistan in particular. He said that some Arab regimes were fighting proxy wars against Iran. "We should not forget the will of great leader of Islam Imam Khomeini who exhorted that Muslims must establish unity among their ranks and work for freedom of Palestine," Dr. Ahmed Malli stressed. Dr Haidar Dekmak, head of International al Quds Committee, said that Pakistani nation has always paid attention to Palestine issue. He said he saw Pakistani participants in the Global March to Jerusalem were trying to pelt Israeli forces with stone while Zionist forces were away from them. "Palestine and al Quds have been under Israeli occupation because of weakness of Muslims that was created due to their disunity," he said. He said that Israelis have demolished almost all the private properties of Muslims and Christians in al Quds (East Jerusalem). He said that Israelis were hoodwinking the world on the pretext that their ancestors were buried at those places. He said that Burraq wall from where Hazrat Muhammad (PBUH) went to ascension to heaven has also been under Israeli occupation. "Jewish educational institutions were constructed in the city. They are under impression that nobody can expel them from illegally occupied areas and they can do what they want through use of force," Dr Haidar Dekmak said.Allama Nasir Abbas Jafri of Majlis-e-Wahdat-e-Muslimeen, Mohammad Hussain Mehanti of Jamaat-e-Islami, Allama Qazi Noorani of Jamiat Ulema-e-Pakistan, Allama Abbas Kumaili of Jafaria Alliance, Mehfooz Yar Khan of Awami Muslim League and Sabir Karbalai of Palestine Foundation also spoke. They paid tributes to Lebanese national resistance group Hezbollah and Palestinian national group Hamas for their legitimate struggle against Israeli occupation. They congratulated them on the 6th anniversary of victory in 33 days war that Israeli forces imposed on Lebanon. They vowed to continue their united struggle and support for the just cause of Palestine freedom. Through a joint declaration, the International Palestine Solidarity Conference affirmed its commitment to Palestinians right of self determination, refugees' right of return to their homeland and, their right of resistance against the Zionist Israeli occupiers.   The Conferences believed Israel poses serious threat to humanity. It called for, and committed to build and participate in a global democratic people's movement to work in alliance with the oppressed people of Palestine for the freedom of Palestine.   The Conference committed to build solidarity of Pakistani people for freedom of Palestine, provide all possible support to the legitimate struggle of people of Palestine. It supported the boycott of Israeli regime and its products and launching of a campaign to boycott the academics, cultural and sports events of Israel and where they participate. It expressed opposition to all the governments and organisations who extend any sort of support to Israel and build a campaign for prosecution of Israeli regime for war crimes. It demanded restoration of the UN Resolution that equates Zionism with Racism and an endorsement by the international community. The conference pledged to observe last Friday of Ramzan as an International Quds Day.