International Palestine Solidarity Conference will be held in Islamabad on 29 July.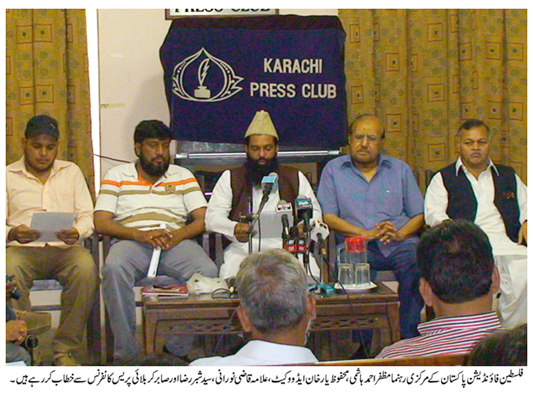 Palestine Foundation (PLF) of Pakistan has announced that an International Palestine Solidarity Conference will be held in Islamabad on July 29.
 Speaking at a press conference here on Monday, PLF office bearers said that guest leaders from foreign countries including Palestine,UK,US,Iran,Syria,Egypt,Lebanon and national political, religious leaders and scholars will speak at the Conference. 
Those spoke at the press conference were: Muzaffar Hashmi, Allama Qazi Ahmed Noorani, Mehfooz Yar Khan advocate, S Shabbar Raza and Sabir Karbalai Abu Maryam. They said that Palestinian Prime Minister Ismail Haniya will speak through a vide message. Apart from foreign guest speakers, the list of speakers also include: Raja Zafar ul Haq, Chairman, Pakistan Muslim League-Nawaz, Qazi Hussain Ahmed, Chief of Milli Yakjehti Council, Haji Adeel, Senator and vice president of Awami National Party, Liaquat Baloch, deputy chief of Jamaat-e-Islami, Maulana Mohammad Khan Shirani, Chairman of Council of Islamic Ideology, Allama Raja Nasir Abbas, Secretary General of Majlis-e-Wahdat-e-Muslimeen, Allama Abbas Kumaili, former senator and chief of Jafaria Alliance Pakistan, J Salik, Chief of World Minorities Alliance Pakistan. The PLF officials said that they have chalked out a comprehensive programme to express solidarity with Palestinians during the month of Holy Ramzan.
They said that Muslims relations to Allah and their power of resistance increased during this month of great blessing. They said that a public meeting will be held in Karachi on July 31 in which guest speakers will speak on Palestinian issue. They said that from Ramzan 1 to 15, PLF will hold seminars, press conferences, photo exhibitions, documentary film on Gaza and seminars in educational institutions, in Karachi, Hyderabad, Lahore, Multan and Quetta. The PLF office bearers urged the print and electronic media to pay attention to Muslim Ummah's burning issues including Palestine. They said that Palestine Foundation upholds the ideology of pioneers of Pakistan on Palestine issue.
They recalled that founder of Pakistan Mohammad Ali Jinnah and Allama Iqbal had always opposed Jewish homeland on the land of Palestine. They urged people of conscience and in particular Muslim Ummah to raise voice against the Israeli atrocities on Palestinians. They appealed that Zionist regime of Israel, its allies and supporters must be resisted stiffly. They urged that whole of the world should join hands to express solidarity with oppressed Palestinians whose all rights as human beings, nation and nation-state have been usurped. They condemned the silence of United Nations and human rights organisations against the Zionist and their allies conspiracies against Palestine and Palestinians.