IOF uses garbage collector as human shield in West Bank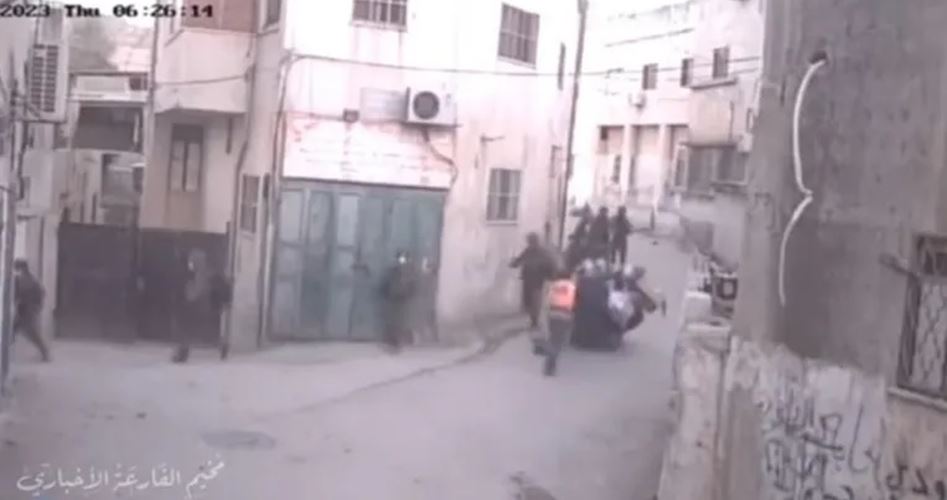 TUBAS,(Palestine Foundation Information Center)Israeli occupation forces (IOF) used a garbage collector as a human shield during an arrest raid into Al-Faraa refugee camp, south of Tubas in the northern West Bank, in an incident that has been documented on a surveillance camera on Thursday.
A video that went viral on social media demonstrates a group of Israeli heavily armed soldiers storming the camp and grabbing a Palestinian garbage man as a human shield.
Palestinian activists circulated the video on "X", formerly Twitter, denouncing the IOF's crimes and its ongoing aggression on the Palestinian people.
At dawn on Thursday, the IOF launched a massive arrest campaign targeting dozens of Palestinians in various cities and towns in the West Bank.
The Palestinian Prisoners' Club said the Israeli arrest operations were concentrated in the governorates of Al-Khalil, Qalqilya, and Ramallah, while the rest of detentions took place in most of the other West Bank provinces.
The West Bank has been witnessing escalating attacks and incursions by the IOF and settlers since the start of the Israeli brutal aggression which was waged on the besieged Gaza Strip for 42 days in a row.
Since the beginning of the "Al-Aqsa Flood Battle" on October 7, the IOF has arrested more than 2,735 Palestinians from various cities in the West Bank, according to the latest data of the Palestinian Prisoners' Club. This comes as part of the Israeli retaliatory policy of comprehensive aggression and systematic collective punishment against the Palestinian people.