'Israel' detains five Palestinians from families of Gilbou's six breakers during overnight raids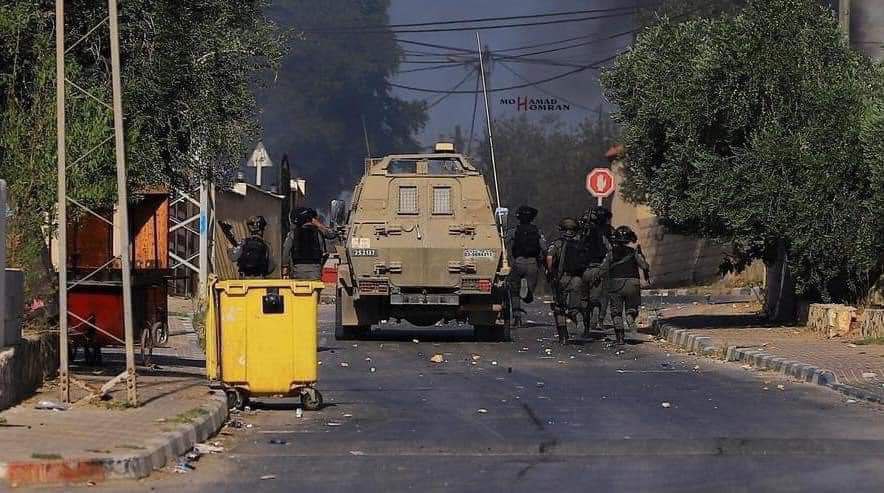 Occupied Palestine – Israeli occupation forces during overnight raids detained five Palestinians from the families of six prisoners who managed to free themselves on Monday from Israel's Gilbou prison.
The Palestine Prisoner's Society (PPS) said today that Israeli forces launched a large-scale detention and searching campaign in Jenin in search of six prisoners who gained their freedom from Gilbou prison, a high-security Israeli prison, through a secret tunnel they had reportedly dug beneath the prison.
The PPS said that Israeli forces detained Yacoub Ainfaat, the father of Mondal Ainfaat, one of the Gilbou's six breakers, after storming, searching and ransacking his house in the town of Ya'bad town, west of Jenin.
The forces also raided Arraba town, southwest of Jenin, where they detained four Palestinians, all members of the family of Aardiya.
Israeli occupation forces detain a Palestinian young man in the town of Arraba, the occupied West Bank. The man, Shadad Arda, is the brother of Mahmoud Arda, one the six Palestinian prisoners who escaped the Israeli prison of Gilboa on Monday.#GilboaPrisonBreak pic.twitter.com/T1LxfzeIWd

— Palestine Foundation | فلسطین فاؤنڈیشن پاکستان (@plf_pak) September 8, 2021
Among the four detainees were Radad and Shadad Aardiya who are brothers of Mahmoud, one of the breakers.
The two others were Bassem and Nedal Aardiya, brothers of Muhammed, who is also one of the breakers.
In the Arraba town, hundreds of Palestinian protesters confronted the Israeli occupation forces during the raid of the town by throwing stones, resulting in injuring a Palestinian man.
Dozens of heavily-armed Israeli forces have been conducting extensive searches the occupied Palestinian territories in a bid to find Gilbou's six breakers.
The prisoners are: Zakaria Zubeidi, Mahmoud Aardiya, Muhammed Aardiya, Yakub Kadari, Iham Kamagi, and Mondal Ainfaat.
The forces also stormed Arabbuna village, northeast of Jenin, where they searched and ransacked dozens of homes, turning them upside-down.
Similar raids were also reported in Faqqu'a and Bir al-Basha villages.