'Israel' strikes targets in Gaza Strip at midnight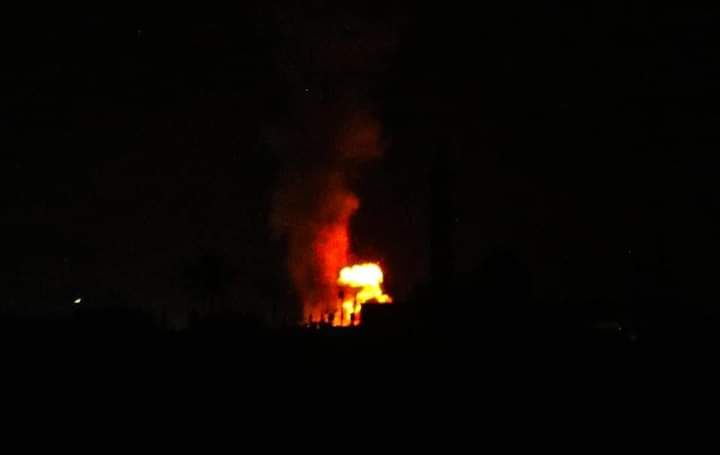 Gaza Strip – The Israeli occupation state launched a series of airstrikes on several areas in the Gaza strip on Saturday night, causing damages.
Israeli warplanes fired at least five missiles at a location on the central of the Gaza Strip, causing fire to erupt at the site.
The Israeli jets also struck an empty agricultural land, near Beit Hanoun town in the north of the Gaza Strip, causing damages.
There were no reports of casualties in the bombings.
The attacks came in response to the night confusion activities and incendiary balloons being launched from the Gaza Strip towards the Israeli-occupied Palestine.
The incendiary balloons were launched, however, in response against Israel's ongoing crimes and attacks against Palestinians and its suffocating siege of the Gaza strip.
'Israel' continues imposing tight restrictions against Gazans, as there was a nearly full closure of the crossings, preventing the export and import of goods from/to Gaza, and preventing Qatari and other funds from being transferred to Gaza.
Such imposed restrictions have severely undermined Gaza's economy and the basic rights of its residents, especially after Israel's 11-day aggression on the strip last May, which killed more than 250 Palestinians, including 67 children and 41 women and injured 1,910 others.
Also, more than 90,000 Palestinians were displaced from their homes, and much of Gaza's infrastructure and many residential buildings were completely destroyed or levelled in the May aggression.
Hundreds of Palestinians also demonstrated at the Gaza border, calling on the occupation state of 'Israel' to end its suffocating siege, days after a similar protest ended with injuring at least 41 protesters, including one journalist and 51 children, after being shot with rubber-coated metal bullets and fired with tear gas bombs and live ammunition by the Israeli forces, last Saturday.
On Wednesday, the Israeli forces injured 14 peaceful protesters, including five with live bullets, 2 with rubber-coated metal bullets, and seven with tear gas bombs.
Two Palestinians, including a man and child, also announced dead as they succumbed to their wounds which they sustained after being shot by Israeli sniper last Saturday.
The peaceful protest on the borders aims at sending a message to the Israeli occupation that Palestinians will never accept the continuation of the siege and the attacks on Al Aqsa mosque as it will continue until the occupation state ends its siege.
Israel' has maintained a blockade on the Gaza Strip since 2007.