Israeli forces arrest 17 Palestinians in several raids across OPT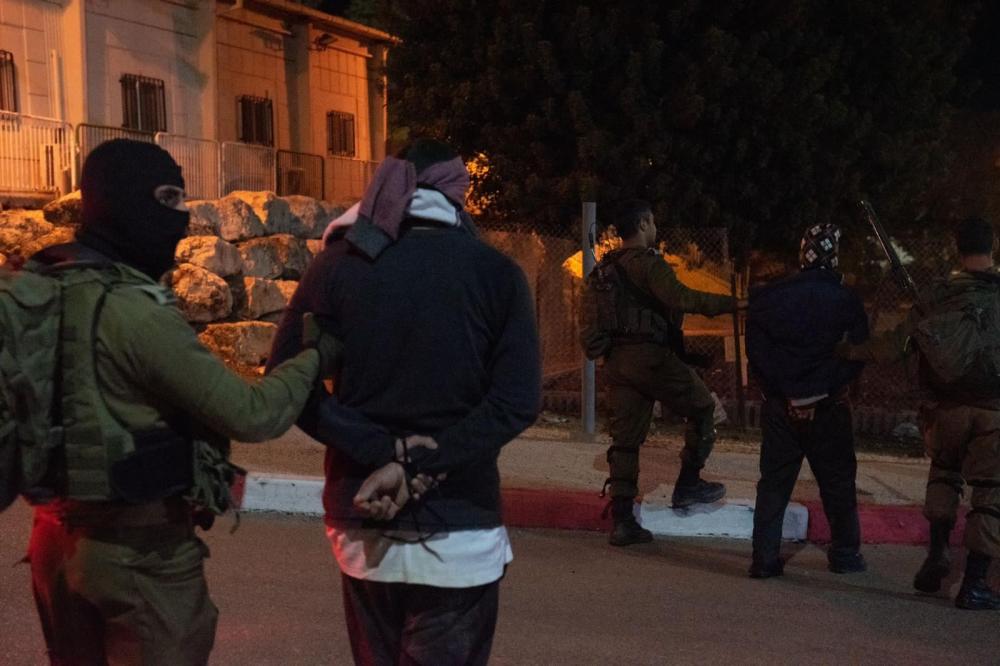 Israeli occupation forces arrested 17 Palestinians during several raids across the occupied Palestinian territories, this morning and last night.
The Palestinian Prisoner's Society (PPS) said 17 Palestinians have been arrested last night and this morning by Israeli forces who raided several areas across the West Bank and Jerusalem and searched Palestinians houses.
Four siblings were among the arrested following a raid at their family home in the village of Fasayel, in the Jordan Valley, east of the West Bank.
A fifth person, identified as attorney Baha Bisharat, a resident of the Tubas area town of Tammoun, also in the Jordan Valley, was arrested by Israeli soldiers while passing a checkpoint in the north of the West Bank.
Israeli soldiers arrested two Palestinians during a raid of their homes at Balata refugee camp in the northern West Bank city of Nablus, and three others, two of them from Nablus and the third from Jenin, were arrested last night after arriving at a military checkpoint, west of the city.
Three others were arrested during a raid of villages in the Tulkarm area, in the north of the West Bank.
One Palestinian was arrested in the village of Jifna, near Ramallah, and another from Beit Rima was arrested at a military checkpoint north of Ramallah.
Two Palestinians, including woman activist and teacher Hanadi Halwani, were also arrested in occupied East Jerusalem, said the PPS.
Israeli occupation forces frequently raid Palestinian houses almost on a daily basis on the pretext of searching for "wanted" Palestinians.
According to Palestinian prisoner advocacy groups, there are now 4700 Palestinians held in Israeli occupation prisons, including 34 women, 835 administrative detainees and 150 children.
In January, 'Israel' arrested 504 Palestinians while it arrested 448 Palestinians in February.
In 2020, 'Israel' arrested 4,634 Palestinians, among them 543 children and 128 women.
'Israel' arrested over 8000 Palestinians, including 1300 minors and 184 women, in 2021, however.
In 2022, Israeli occupation arrested 7000 Palestinians, including 882 children and 172 women.