Israeli forces arrest 25 Palestinians during night raids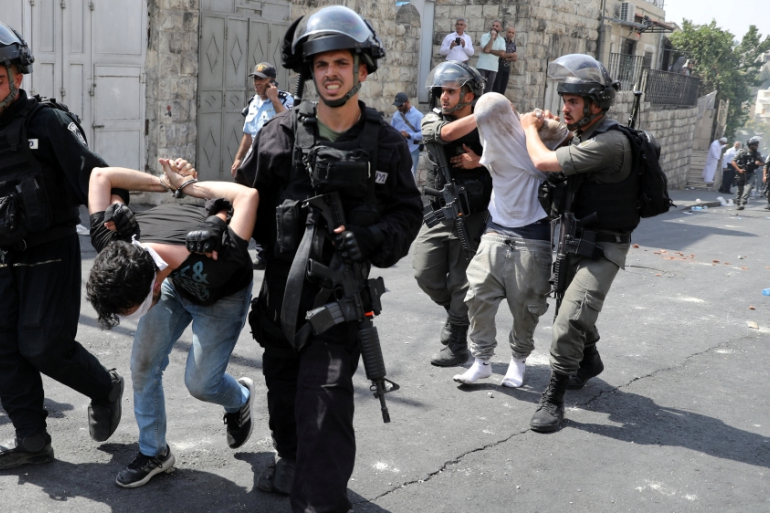 Occupied West Bank – Israeli occupation forces arrested 25 Palestinians, most of them former detainees, during night raids on several areas across the occupied West Bank and Jerusalem on Tuesday, local sources said.
In Al-Bireh city, forces rearrested Palestinian ex-detainee Hamdi Romana from his house although only one month has passed since Israeli occupation released him after serving 8 years in jails.
The forces also arrested Qassam Abed, a student in Birzeit University, and Magdi Al-Sheikh, from their houses in Al-Bireh.
In Hebron, the ex-detainee Hejazi Qawasmeh was seen bidding a farewell to his cancer patient child when heavily armed Israeli occupation forces raided his house and arrested him.
The forces also arrested an ex-detainee and six others, including a father and his son, from different areas in Hebron after raiding and searching their houses.
In Bethlehem, the forces arrested Palestinian ex-detainee Ismail al-Arouj from Jannata town, who was recently released after sercing 7 years in Israeli jails.
In Bidu town in the northwest of Jerusalem, the forces arrested 5 Palestinian ex-detainees, from the Zahran family, one of them served 15 years in Israeli jails.
In Al-Tur neighborhood in occupied Jerusalem, the forces arrested the Palestinian youth Mohamed Kana'n.
Another three Palestinian youths were arrested by the forces in Selfit town, after being brutally assaulted by the occupation forces.
In Nablus, another two youths were arrested from the Burin town.
Two ex-detainees were also arrested from Beit Liqya, west of Ramallah by the forces.
Israeli forces frequently raid Palestinian homes almost on a daily basis across the occupied West Bank and Jerusalem on the pretext of searching for "wanted" Palestinians, triggering clashes with residents.
These raids, which take place also in areas under the full control of the Palestinians, are conducted with no need for a search warrant, whenever and wherever the military chooses in keeping with its sweeping arbitrary powers.
The Palestinian Prisoner Society (PPS) said that there are 4650 Palestinian prisoners held in 23 Israeli prisons, and detention and interrogation centers, including 200 minors and 40 women.