Israeli forces arrest over 50 Palestinian youths near Bab Almutahara in Jerusalem's Al-Aqsa mosque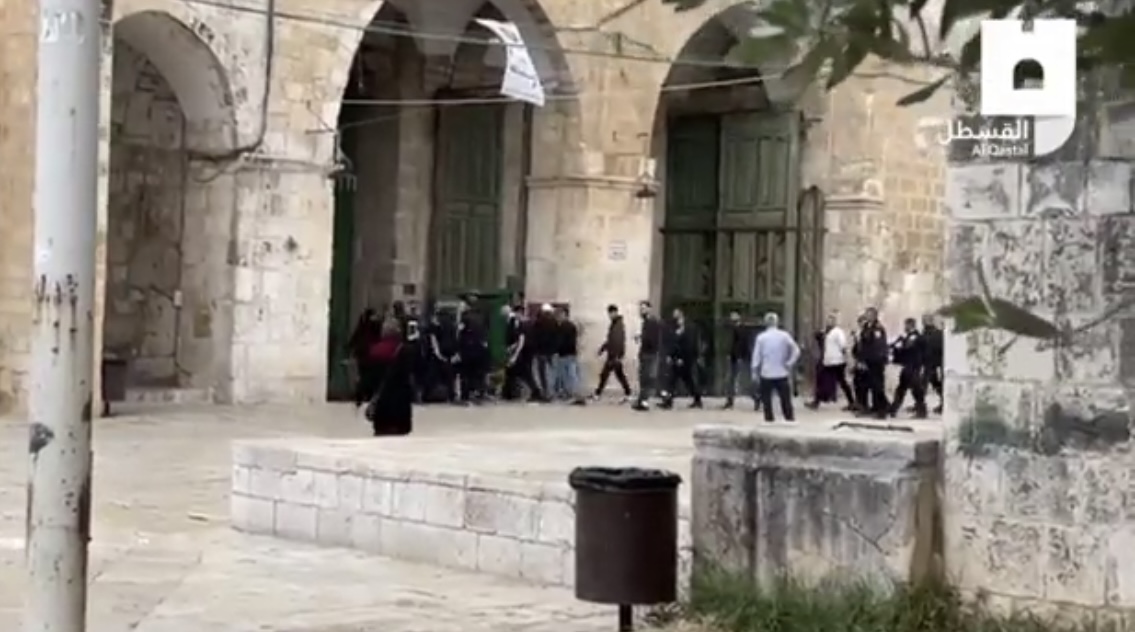 Occupied Jerusalem – Israeli occupation forces arrested on Thursday afternoon over 50 Palestinian youths near the Bab Almutahara, one of Jerusalem's Al-Aqsa Mosque gates.
Local sources reported that the Israeli forces arrested at least 50 Palestinian youths and forced them out of the courtyards of the Al-Aqsa mosque while they were near the Bab Almutahara.
Earlier today, around 600 Israeli colonial settlers broke into the courtyards of the Al-Aqsa mosque compound to mark the so-called Israel's Independence Day while being backed by dozens of well-armed Israeli forces who raided the mosque shortly before, at around 8:am local time, to make a way for settlers to break into the holy site.
The occupation forces attacked and beat the Palestinian worshipers inside the holy site. They fired tear gas canisters, sound bombs, and rubber-coated metal bullets towards the worshipers to disperse them, injuring at least 12 people.
Local sources said the forces also blockaded the worshipers inside the prayer halls to empty the courtyards of its worshipers to secure the settlers' entry.
The settlers performed provocative Talmudic prayers, sang the Israeli anthem and raised the Israeli occupation flags after entering the mosque through the Al-Mughrabi Gate which is under full-Israeli control.
Settlers had been making calls to storm the al-Aqsa mosque on May 5th to raise the Israeli flag and sing the Israeli anthem inside its compound.