Israeli forces assault, detain Palestinians in Al-Aqsa while allowing settler raids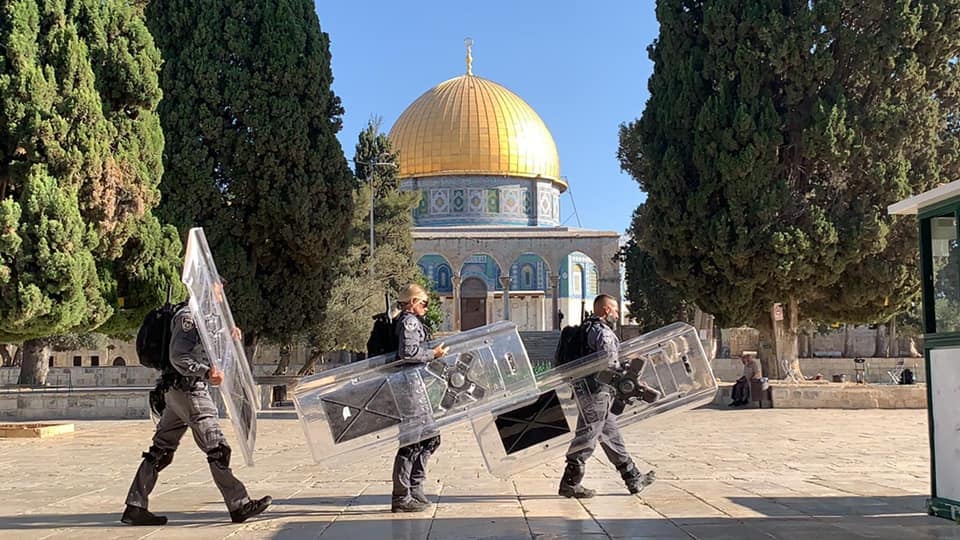 Occupied Jerusalem – Israeli occupation forces have brutally assaulted Palestinian worshipers in the courtyards of Al-Aqsa Mosque in the occupied city of Jerusalem on Sunday while allowing settler raids of the Mosque.
The Israeli forces were seen brutally attacking and beating Palestinian youths and women simultaneous with the extremist settler raids of the mosque.
The forces have also detained over 10 Palestinians, including two women
Watch | Israeli occupation forces detain a Palestinian woman inside the courtyards of the Al-Aqsa Mosque compound in occupied Jerusalem, today.#SaveAqsa pic.twitter.com/5nQAXZE06Q

— Quds News Network (@QudsNen) July 18, 2021
Since Sunday morning, more than 1200 Israeli settlers have raided the mosque under the occupation forces protection.
Lately, settler groups have called for massive raids into Al Aqsa mosque on Sunday, on the 8th of Dhul Hijjah, one of the holy pilgrimage days in Islam.
The settler groups called for the raid to mark the so-called 'Tisha B'Av', a fast day which marks 'the destruction of the Temple', as zionists believe.
Photos documenting some of the damage resulting from the Israeli attack today on the Al-Aqsa Mosque compound in occupied Jerusalem.#SaveAqsa #IsraeliTerrorists pic.twitter.com/MUe6dwQql0

— Palestine Foundation | فلسطین فاؤنڈیشن پاکستان (@plf_pak) July 18, 2021
The groups have also called for protests in the Old City on the same day.
The latest fight between the occupation state and the resistance was sparked by settlers' raids into Al Aqsa mosque as well as the Israeli ethnic cleansing against Palestinians in occupied Jerusalem.
Al-Aqsa Mosque is the third holiest site in Islam which located in occupied Jerusalem.