Israeli forces attack anti-settler-violence protest in Nablus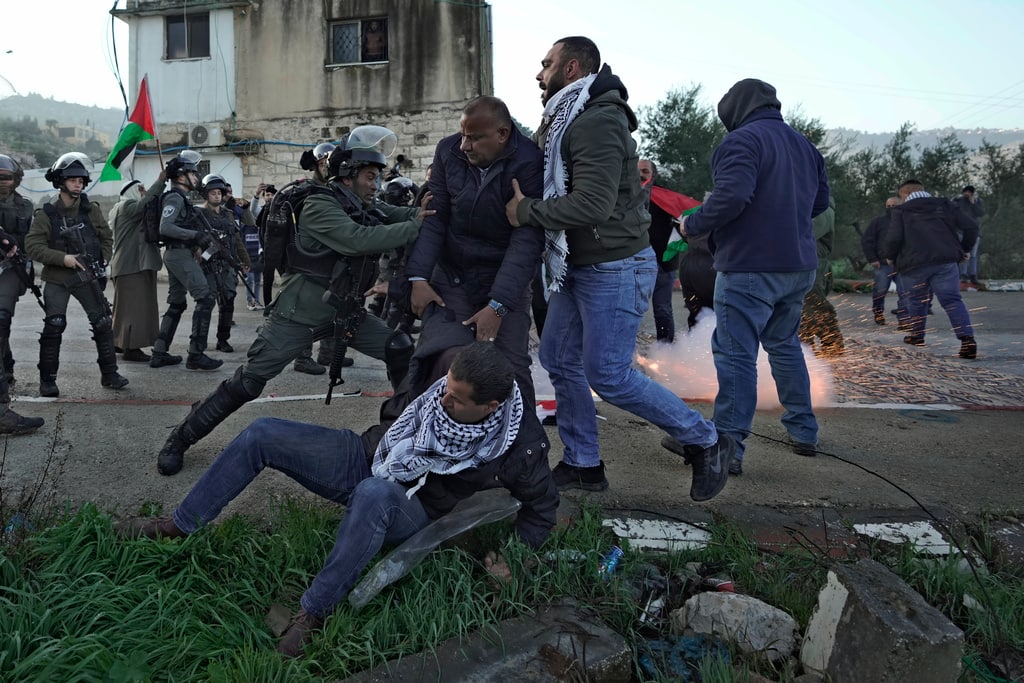 (Nablus)- Israeli occupation forces on Sunday morning attacked Palestinians taking part in an anti-settler-violence protest in Al-Lubban ash-Sharqiya village in Nablus in the occupied West Bank.
Earlier today, Palestinian residents and students of Al-Lubban ash-Sharqiya village held a protest against Israeli settlers' violence and attacks carried out against the village's residents.
However, the Israeli occupation forces attacked the peaceful protesters and fired tear gas canisters and sound bombs intensively towards them, injuring several.
Last week, for three days in a row, colonial settlers, backed by well-armed forces, obstructed access of Palestinian students to their school in Al-Lubban ash-Sharqiya village, after raiding the village and stationed at its entrance.
The settlers and forces also harassed and provoked hundreds of Palestinian students heading to their school
The residents decided to confront and protest the occupation forces and settlers' violence in the village.
However, the forces fired sound bombs and rubber-coated metal bullets directly towards the residents and their children to disperse them.
The forces also prevented journalists from documenting their attacks against the village residents and schoolchildren.
Israeli settlers and forces' attacks against Palestinian students and residents of the village has increased lately.
Al-Lubban ash-Sharqiya is a home to about 3,500 Palestinians, 20km south of the city of Nablus in the northern West Bank.
Two illegal Israeli settlements, Eli and Ma'ale Levona, straddle the sides of the village and are built on land belonging to it.
Every afternoon, Israeli forces are stationed at the village's entrance near the main highway between Ramallah and Nablus.
Nearby Israeli soldiers patrol on foot as groups of schoolchildren from Lubban attempt to take alternative routes to get home following numerous settler and forces attacks.
Parents are forced to drive their children to and from school every day because they are scared of their children being hurt or arrested by the soldiers.
The schoolchildren are also forced to take an alternative route through village fields to get home as Israeli soldiers patrolled the main road.
In May, a Palestinian man named Nidal Safadi was killed when settlers and Israeli soldiers raided the village and jointly shot him four times.
Thus, the residents of the village have decided to prevent Israel's attacks against their schoolchildren and the village.