Israeli forces demolish Palestinian shelters in Hamsa al-Foqa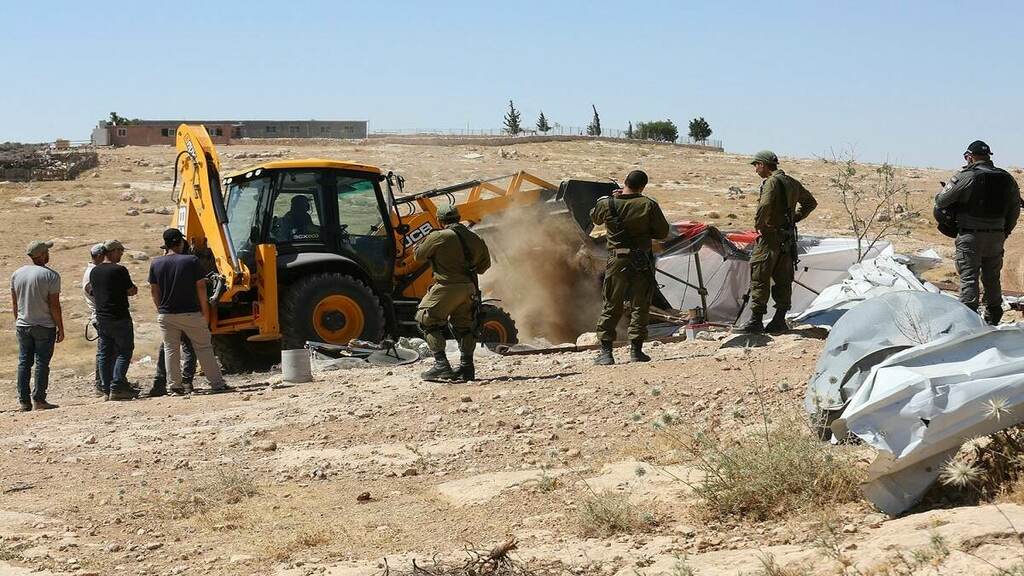 Jordan Valley – Israeli occupation forces earlier today raided Hamsa al-Foqa village in the northern Jordan Valley and resumed its demolition of Palestinian shelters.
Mutaz Bisharat, who monitors Israeli illegal settlement activities, said that on Thursday morning, Israeli occupation forces raided the village, escorted bulldozers and resumed the demolishing of Palestinian shelters used by the village residents.
On 7 July, the Israeli forces demolished about 30 structures in Hamsa al-Foqa, and today, the forces came and resumed the demolitions, displacing more than 60 people, including 35 children.
The occupation forces demolished the Palestinian structures in the area more than 8 times in one year.
Hamsa al-Foqa was demolished five times by the Israeli occupation forces in February 2021 under the pretext that the area is designated for training and displaced its community with a plan to relocate them to another area.
On 3 November 2020, in the largest forced displacement incident recorded in recent years, 73 people, including 41 children were displaced. The structures demolished were residential, WASH and livestock related, of which 29 structures had been provided as humanitarian assistance.
On 1 February, Israeli occupation forces confiscated 25 structures in Hamsa al-Foqa on the alleged basis that they lacked an Israeli building permit for construction in Area C.
On 3 February, Israeli occupation forces returned to seize a further 21 structures. Sixty Palestinians have been uprooted from their homes, including 35 children. Structures demolished included 21 homes, 17 livestock shelters, and 8 water and hygiene facilities.
On 8 February, the Israeli Civil Administration, accompanied by the military, returned to the Palestinian Bedouin community and confiscated or demolished another 16 residential and animal structures. Thirteen were donor-funded and had been provided as a humanitarian response to two incidents on 1 and 3 February.
On 16 February, the occupation forces confiscated five donor-funded livelihood tents, which were being assembled to provide shelter to the community and their livestock.
Palestinians, however, say the forces training is only an excuse to remove the Palestinians in that area in order to develop it for Israel's illegal settlement activity.
The Jordan Valley is home to approximately 60,000 Palestinians, but nearly 90 percent of the land is part of the so-called Area C, the three-fifths of the West Bank that is under complete Israeli control.
It includes closed military areas and about 50 Israeli settlement outposts housing some 12,000 colonial Israeli settlers.
Almost 800 Palestinians, including 404 minors, lost their homes in 2020.
Throughout 2019, 677 lost their homes, up from 387 in 2018 and 521 in 2017.
The United Nations Office for the Coordination of Humanitarian Affairs (OCHA) said in a report this week that the Israeli occupation authorities demolished or confiscated 24 Palestinian-owned buildings in the occupied West Bank during the last 2 weeks (between 15-28 of June 2021) leaving 23 Palestinians, including 11 children, homeless. They also harmed 1200 others.