Israeli forces told to add 50 Palestinians to tracking database every shift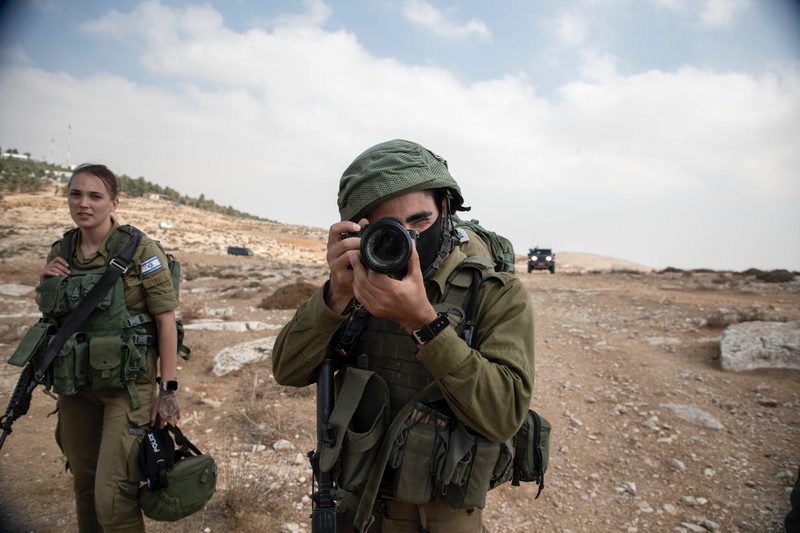 Occupied WB (QNN)- Israeli forces posted in the West Bank have been instructed to add the details of at least 50 Palestinians into the army's surveillance database per shift.
Israeli newspaper Haaretz reported on Thursday that soldiers stationed in the West Bank have recently received the instructions from their commanders.
The instructions says that in any shift at a checkpoint or guard post they must enter the details and photos of at least 50 Palestinians to the IOF's "Blue Wolf" tracking system.
A soldier who doesn't make the quota will not be relieved from duty at the end of their shift and will be forced to remain on duty until they make quota.
The Blue Wolf system, which the occupation forces have been using for the past two and a half years, is a database into which the details and photos of Palestinians are uploaded, enabling their tracking and monitoring.
The details include, among other things, ID number, age, gender, residence, vehicle license plate numbers, contacts with other people and whether they are allowed to work in 'Israel'.
In November, the Washington Post published an investigation exposing the IOF's massive use of the system on the Palestinians in the West Bank.
According to the expose', the Blue Wolf was described by one former soldier as the army's secret "Facebook for Palestinians."
The phone app flashes in different colors to alert soldiers if a person is to be detained, arrested or left alone.
Two years ago, to build the database used by Blue Wolf, the soldiers competed in photographing Palestinians, including children and the elderly, with prizes for the most pictures collected by each unit.
The total number of people photographed is unclear but, at a minimum, ran well into the thousands, according to the Post.
Facial recognition in law enforcement has sparked global criticism, with tech giants in the United States backing away from providing the technology to police, citing privacy risks.
The facial recognition industry was worth about $3.7 billion in 2020, according to market research firm Mordor Intelligence, which projected growth to $11.6 billion by 2026.
Facebook, Microsoft, Amazon, and IBM have all declared temporary or permanent freezes on selling facial recognition programs to law enforcement.
Israeli facial recognition software has also encountered criticism.
In 2020, Microsoft divested from Israeli facial recognition firm AnyVision, now renamed Oosto, over the company's involvement in surveilling Palestinians.
Palestinian digital rights activist Nadim Nashif said the use of facial recognition technology entrenched Israel's "control" over Palestinians and added to a "domination" of physical spaces.