Israeli PM orders to keep settler raids of Al-Aqsa Mosque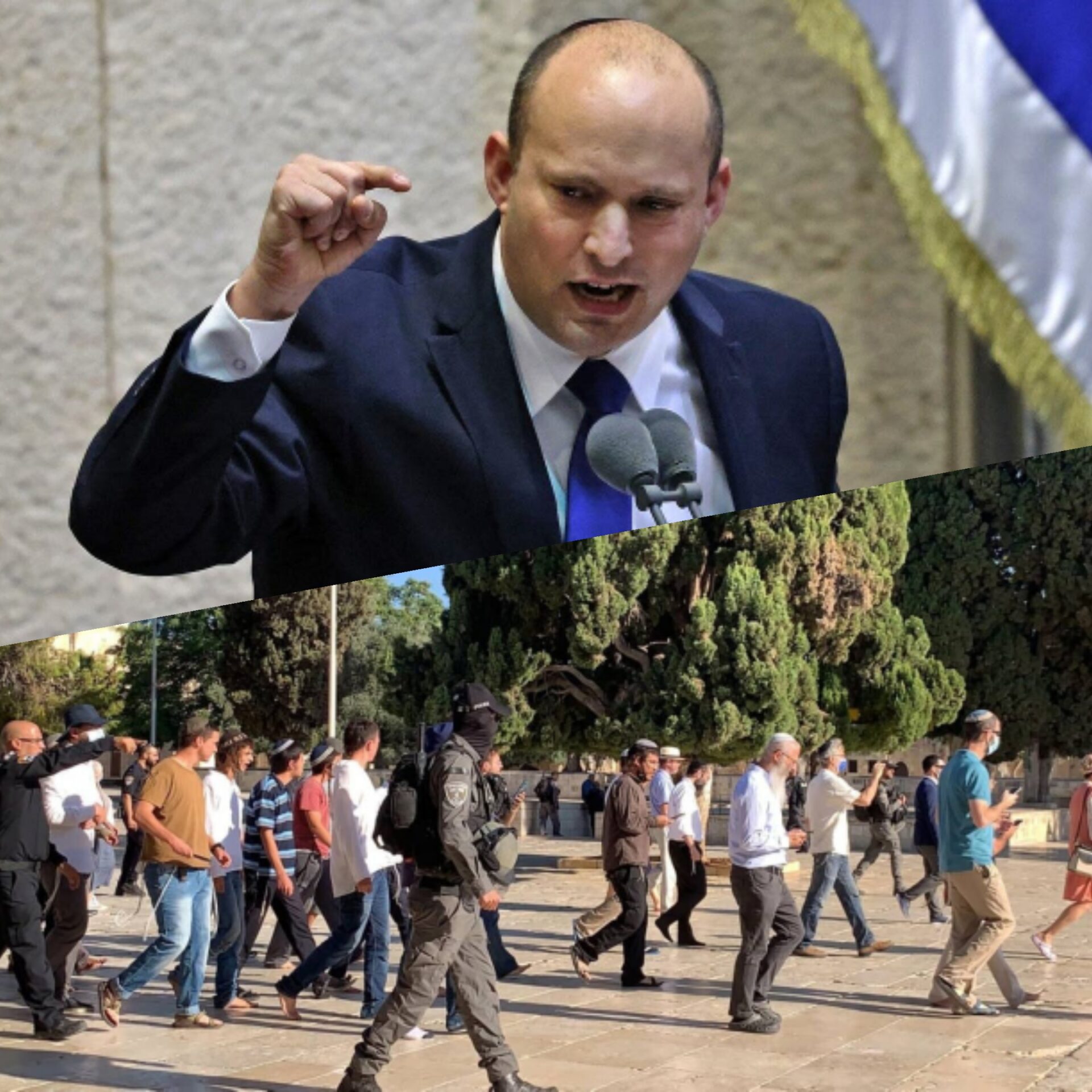 Occupied Jerusalem – Israel's new Prime Minister Naftali Bennett ordered the forces to continue to allow Israeli settlers to raid the Al-Aqsa Mosque on Sunday amid Muslims' holidays to mark the so-called 'Tisha B'Av'.
Bennett met with Public Security Minister Omer Bar Lev and Police Commissioner Yaakov Shabtai after the occupation forces stormed the Mosque to back over 500 Israeli settlers who raided the Mosque earlier today.
"The prime minister instructed to allow organized and safe ascendance of Jews to the Mount, while keeping the order at the site," Bennett's Office said.
Extremist Israeli settlers have started raiding the Al-Aqsa Mosque earlier on Sunday under the occupation forces protection, who have attacked Palestinian worshipers, including women, by assaulting them and firing tear gas canisters.
Watch | Israeli occupation forces assault Palestinian women inside the courtyards of the Al-Aqsa Mosque compound in occupied #Jerusalem, today. pic.twitter.com/A7RnlgH8Gy

— Quds News Network (@QudsNen) July 18, 2021
Several injuries were reported among Palestinian worshipers as they suffocated with tear gas fired at them by the forces.
The forces have also stationed at the gates of the mosque and assaulted dozens of Palestinian youths.
The forces also on Saturday night attacked Palestinians at Bab Al Amud (Damascus Gate), one of the Old City's entrances.
Lately, settler groups have called for massive raids into Al Aqsa mosque on Sunday, on the 8th of Dhul Hijjah, one of the holy pilgrimage days in Islam.
The settler groups called for the raid to mark the so-called 'Tisha B'Av', a fast day which marks 'the destruction of the Temple', as zionists believe.
The groups have also called for protests in the Old City on the same day.
The latest fight between the occupation state and the resistance was sparked by settlers' raids into Al Aqsa mosque as well as the Israeli ethnic cleansing against Palestinians in occupied Jerusalem.
Al-Aqsa Mosque is the third holiest site in Islam which located in occupied Jerusalem.