Israeli settlers uproot dozens olive trees in Nablus, spray them with poisonous substances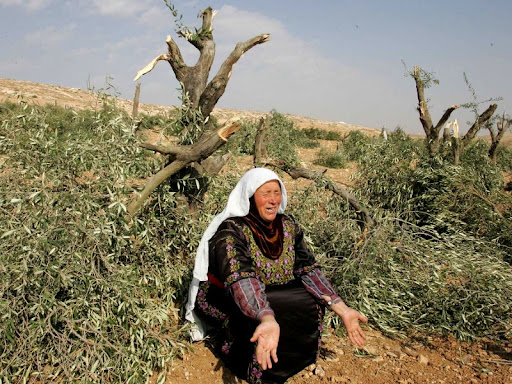 Nablus – Israeli settlers uprooted dozens of olive trees in Awarta village east of Nablus in the occupied West Bank and sprayed them with poisonous substances, causing drought to the trees.
Residents of the Awarta village said that they discoverd on Wednesday morning that extremist Israeli settlers broke into a Palestinian-owned land in the area, and uprooted dozens of olive trees planted there.
The residents also said the settlers, who came from the illegal settlement of Itimar, built on stolen Awarta land, sprayed the olive trees with poisonous substances, causing drought to them.
Yesterday, the settlers uprooted around 900 olive and apricot trees in Sebastia in Nablus and stole olive crops. They also uprooted 70 olive trees in Masafer Yatta in Hebron.
Palestinians plant around 10,000 new olive trees in the West Bank each year, most of which are of oil-pro­duc­ing varieties.
However, Palestinians see the destruc­tion of their trees as a way for the occupation to erase Palestinian iden­tity and force them to cede more land to Israel.
According to United Nations mon­i­tors, more than 4,000 olive trees and other tree crops have been burned or removed by Israeli set­tlers and forces in 2020.
The committee against the wall and settlement on Sunday said Israeli forces uprooted, broke, and damaged 6507 trees in 869 operations in 2020.
There are nearly 700,000 Israeli settlers living in 256 illegal settlements and outposts scattered across the occupied West Bank, including East Jerusalem. Israeli settlements are illegal under international law.