Israeli colonial settlers uproot, steal around 35 olive saplings from Palestinian land in Nablus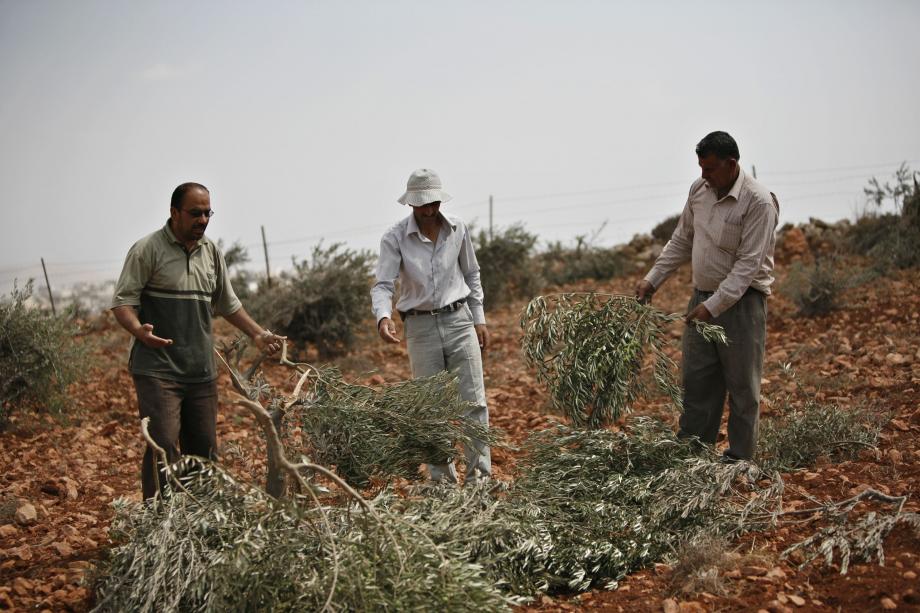 Nablus- Israeli colonial settlers uprooted and stole around 35 olive saplings from a Palestinian-owned land in the village of Azmit, east of Nablus in the occupied West Bank, last night.
Local sources reported that a group of colonial settlers sneaked into the village while its residents were sleeping last night. The settlers uprooted and stole around 35 olive saplings, belonged to a local Palestinian farmer who planted them two months ago.
Palestinians plant around 10,000 new olive trees in the West Bank each year, most of which are of oil-pro­duc­ing varieties.
However, Palestinians see the destruc­tion of their trees, stealing, and settlers attacks while harvestin as ways for the occupation to erase Palestinian iden­tity and force them to cede more land to Israel.
The ancient olive trees are regarded by Palestinians as a symbol of their connection to the land. Olives are Palestine's most important crop, whose oil is exported around the globe and whose annual harvest is a crucial source of income for thousands of farming families.
Olive cultivation contributes up to $100 million in income for some of the poorest Palestinian communities, OXFAM once said in a report.
There has been a sharp spike in settler violence against Palestinians and their properties in the occupied Palestinian territories.
The violent acts include beating, throwing stones, issuing threats, torching fields, destroying trees and crops, stealing crops, using live fire, and damaging homes and cars.
There are 280 illegal settlements in the West Bank, which are home to more than 440,000 Israeli settlers.
In the first half of 2021, 416 anti-Palestinian incidents perpetrated by extremist Israeli settlers were reported – more than double the figure for the first half of 2020 and more than all of 2019.
Of the 416 incidents reported between January and June of 2021, there were approximately 139 incidents of vandalism, stone-throwing, assaults and so-called price-tag incidents
In 2019, there were 363 incidents and 507 reported in 2020.