Israeli troops clash with Palestinians in West Bank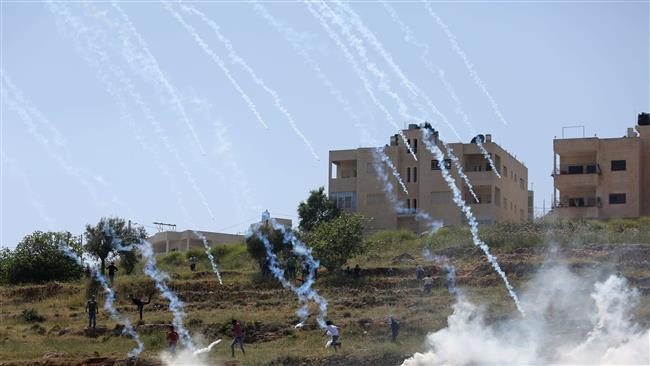 Tel Aviv regime's forces have attacked Palestinian demonstrators protesting against the ongoing Israeli settlement building in the occupied territories, and injured several protesters.
On Friday, dozens of Palestinians held a demonstration in Kafr Qaddum village, near Nablus in the occupied West Bank, to express their resentment over the ongoing Israeli settlement building and the separation wall.
The angry demonstrators chanted slogans against the expropriation and the confiscation of Palestinian land by Israel.
Local residents said that the demonstrations were largely peaceful until Israeli forces assaulted the protesters and fired teargas canisters to break up the protest. The protesters pelted stones at Israeli forces in return.
In a separate incident, a 31-year-old Palestinian man was shot dead by unknown gunmen in a village near Nablus.
Similar rallies were also held in several other towns and regions across the occupied territories.
A series of scuffles and fierce clashes also broke out next to the Israeli Ofer prison, in the West Bank village of Betunia near Ramallah.
Meanwhile, violent clashes were also reported to have broken out in the al-Jalazun refugee camp north of Ramallah, where Israeli military forces fired live rounds and used rubber-coated steel bullets to disperse the protesters. Eyewitnesses said the Israeli troops shot and injured at least three Palestinian teenagers during the clashes.  
The camp has been the site of frequent clashes between Israeli forces and Palestinian youths in recent months.
    Mahmoud Mubarak, the head of a popular committee in the refugee camp, has recently said that the camp is being "systematically and unnaturally" attacked by Israel.
Thousands of Palestinians stage weekly rallies to denounce the Israeli settlement activities and the separation wall, which has isolated large swathes of Palestinian territory.
The latest demonstration was held as international criticism is growing against Israel's settlement activities. The international community regards all Israeli settlements built on the occupied Palestinian land as illegal.
More than half a million Israelis live in over 120 illegal settlements built since Israel's occupation of the Palestinian territories in 1967.
Israel occupied and then annexed the West Bank and East al-Quds (Jerusalem) in the Six-Day War of 1967, but the move has never been recognized by the international community.
Palestinians are seeking to create an independent state on the territories of the West Bank, East al-Quds, and the besieged Gaza Strip and are demanding that Israel withdraw from the occupied Palestinian territories.