Israel's genocide in Gaza enters day 37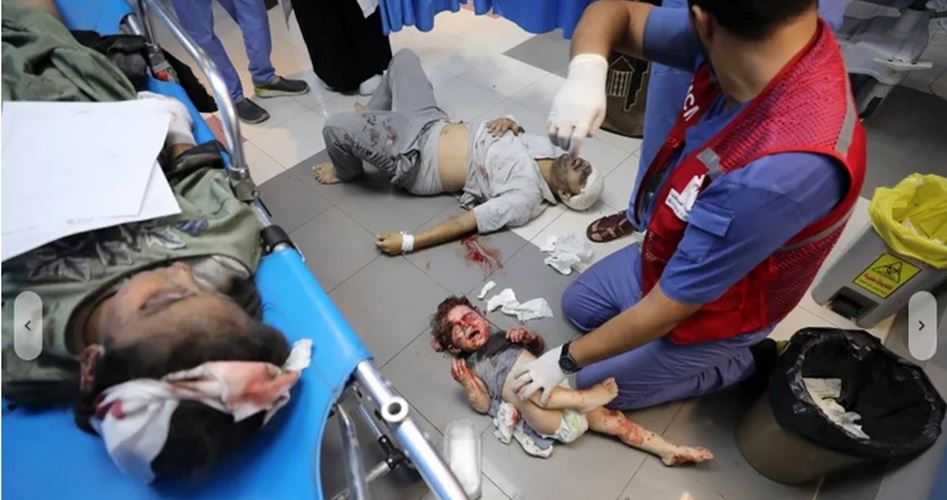 GAZA,(Palestine Foundation Information Center)For the 37th consecutive day, Israel's massive carnage continues to claim more lives in the Gaza Strip as its army persists in targeting civilians systematically.
Since last night, hundreds of citizens have been martyred and many others have been wounded in renewed waves of aerial and artillery attacks on different areas of Gaza.
Last Friday, the health ministry in Gaza said that the death toll neared 12,000 martyrs, mostly women and children, while the number of the wounded citizens climbed to over 27,490.
According to the latest developments, at least 10 citizens were martyred and 22 others were injured on Sunday morning when Israeli warplanes bombed the house of the al-Najjar family in Bani Suhaila area in eastern Khan Yunis.
The aerial attack on destroyed a number of homes housing displaced families in the same area. The number of casualties is still unknown.
An airstrike also targeted a house belonging to the family of al-Burain in Bani Suhaila area, with no reported casualties.
Other Israeli aerial and artillery attacks targeted different areas of the Gaza Strip, especially Gaza City and the northern areas, killing and wounding many civilians.
Local sources affirmed that Israeli warplanes continued on Sunday to launch dozens of raids on different areas of Gaza, reducing several homes to rubble over the heads of their residents.
Meanwhile, ambulance and rescue teams are unable to reach many bombed areas, while most of the Gaza hospitals, including the besieged hospital of Al-Shifa, have stopped providing medical services.
Spokesman for the health ministry Ashraf al-Qudra accused the Israeli occupation forces of turning Al-Shifa Medical Complex into an open war zone and targeting anyone moving outside its premises.
"We have exhausted all the attempts to prolong the provision of health services and lost all the capabilities. We are unable to provide any service that saves the lives of the wounded and patients at the Shifa Complex," spokesman Qudra added.
A number of cancer patients in Gaza also died after not receiving treatment.
Subhi Skaik, director of the Turkish-Palestinian Friendship Hospital in Gaza, said that "there are daily deaths among cancer patients, whether among those who have remained at the hospital or transferred to shelter centers, homes or Dar al-Salam Hospital."
"We have not received any aid that will enable us to continue providing cancer patients with treatment," Skaik added.