Jordan, Egypt, Palestine deliver warning to Israel's new far-right government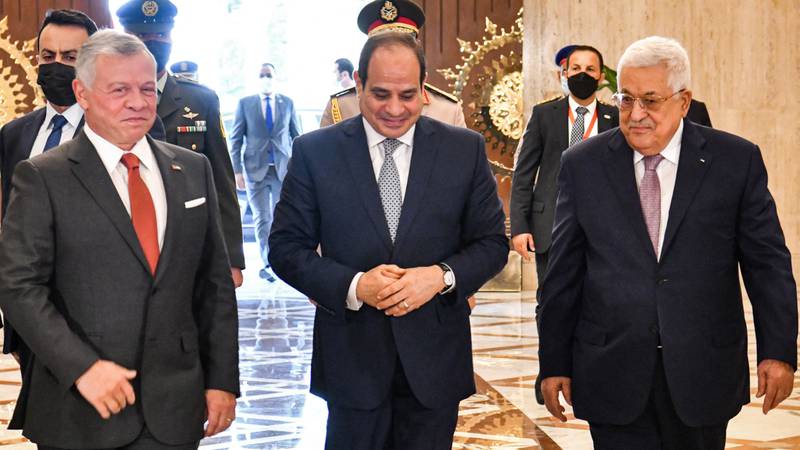 The leaders of Egypt, Jordan and Palestine delivered a warning to Israel's new far-right government on Tuesday during a Cairo meeting, saying "illegal and unilateral" measures that are "undermining the chance for a just and comprehensive peace" must stop.
During a meeting in Cairo, President Abdel Fattah El Sisi, Jordan's King Abdullah and Palestinian president Mahmoud Abbas called on Israeli occupation authorities to maintain the status quo at Jerusalem's Al-Aqsa Mosque and emphasized Amman's historical role as custodian of Al-Aqsa.
They also called on the international community to provide protection for Palestinians and on rival Palestinian factions to unite.
"The leaders stressed the necessity for the halt of all of Israel's unilateral and illegal measures that undermine the two-state solution and the chance for a just and comprehensive peace," said a joint statement at the end of the summit in Cairo.
It cited the expansion of illegal Israeli settlements in the West Bank, confiscating Palestinian land, demolishing Palestinian homes and Israeli military raids in Palestinian towns.
"President Sisi and King Abdullah affirmed their full support for the efforts of President Abbas in this delicate situation that the Palestinian cause is going through amid increasing regional and international challenges."
The leaders also stressed the importance of the international community to continue to support the United Nations Relief and Works Agency for Palestine Refugees (UNRWA), and the need to provide the financial support it needs to keep providing vital services to Palestinian refugees in accordance with its UN mandate, especially in light of the important humanitarian and development role that the UN agency plays in favor of the Palestinian people.
Jordanian analyst Saud Al Sharafat, speaking to The National only hours before Tuesday's meeting, said the leaders had separate reasons for concern.
Their worries have been deepened by the extremist bent of Israel's new government as well as its heavy-handed response to unrest in the West Bank, he said.
The escalation of Israeli military operations in the West Bank and the rising number of Palestinian casualties there in recent weeks are putting pressure on Jordan and its coveted role as custodian of Jerusalem's holy shrines, said Mr Al Sharafat.
"The actions of the current Netanyahu government are [aimed at] sowing doubt about Jordan's ability to manage this file," he said.