Journalist community stands side by side with the Palestine Foundation Pakistan. Secretary Press Club Rizwan Bhatti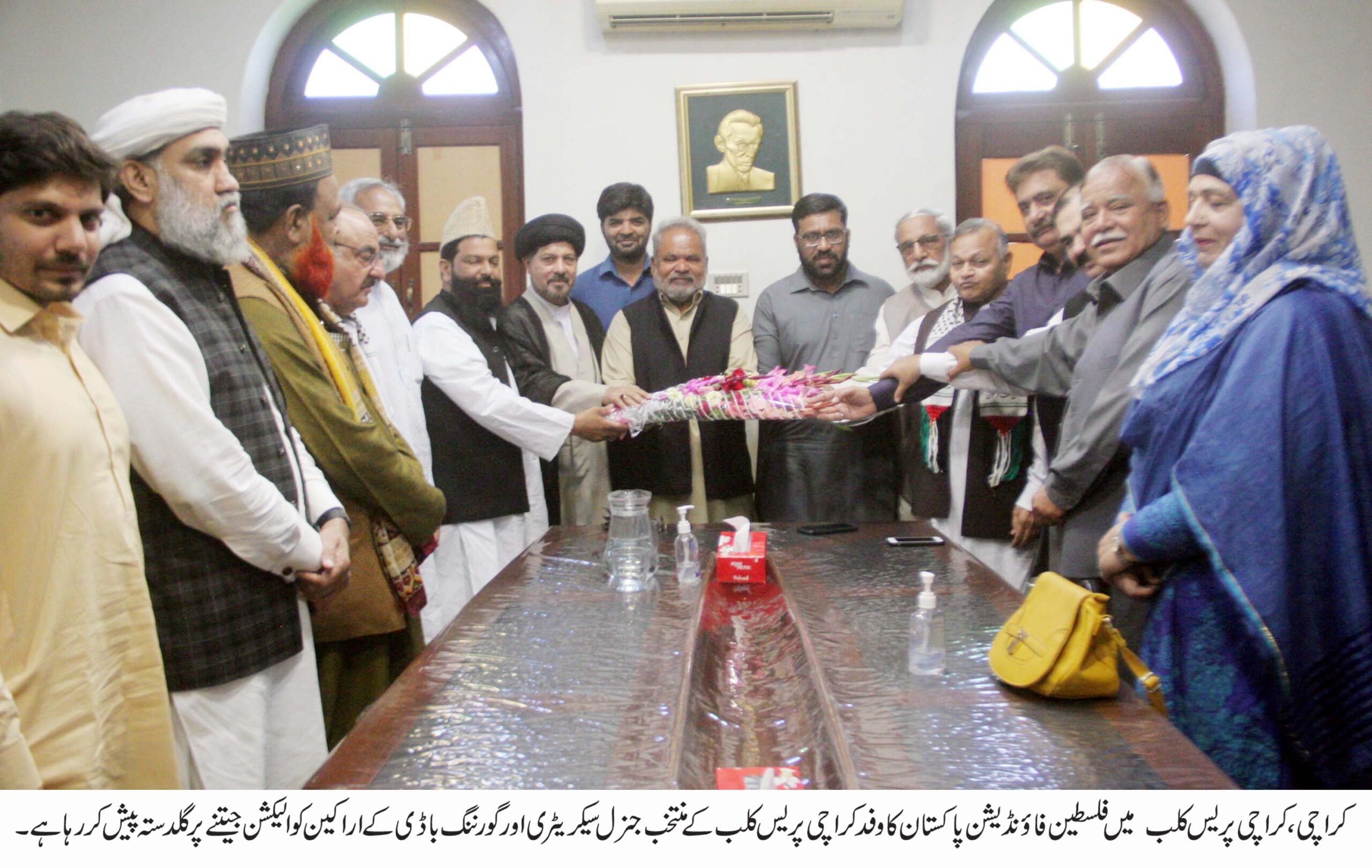 Karachi: Highlighting the issue of Palestine is the first responsibility of journalists and the Karachi Press Club stands side by side with the Palestine Foundation Pakistan (PLF).
These views were expressed by the newly elected Secretary of Karachi Press Club Rizwan Bhatti while meeting the central patron leaders of Palestine Foundation Pakistan at Karachi Press Club on Friday. He said that Palestine is the most important issue of humanity and being a Muslim, our first responsibility is to support the Palestinian cause. He added that when Israel imposed war on Palestine, the journalist community protested in favour of the Palestinian people and against the Zionist aggression. He said that the journalist community observed a black day in protest against Israel. All media houses were blacked out. He said that Palestine Foundation Pakistan is playing an important role in highlighting the issue of Palestine in the country. He said that Karachi Press Club has always continued its strong support for Palestine and ensured all possible cooperation with Palestine Foundation. On this occasion, the patron members of Palestine Foundation Pakistan congratulated Secretary Rizwan Bhatti and his colleagues who were elected as a result of the election held at Karachi Press Club and expressed their best wishes.

What Central Patron Members of Palestine Foundation Pakistan (PLF) including former members of Sindh Assembly Mahfooz Yar Khan, Major (retd) Qamar Abbas, Deputy Amir of Jamaat-e-Islami Muslim Pervez, President of Majlis-e-Wahdat Muslimeen Sindh Allama Baqir Zaidi, President of Jamiat Ulema-e-Pakistan Sindh Allama Qazi Ahmed Noorani, Pakistan People Party leader Arshad Naqvi, Pakistan Tehreek-e-Insaf leader Israr Abbasi, Awami National Party Sindh General Secretary Younis Buneri, Pakistan Muslim League-Nawaz leader Pirzada Azhar Ali Hamdani and Palestine Foundation Pakistan Secretary General Dr. Sabir Abu Maryam, Pir Syed Ashrafi, Iram Butt, Qazi Zahid, Qasim, Ali Ahmar, Salman, Azeem and others on Friday congratulated the newly elected secretary of Karachi Press Club and members of the cabinet and presented bouquets and sweets.