Kashmir needs full attention and practical steps by Government of Pakistan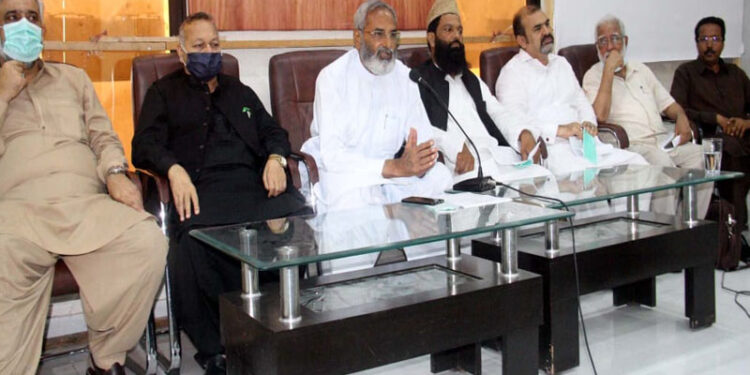 Karachi (PNIC) The Kashmir issue demands full attention and practical steps of the government. The people, the government and the armed forces of Pakistan can work together to liberate Kashmir. These views were expressed by the main patron leaders of Palestine Foundation Pakistan including former members of Sindh Assembly Mahfooz Yar Khan, Jamaat-e-Islami Deputy Amir Muslim Pervez, PML-Q leader Syed Tariq Hassan, Pakistan Tehreek-e-Insaf leader Israr Abbasi and Majlis-e-Wahdat Muslimeen. President of Pakistan Sindh Allama Baqir Zaidi, President of Jamiat Ulema-e-Pakistan Allama Qazi Ahmad Noorani Siddiqui, Leader of Jamiat Ulema-e-Islam (JUI-F) Maulana Umar Sadiq, Chairman of Pillar Karamat Ali and Central Secretary General of Palestine Foundation Pakistan Sabir Abu Maryam, Imran Shehzad, Sadiq Sheikh, Afaq Khattak and others addressed a press conference on the occasion of August 5 on the occasion of Exploitation Day.
It should be noted that the day of exploitation is being observed on August 5 across the country at the request of the government. At the conference, the leaders demanded an end to Indian state terrorism in occupied Kashmir and independence of Kashmir. Addressing the conference, the speakers said that the Kashmir issue should be resolved in accordance with the UN resolutions and if India does not lag behind its state terrorism, then the resistance of the Kashmiri people should be extended to all levels for cooperation and support. He said that the worst atrocities were going on in occupied Kashmir and the international community and institutions remained silent spectators. He said that today India is committing the worst human rights violations in Kashmir and the fake state of Israel in Palestine. He further said that the solution of Kashmir and Palestine issue is possible only through armed resistance and the government should formulate a solid and comprehensive strategy for the solution of Kashmir issue. The speakers said that Palestine is the homeland of Palestinians and Kashmir is the homeland of Kashmiris. No power in the world can separate Palestine and Kashmir from their original inhabitants. India and Israel are a threat to world peace, the international community should take action against them. He also urged the government to take practical and effective steps for the Kashmir cause instead of spending it on verbal deposits. Is desperately needed. Speakers on the occasion said that Kashmir is the lifeblood of Pakistan and Palestine is the heart of the Islamic world. India has occupied the aorta of Pakistan while Israel is like a dagger in the heart of the Muslim Ummah.