Lahore: Demonstrators demand immediate return of Palestinian refugees to Palestine on Nakba Day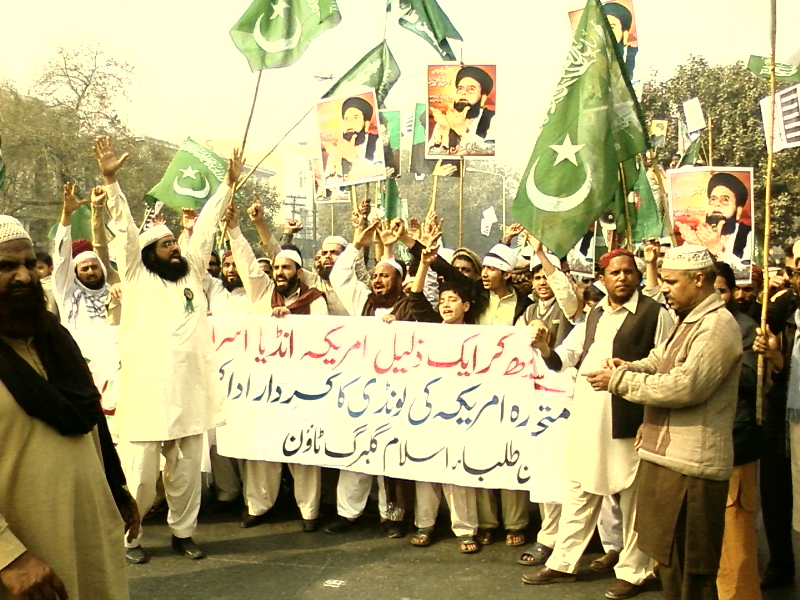 Lahore: Three demonstrations were held here on Friday to protest against Zionist regime of Israel to commemorate the Nakba (Catastrophe) Day.
The protest was staged under the aegis of Palestine Foundation Lahore chapter, Jamiat Ulema-e-Pakistan and Anjuman Talba-e-Islam.These protest demonstrations were held at Masjid-e-Ahl-e-Sunnat main bazaar Baghbanpura where Mufti Raheem Bux Nadeem spoke.Maulana Ayub Faraz, President of Ulema Wing ATI Lahore, spoke to the demonstrators at Jamia Masjid Akbari Mandi.Another big rally was staged outside Jamia Masjid Madina near Government M-A-O- College where Mufti Haneef Khan Chishti and Usman Mohiyuddin, Nazim, ATI Lahore chapter spoke.
The protestors were carrying banners and placards that were inscribed with anti-Israel and anti-US slogans. They also raised slogans in support of oppressed Palestinians.Speaking to the protestors, aforementioned religious scholars said that Zionist regime of Israel was founded on murders and expulsion of hundreds of thousands of Palestinians from Palestine in May 1948.They recalled that Palestinians commemorate May 15 as Nakba day that means catastrophe, disaster or cataclysm. They said that Zionist regime had not stopped creating disasters for Palestinians to date.  They said that hundreds of thousands of Palestinians have been rendered homeless. They said that millions are languishing abroad and long for return to Palestine that is their homeland. They said that the racist regime of Israel had brought Jews from all over the world to change the demography of occupied Palestine.

The PLF, JUP and the ATI's officials said that Palestine is homeland of all Palestinians. They said that UNRWA and UNHCR should play their active and effective role to ensure that Palestinian refugees must return to Palestine without any delay.They demanded of the Pakistan government and the governments of other countries to play their role at United Nations and ensure that UNRWA and UNHCR make foolproof plans for immediate return of Palestinian refugees.