Lahore: PLF appeals to all Pakistanis to participate in Quds Day rallies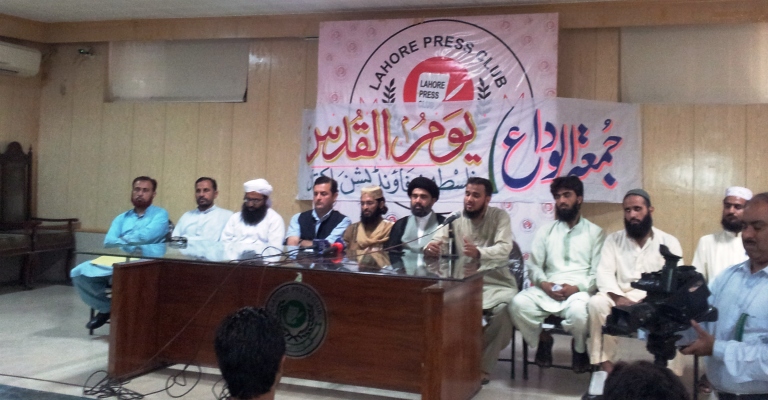 Palestine Foundation of Pakistan has appealed to all Pakistani political and religious parties and civil society to observe International Quds Day on Friday with enthusiasm.
Speaking at a Joint press conference, PLF Lahore chapter's officials namely Sahibzada Ayoub Faraz, Faiz Hashmi, Hafiz Naseer Noorani of Jamiat Ulema Pakistan, Waleed Iqbal of Pakistan Tahreek-e-Insaf, Farooq Ziaee of Jamat Ahl-e-Sunnat, Moulana Sanaullah of Jamiat Ulema Islam (F), Muhammad Ali Naqshbandi of Tahafuz-e-Namoos-e-Risalt, Molana Ahmed Iqbal of Majlis Wahdat Muslameen Pakistan and Usman Mohiyuddin of Anjuman Talba Islam urged the politicians, scholars and civil society to ensure maximum participation of people in the Quds Day rallies on Friday August 2.
They maintained huge participation of people in the Quds Day rallies would convey a message to the world that we unanimously mark solidarity and support to the oppressed Palestinians.
They said that all Pakistanis should participate in the Quds Day's rallies.
They announced that pictorial exhibition was also being held on main Quds Day rally on M.A. Jinnah Road Karachi after Friday prayers on Ramazan 23.
They asserted that Palestine problem is the cardinal problem of Muslim Ummah. They said that Israel is the enemy of all Muslims because Zionists want to destroy Muslim nations and annex their land in their Zionist project.
The PLF Lahore chapter officials said that all Palestinians including around 6 million refugees have right to return their homeland and live there for good. They said that international community should desist from hypocritical role vis-à-vis Palestinians. They said that legitimate national resistance of Palestinians and Lebanese should not be maligned and should not be defamed through media trial.  
They said that Palestinians were suffering from unmatched problems and grievances since the 1940s when Zionist terrorists grabbed their land and imposed an illegitimate state on them. They said that Palestinians were forced to leave their homeland to become refugees for decades through massacre, violence and torture. Therefore, United Nations should punish the Zionist regime instead of lip-service.  
They supported Imam Khomeini's statement that armed resistance to Zionist occupation was the sole way to liberate Palestine. They also endorsed the policy of Imam Khomeini and Imam Khamenei for observance of global Quds Day on the last Friday of Ramazan because these leaders called for Quds Day in the holiest month of Islamic calendar that has Shab-e-Qadr.