Lawyers Association supports Palestine Foundation Pakistan (PLF-P) to the fullest, Naeem Qureshi Advocate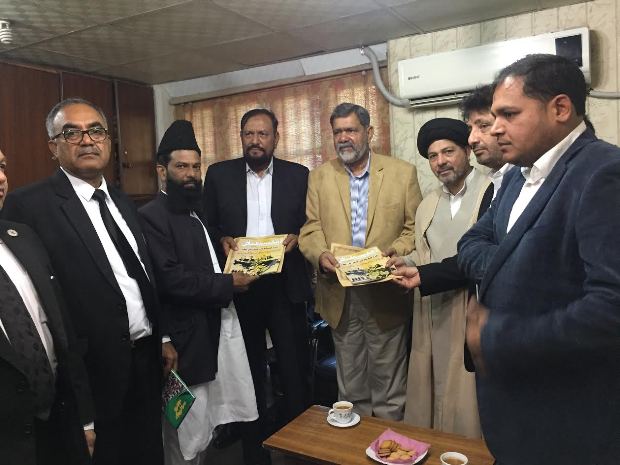 KARACHI – (PNIC) – Palestine Foundation Pakistan delegation led by Mahfooz Yar Khan Advocate met newly-elected President and members of Karachi Bar Association
Palestine Foundation Pakistan Central Secretary General Sabir Abu Maryam congratulated the newly elected president and members of Karachi Bar Association
UN and IC's Silence over the atrocities in Palestine is a crime beyond comprehension, expressed Mahfooz Yar Khan, Maulana Baqir Zaidi, Allama Qazi Ahmed Noorani Siddiqui, Sabir Abu Maryam and others
Karachi: A senior delegation of Palestine Foundation Pakistan (PLF-P) led by their patron, member of Muttahida Qaumi Movement Pakistan and Member Sindh Assembly Mahfooz Yar Khan Advocate met Karachi Bar Association's newly elected president Naeem Qureshi Advocate, General Secretary Khalid Nawaz Marwat, Member Managing Committee Zubaida Shah and other members at Karachi Bar Room.
The dignitaries of PLF-P's Central Guidance Council Members included Majlis Wahdat Muslimeen Pakistan's central leader Maulana Baqir Zaidi, Jamiat Ulema Pakistan's leader Allama Qazi Ahmed Noorani Siddiqui and PLF-P central secretary general Sabir Abu Maryam.
The occasion witnessed other celebrities including District Public Prosecutor Khan Muhammad Kashmiri Advocate, Member Sindh Bar Council Ghulam Rasool Sohu, National Democratic Lawyer Forum's Farooq Mehtab and many others.
PLF-P congratulated the newly elected president of Karachi Bar Association Naeem Qureshi.
During the meeting both the president and general secretary mentioned the suffering of Muslim Ummah at the hands of Zionist regime. Muslim Nation in unison, should fight the conspiracies of the regime that they hold against Palestine specially. These conspiracies have brought the whole of Muslim World to include Palestine, Lebanon, Iraq, Syria, Libya, Yemen, Kashmir, and Pakistan at the threshold of terrorism.
PLF-P's central secretary general gave out an elaborate narration of the foundations' work and its effort for the cause of Palestine. He went ahead offering Naeem Qureshi an honorary membership to the Central Guidance Council.