Legal scholars in 'Israel' call for 'war crimes' probe into Smotrich remarks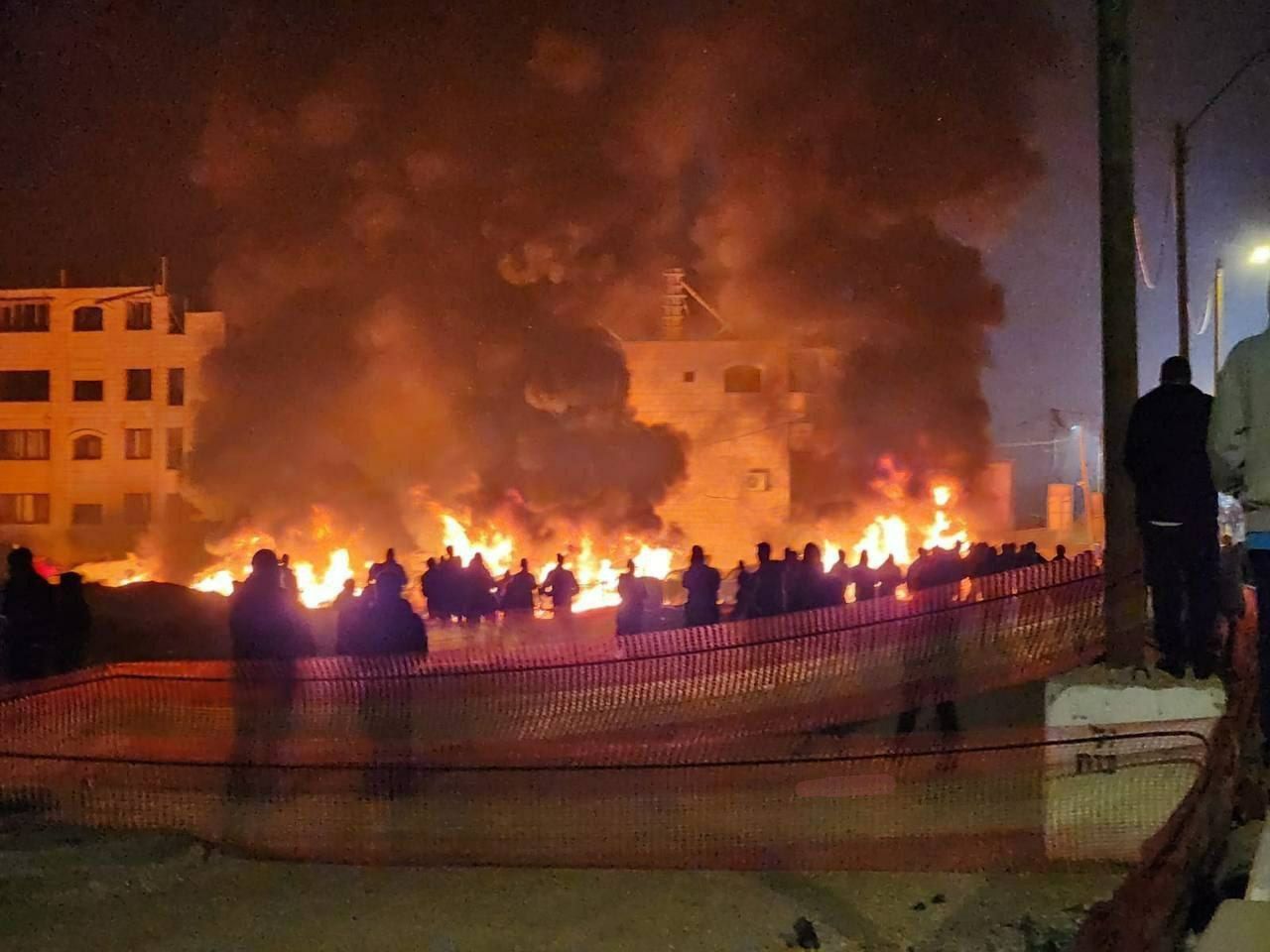 – Twenty-two legal experts in 'Israel' have urged the attorney general to investigate pro-settler government MPs – including far-right minister Bezalel Smotrich – for "inducing war crimes" over their public support for settlers' rampage in the occupied West Bank.
On Sunday evening, southern areas of the occupied West Bank city of Nablus were under Israeli settlers' attacks, including towns of Huwwara, Burin, and Asira al-Qabaliyya.
Israeli settlers, flanked by soldiers, rampaged through the towns in the area in revenge attacks after two Israeli settlers were killed, burning and attacking Palestinian houses and properties for hours.
At least one Palestinian was killed and about 400 wounded in the attacks, Palestinian health officials said. Sameh Hamdullah Aktech, 37, was shot dead in Za'tara town near Nablus. The Palestine Red Crescent Society (PRCS) said its staff treated someone for stabbing wounds and at least two others suffered head injuries.
Houses, shops, vehicles and agricultural land were set ablaze by settlers who roamed the streets of several Palestinian towns, mainly near Nablus.
The PRCS said at least 35 homes were completely burned down and 40 others were partially damaged. More than 100 cars were burnt or destroyed, it added.
On Sunday, the settlers committed about 300 violations against Palestinians and their properties in towns of Huwwara, Burin, and Asira al-Qabaliyya, Ghassan Daghlas, who monitors settlement activities in the northern West Bank, noted on Monday.
In a letter signed by 22 legal scholars on Monday, the scholars addressed Attorney General Gali Baharav-Miara and chief military prosecutor Yifat Tomer-Yerushalmi, calling for an immediate investigation into all those involved in the attacks on Sunday.
Before and after the attacks took place, several Israeli politicians seemed to encourage or support the settlers' actions.
Smotrich, the finance minister who is responsible for West Bank civil administration, liked a tweet that called for Israeli politicians to show no mercy and that the "village of Huwwara should be erased today".
The tweet on Sunday by David Ben Zion, the deputy head of the Samaria Council that governs illegal settlements in the northern West Bank, has since been deleted.
Smotrich also took to Twitter while attacks were ongoing to promote a thread that recommended the "collective punishment of the terrorist's family and environment as an effective and necessary tool in asymmetric warfare".
The 22 legal scholars argued that such remarks breached international law and "induced others to commit war crimes".
The letter cited the comments made by Smotrich as well as MPs Limor Son Har Melech and Tzvika Foghel.
Eliav Lieblich, one of the letter's signatories, told Middle East Eye the scholars were prompted to send the letter due to the unprecedented nature of the attacks and their support from government officials, as well as the military's failure to prevent the violence.
"You can understand if the army doesn't know about one or two settlers building a new outpost, but how can an event this large happen and no one does anything to stop it?" Lieblich, a law professor at Tel Aviv University, said.
Settler groups publicly announced their intention to carry out "revenge" in Huwwara on Sunday and even shared the information on social media. The rampage lasted for at least five hours.
"I don't know if the letter will do anything but what Smotrich did was unprecedented," Lieblich added.
Legal experts told MEE that if the settler attacks are not investigated in 'Israel', there's a likelihood the case could be taken to international courts.
Har Melech, from the far-right Otzma Yehudit party of National Security Minister Itamar Ben Gvir, joined settler crowds in Huwwara on Sunday.
She called the attacks "the righteous cry of hundreds of Samaria residents who came out to protest and demand security".
Samaria is the name Israelis use to refer to the north of the occupied West Bank.
Foghel, also from the Otzma Yehudit party, said on Monday he was pleased with the "deterrence" achieved through the riots.
"Huwwara is closed and burned. That is what I want to see," he said in an interview with army radio.
"All the aforementioned remarks imply support in advance [in the cases of Ben Zion and Smotrich], support in real time [Har Melech] or justification after the fact [Foghel], and amount to encouragement to commit similar attacks in the future," the legal scholars' letter said.
The experts demanded that rioters be arrested and prosecuted immediately, and be treated the same way Palestinians are.
The letter urged the military commander in charge of the West Bank not to differentiate between defendants based on ethnicity or race.
"Such a discrimination may even establish, under certain conditions, suspicion of committing a crime of apartheid," the letter said.
At least 400 settlers are suspected to have taken part in the marches and attacks on Sunday.
Israeli forces arrested only eight people for their alleged involvement in the rampage. All eight were later released.
Lieblich told MEE the legal experts will wait for the government's response to their letter before deciding the next steps.