Mainstream political and religio-political parties to attend APC on Palestine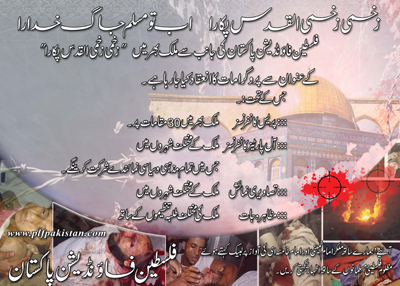 Mainstream political and religio-political parties have assured the Palestine Foundation (PLF) Pakistan to attend the All Parties Conference on Palestine in Karachi on Monday July 14.
The PLF's Allama Qazi Noorani headed delegation met several leaders and invited them to attend the APC on "A Clarion Call of Bleeding Quds, O Muslim Wake up for God's Sake."
Invitation was given to the Pakistan Peoples Party's Senators Raza Rabbani and Taj Haider, Salim Zia and Nihal Hashmi of Pakistan Muslim League-Nawaz, Allama Amin Shaheedi of Majlis-e-Wahdat-e-Muslimeen, Meraj ul Huda Siddiqui of Jamaat-e-Islami, Qari Usman of Jamiat UIema-e-Islam, Allama Abbas Kumaili of Jafaria Alliance, Haleem Adil Shaikh of PMLQ, Allama Nazir Taqvi of Shia Ulema Council, Imtiaz Shaikh of the PMLF, Dr S M Zamir of Pakistan Awami Tehrik, Shahid Ghauri of Sunni Tehrik, Allama Mirza Yousuf of Shia Action Committee, Faisal Azizi of Sunni Ittehad Council, Allama Aqeel Anjum of the JUP, Muzammil Hashmi of Jamaat ud Dawa, Younus Buneri of ANP, and Coodination Committee of the MQM.
PLF spokesman Sabir Karbalai said that they all assured they would attend the APC and express their views to express solidarity with Gaza, Palestine.
Human rights activists such as Shehzad Mazhar and Civil Society's leading figures including Karamat Ali will also attend the APC.