Meeting of Palestine Foundation and Hurriyat Conference leaders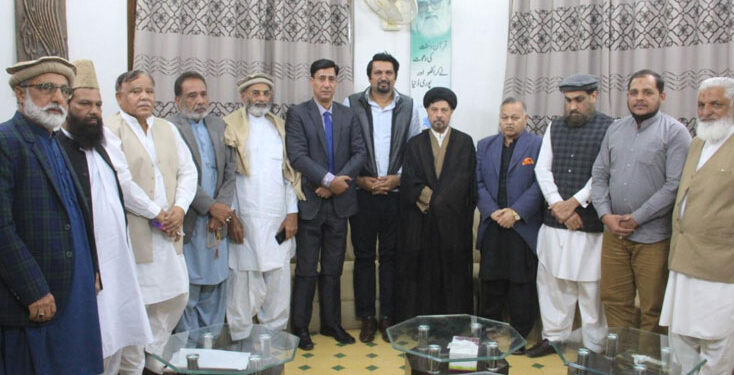 KARACHI (PNIC): Hurriyat Conference Leader Abdul Hameed Lone and Editor-in-Chief of Kashmir Times Abid Abbasi called on the leaders of Palestine Foundation Pakistan at Nohaq Institute. Pirazhar Hamdani, Allama Qazi Ahmad Noorani, Major Qamar Abbas, Matool Awan, Qazi Zahid, and Haji Pervez were also present.
Al-Hamid Lone said that the worst atrocities are taking place in Palestine and Kashmir. For the last several years, a curfew has been imposed on the occupying Indian forces in Kashmir, which has made the lives of the people miserable. He said that Asiya Andrabi, Syed Gilani, and Yasin Key leaders, including the country, are being subjected to the worst violence. He said that Kashmiri people want Pakistan and Kashmiri people to have aspirations from the people of Pakistan. Kashmiri people are looking towards Pakistan.
Addressing the conference, Secretary-General of Palestine Foundation Dr. Sabir Abu Maryam said that Palestine Foundation Pakistan Kashmiri The right of the people demands restoration of self-determination. According to UN resolutions, Kashmiris should be given the right to self-determination. The issue of Kashmir and all our differences in Palestine have no place. We continue the struggle for the independence of Palestine and Kashmir.
Addressing the conference, Muslim Pervez said that we have always supported Palestine and Kashmir cause. Every person of Pakistan is with Kashmir and Palestine cause.
Addressing the conference, Allama Baqir Abbas Zaidi said that the struggle will continue till the independence of Kashmir and Palestine. We support the Kashmir cause. The independence of Palestine and Kashmir is final. No power can stop the independence of Palestine and Kashmir.
Allama Qazi Ahmed in his address to the conference Noorani said that India has the worst history of atrocities against humanity. Kashmir is the lifeblood of Pakistan and Palestine is the lifeblood of the Islamic world. We fully support the ongoing struggle for the independence of Kashmir. Has been stripped. The right to freedom is denied. The speakers demanded that the government take practical steps for the Kashmir issue beyond the policy of protests.