MOH: Sick Palestinian child in ambulance attacked by Israeli settlers arrived at ICU 3 hours late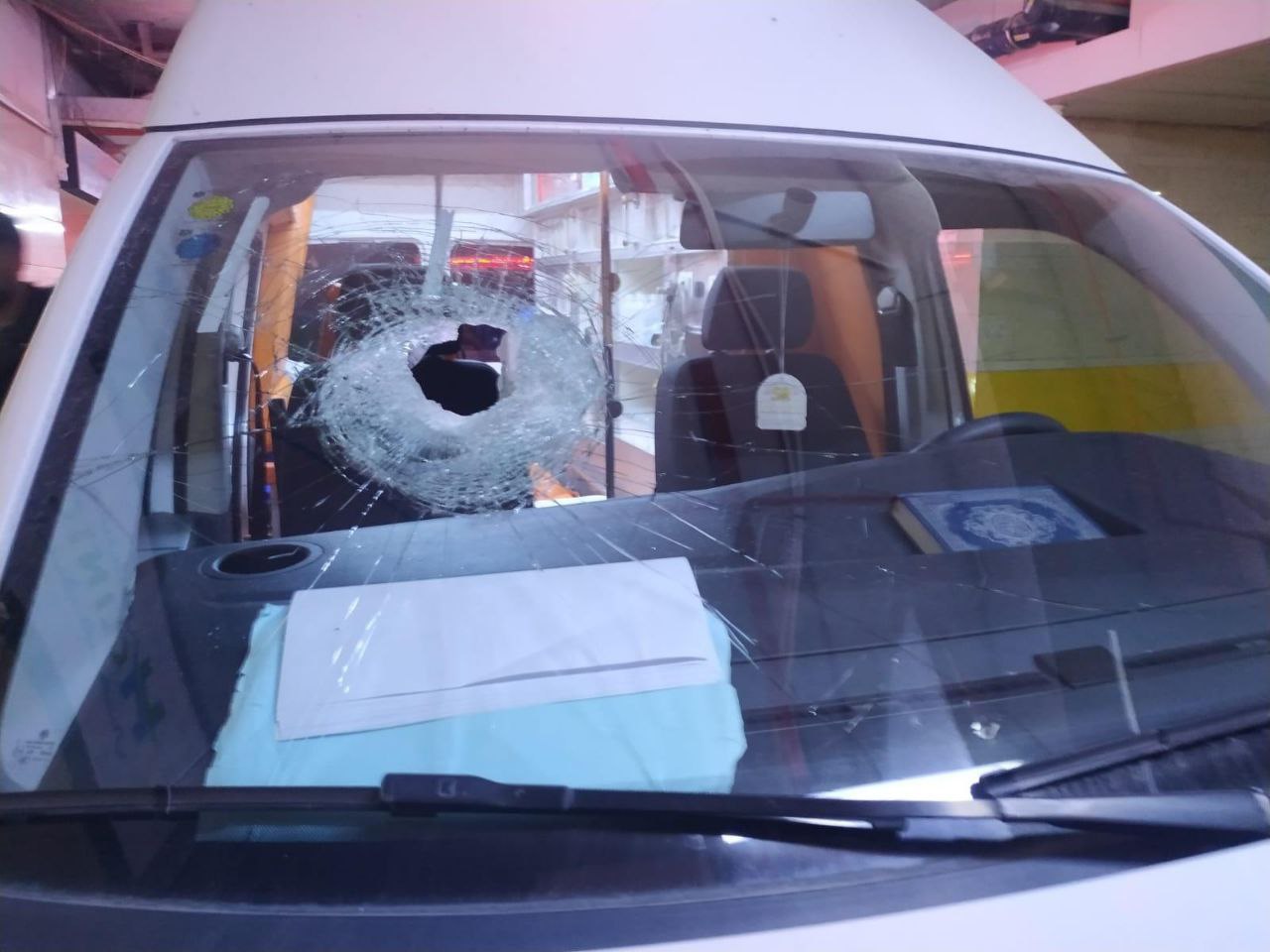 Palestinian Minister of Health Mai Al-Kaila slammed on Tuesday Israeli settlers' attack on a Palestinian ambulance while rushing a sick Palestinian child in an urgent condition from Jenin to a Ramallah hospital, noting the child arrived at the ICU three hours late.
The Minister condemned the settlers' Monday attack on the ambulance in the north of the West Bank while it was transporting a 12-year-old Palestinian girl who suffers from a difficult health condition from Jenin Government Hospital to the ICU at Ramallah's H-Clinic.
The Ministry of Health said in a statement that the ambulance left Jenin Government Hospital at around 8:45 pm local time, and took detours and off-roads to avoid obstructions at checkpoints and settlers' attacks on the roads. As it reached Zaatara military checkpoint, south of Nablus, about two hours later, it was hit by rocks thrown by colonial Israeli settlers and the ambulance windows were smashed.
The statement added that the sick child, the ambulance crew, and the accompanying doctor were in a state of extreme panic as a result of the settlers' attack, and the child's mother, who was accompanying her in the ambulance, was injured in the knee from broken glass.
The ambulance arrived at H-Clinic Hospital in Ramallah more than three hours after it left Jenin Government Hospital, which seriously affects the health of patients whose condition requires an urgent transfer between treatment centers in cities and villages.
Dr. Al-Kaila called on international human rights organizations to take this matter seriously, urging action to curb the Israeli occupation forces and settlers from attacking ambulances and health workers who carry out their humanitarian duty towards the sick and wounded.
The Minister of Health said the occupation forces and settlers commit daily assaults on the Palestinian people and health workers who carry out their humanitarian duty, as ambulances are daily obstructed, delayed and assaulted.
She added that several ambulances, treatment centers and medical personnel, were recently targeted by the occupation forces and ambulance crews were prevented from reaching wounded people who were shot during Israeli military raids into cities and villages.
On Sunday evening, southern areas of the occupied West Bank city of Nablus were under Israeli settlers' attacks, including towns of Huwwara, Burin, and Asira al-Qabaliyya.
Israeli settlers rampaged through the towns in the area on Sunday evening in revenge attacks after two Israeli settlers were killed, burning and attacking Palestinian houses and properties for hours.
At least one Palestinian was killed and about 400 wounded in the attacks, Palestinian health officials said.
Sameh Hamdullah Aktech, 37, was shot dead in Za'tara town near Nablus. The Palestine Red Crescent Society (PRCS) said its staff treated someone for stabbing wounds and at least two others suffered head injuries.
Houses, shops, vehicles and agricultural land were set ablaze by settlers who roamed the streets of several Palestinian towns, mainly near Nablus.
The PRCS said at least 35 homes were completely burned down and 40 others were partially damaged. More than 100 cars were burnt or destroyed, it added.
On Sunday, the settlers committed about 300 violations against Palestinians and their properties in towns of Huwwara, Burin, and Asira al-Qabaliyya, Ghassan Daghlas, who monitors settlement activities in the northern West Bank, noted on Monday.
The shooting operation which took place on Sunday afternoon and resulted in the killing of the two settlers in Huwwara town was carried out by a Palestinian man in response to Israel's last week bloody massacre in Nablus where Israeli occupation forces killed 11 Palestinians in a deadly raid.