Nakba Day Marks in Pakistan condemn Israeli occupation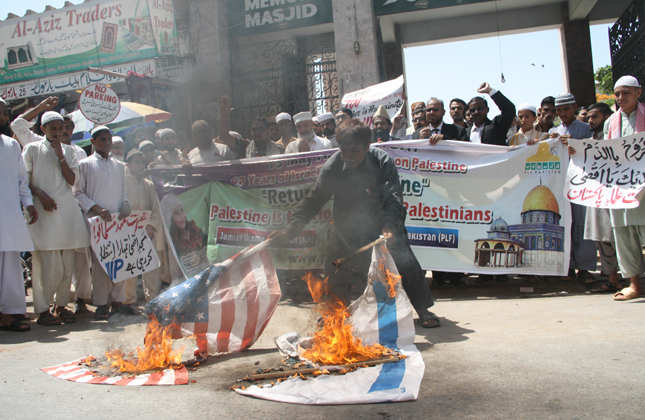 The participants of the protest demo on Friday condemned the Israeli occupation on Palestine and atrocities against the oppressed people of Palestine. They alleged that Israeli and anti-Pakistan states are involved in Bus Attack on Ismaili's community in Karachi.
The protest demonstration was held outside the Memon Mosque Karachi, organized by Jamiat Ulema-e-Pakistan (JUP) and Palestine foundation Pakistan to mark the 15th May Nakba Day, the day marked the illegitimate foundation of zionist Israel and forcedly displacement of Palestinians from their homeland.
The protestors holding the placards and banner inscribed the anti-Israel, Down with US & Britain slogans demanding the end of illegitimate occupation of Zionist Israel on Palestine. The protestors also torched the United States and Israeli flags by chanting Down With US and Down with Israel slogans.
In their addresses Palestine Foundation secretary General Mr Sabir Abu Maryam, Qazi Ahmed Noorani Of JUP, Mohammad Hussain Mehanti Of JI, Mehfooz Yar Khan of MQM and others condemned the United States and British support to Zionist Israel saying that US and UK are equally responsible of the killings of the people of Palestine.
They claimed that the Israel was involved in the present unrest in Muslim world including Pakistan, Lebanon, Syria, Egypt, Iraq, and Afghanistan saying that the conspiracy of the brutal killing of ismaili community was also hatched by the Israel and anti-Pakistan foreign forces to destabilize Pakistan.
The leaders demanded of the America and United Kingdom to stop the patronage of Israel forthwith and urged the Muslim states and Pakistan to play their role for the diplomatic and moral support to oppressed people of Palestine.
Nakba Day, "Day of the Catastrophe" is commemorated on 15 May oof every year, the day of illegitimate foundation day of Israel on Palestine with US and UK support. For the Palestinians it is an annual day of commemoration of the displacement that preceded and followed the Isreali occupation on Palestine in 1948.