Nasrallah hails Palestinians' steadfastness in face of Israeli occupation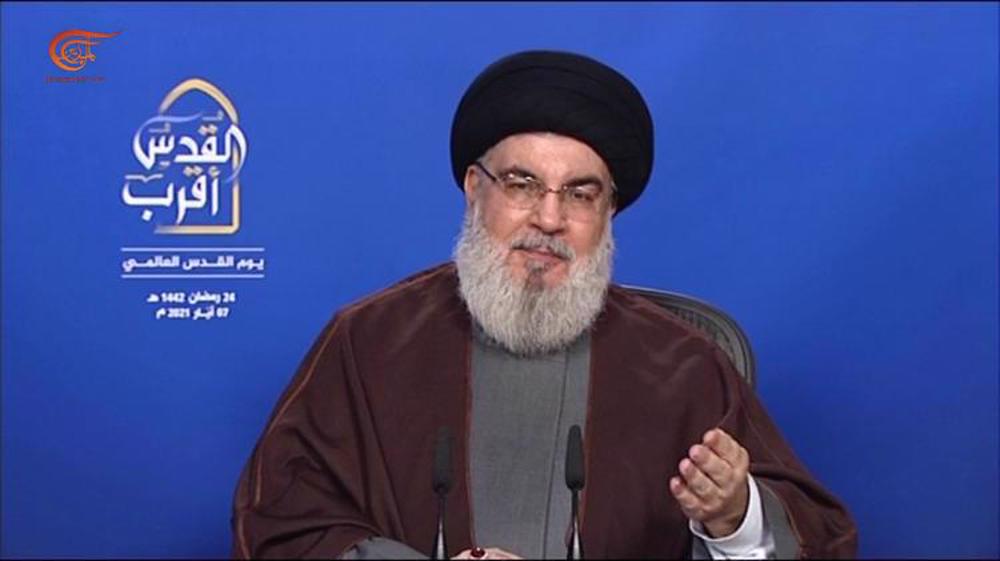 LEBNON (PNIC) The secretary general of the Lebanese Hezbollah resistance movement, Sayyed Hassan Nasrallah, has hailed the steadfastness of Palestinian people in the face of the Israeli regime, saying that the support provided by the Gaza-based resistance forces to the Palestinians in Jerusalem al-Quds poses "a very serious threat" to Israel.
In a televised speech on the occasion of International Quds Day, Nasrallah said the Palestinians' rejection of the Israeli occupation and their insistence on their rights gave legitimacy to the resistance front and the support provided to the Palestinian people.
Nasrallah described the firing of rockets by the resistance forces in the Gaza Strip toward the Israeli-occupied territories in defense of Jerusalem al-Quds as a "most important development."
He said the Israeli regime knew that the involvement of Gaza in the conflict is "a very serious threat," urging the leaders of Palestinian resistance to "continue with this approach."
International Quds Day is a legacy of the late founder of the Islamic Republic of Iran, Imam Khomeini, who designated the day as such in solidarity with the Palestinians and in opposition to the Israeli regime.
Quds Day events are held worldwide on the last Friday of the Muslim holy month of Ramadan every year.
Over the recent days, Jerusalem al-Quds has witnessed intensified tensions as Palestinians confronted acts of aggression by Israeli troops and settlers.
The aggression triggered protests in the occupied West Bank and the Gaza Strip and rocket fire by the resistance forces in the besieged enclave.