Normalization with Israel is a betrayal of the Muslim Ummah: Dr. Sabir Abu Maryam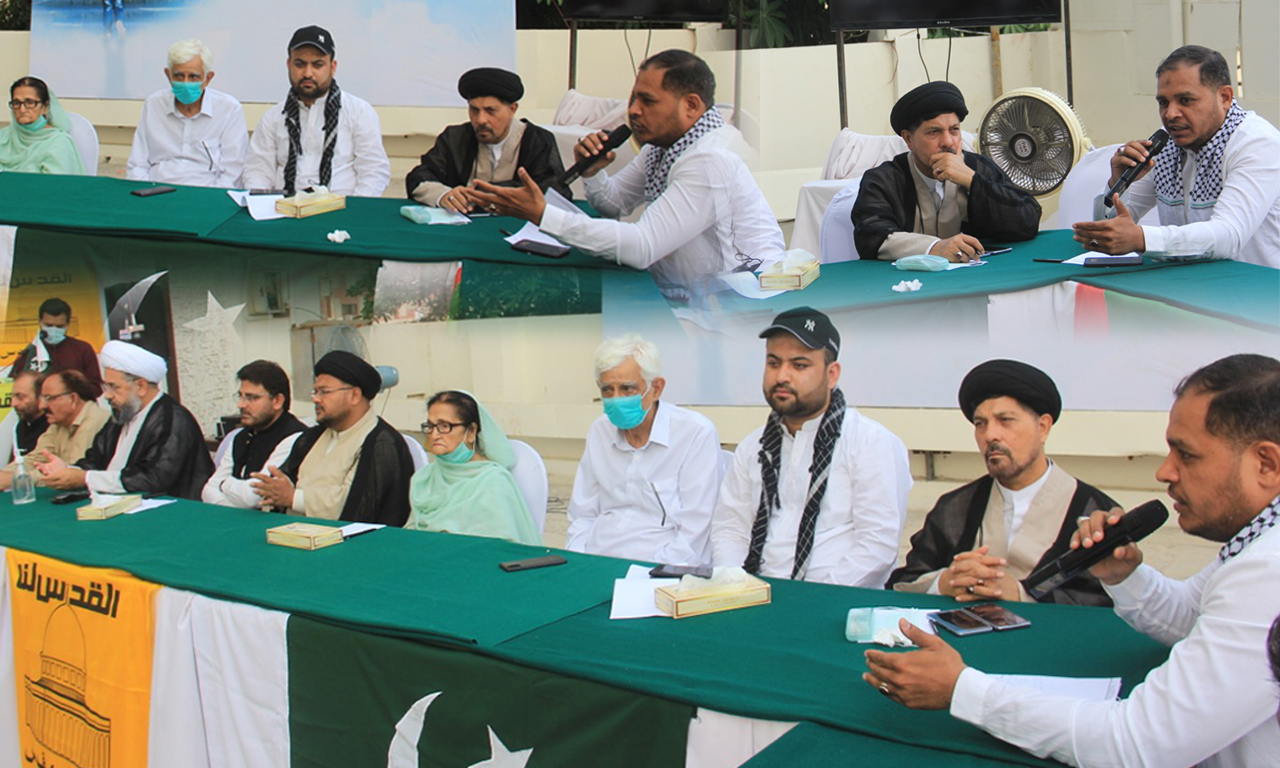 KARACHI (PNIC): Dr. Sabir Abu Maryam, Central Secretary General of Palestine Foundation Pakistan, has said that recognition of Zionist's fake regime Israel and establishing relations with it is a betrayal with the Muslim Ummah. He expressed these views while addressing the Al-Quds Conference organized by Imamia Students Organization Pakistan Karachi Division.
The Secretary General of Palestine Foundation Pakistan said that Palestine is going through a critical period in its history and the first Qibla of Muslims is in danger therefore it is the basic duty of the Islamic Ummah to fight for the defense of Al-Quds. He said that the Muslim Ummah refers to the governments of the Islamic world whose unity and solidarity can only lead to the liberation of Palestine. He said that the rulers of some Arab countries, by putting their personal interests ahead of the interests of the Muslim Ummah, have declared their recognition of the Zionist state of Israel and established relations with it, which not only stabbed the Palestinians in the back. It is like a serious betrayal with the whole Muslim world. He called on the Arab rulers to reconsider their decision on relations with Israel and not to allow the feelings of the oppressed Palestinian people, including the Muslim Ummah, to be hurt.
Dr. Sabir Abu Maryam said that last Friday of month of Ramadan should be officially celebrated as International Al-Quds Day and a resolution in favor of Palestine should be tabled in the Parliament as well as a call on Muslim countries around the world for the liberation of Palestine and the destruction of Israel. He demanded the government of Pakistan to root out the elements in Pakistan who raised their voice against the Kashmir cause and Palestine, and to punish the elements working for Israel by punishing them severely.
Leaders of all political and religious parties including PTI leader and Parliamentary Secretary Aftab Jahangir, PPP Senator Taj Haider, MQM leader Dr Farooq Sattar, ISO Central President Arif Hussain Al Jani attended the all-party conference under ISO Karachi. ANP leader Younis Buneri, PSP deputy general secretary Dr. Yasir, MWM central deputy secretary general Nasir Abbas Shirazi, Maulana Ahmad Iqbal Rizvi, Ummah Wahida Pakistan chief Maulana Amin Shahidi, Shia action committee leaders Allama Mirza Yusuf Hussain, President of Shia Ulema Council Sindh Allama Nazir Taqwa, Leader of Jamiat Ulema Pakistan Qazi Ahmad Noorani, Allama Baqir Zaidi, Former Member Sindh Assembly Major (retd) Qamar Abbas, Leader of Jafaria Alliance Shabar Raza, Dr Alia Imam, PML-N leader Azhar Hamdani, Pakistan Awami Tehreek central leader Rao Kamran, Functional League leader Salman Fayyaz, Babar Jahangir and others also addressed the gathering. Representatives of Asgharia Students Organization of Pakistan, Islamic Jamiat Students, All Pakistan Muttahida Students Organization, Punjabi Students Association and other student organizations also attended the conference. Khaled Qadoumi, the leader of the Palestinian resistance movement Hamas, also addressed the APC via video link.