On 42nd day of the aggression on Gaza, the massacres continue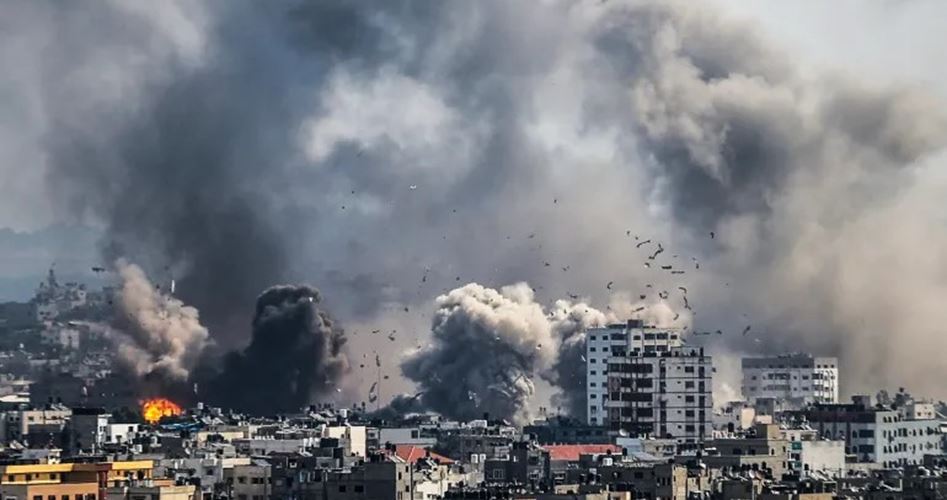 GAZA,(Palestine Foundation Information Center)The Israeli occupation forces (IOF) continued the bloody onslaught on the Gaza Strip for 42 consecutive days on Friday, intensifying airstrikes, shelling homes with occupants inside, invading the Shifa Medical Complex, and committing acts of genocide, while expanding ground incursions from multiple axes amidst fierce resistance.
PIC correspondents reported that the occupation forces continued their bombardment of Gaza through air, sea, and land, particularly targeting homes with occupants inside. The communication and internet blackout has made it extremely difficult to ascertain the results of the airstrikes.
Israeli warplanes targeted a house in eastern Gaza, while the helicopter gunships fired towards several areas.
Israeli warplanes carried out multiple airstrikes this morning in eastern Khan Younis and eastern Rafah, while the IOF conducted artillery shelling targeting Palestine Square, Omar Al-Mukhtar Street, and the center of Gaza City.
Three martyrs and a large number of injuries were reported as a result of the Israeli occupation's shelling of the Al-Qahwaji family's house in the middle of Bani Suhaila, east of Khan Younis. Meanwhile, sounds of clashes were heard in the eastern governorate, without further details available.
The IOF fired smoke bombs in the Abu Iskandar area, Jabalia Camp, and the Sheikh Radwan neighborhood in the northern part of Gaza City.
Israeli warplanes carried out several airstrikes in the Austrian neighborhood west of Khan Younis.
The Secretary-General of the Al-Ahrar Movement, Khaled Abu Hilal, along with one of his sons and six civilians, were martyred in an Israeli airstrike last night on his house and neighboring houses on Al-Jalaa Street in the Sheikh Radwan neighborhood in Gaza, according to the local newspaper Al-Quds.
Israeli warplanes launched dozens of airstrikes last night on the Sabra neighborhood and other neighborhoods in Gaza, with no details available about the casualties and the victims.
Israeli occupation forces are, meanwhile, still besieging Baptist Hospital in Gaza.
The occupation airstrikes resulted in the complete destruction of four houses in the Nuseirat Camp, causing 18 martyrs in addition to injuries and missing persons.
Israeli warplanes carried out multiple airstrikes on Jabalia Camp and the city of Jabalia and targeted the headquarters of Nama'a Radio in Jabalia, north of the Gaza Strip, resulting in numerous martyrs and injuries.
The IOF artillery shelled several areas in the northern Gaza Strip, including Jabalia, in addition to the Tuffah neighborhood, Shuja'iya neighborhood, and Yafa Street in Gaza City.