Pakistan Govt should declare last Friday of Ramzan as Quds Day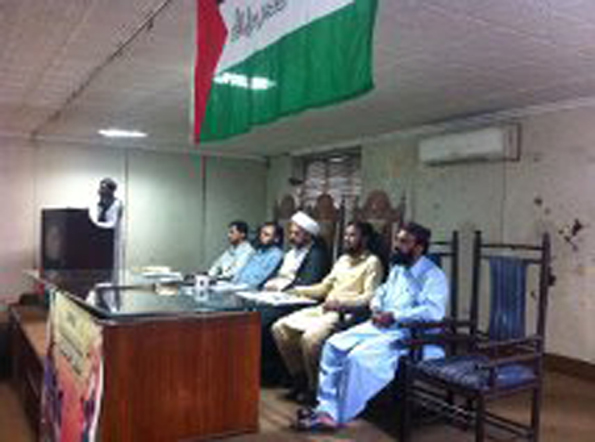 Speakers at a seminar on "Palestine is a country of Palestinians" said that United States and Israel are world's terrorists. 
Speaking at the seminar at Lahore Press Club under the aegis of Palestine Foundation Pakistan Lahore chapter, they demanded of the government to declare last Friday of Ramzan as Quds Day. Those who spoke were: Maulana Raghib Naeemi, Principal of Jamia Naeemia, Mujahid Rasool, President Sunni Tehrik Lahore, Sahibzada Afzaal  Noorani of Jamaat-e-Ahl-e-Sunnat, Mohammad Ali Naqshbandi of Tehrik-e-Namoos-e-Risalat, Maulana Abdul Khaliq Asadi, secretary general Majlis-e-Wahdat-e-Muslimeen Punjab chapter, Faiz Ahmed Hashmi of Jamiat Ulema-e-Pakistan, Azhar Imran, President, Imamia Students Organization, Hafiz Raheem Bux Nadeem of Anjuman Talba-e-Islam and Mohammad Ammar and others of Palestine Foundation Lahore chapter.   
They said that last Friday of Ramzan is observed across the world to express solidarity with oppressed Palestinians therefore government should also observe it as Quds Day. They demanded that government should officially announce a struggle for the just cause of Palestine. They said that 64 years have been passed but Palestinians have been denied all their legitimate rights so far. They said that Arab rulers had betrayed Palestinians, Arabs and Muslim Ummah. They said that the United States is number one terrorist of the world and Israel is its main ally in the Middle East. They said that Arab rulers sided with the U.S. and they are equally responsible for the plights being experienced by Palestinians. They said that Palestine is a country of Palestinians and all those Jews who were brought to Palestine to change the demographic position of Palestine should return to their countries of origin.
 They said that Pakistan's people and political and religious parties support Palestinians and they will continue their support in future as well.   They said that the wave of Islamic awaking in Middle East and North Africa is a positive sign and it will help bring freedom and independence to Palestine. They said that the U.S. and Israel were involved in terrorism in Pakistan and their plots are aimed at creating division between Pakistanis and rest of the Ummah. Video message of Hamas leader Mahmoud al Zahar and a video documentary were also shown at the seminar in which a large number of people attended.