Pakistani Nation urged for Palestinian right of return to Palestine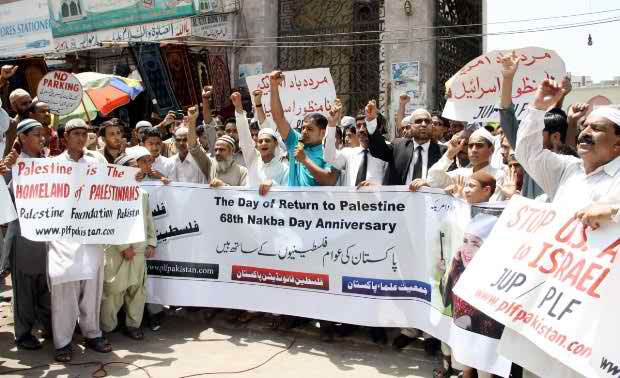 (PNIC) – Jamiat Ulema Pakistan (JUP) & Palestine Foundation Pakistan (PLF) has organized a joint protest demonstration in connection of 68 #NakbaDay anniversary and ongoing week-long campaign of Palestine Foundation's "Palestine is the homeland of Palestinians".
The protest demonstration occured in front of new memon mosque #Karachi after Friday prayers, protestors were holding banners and pla cards mentioned demand of right of return to Palestine and condemned atrocities of Zionist regime #Israel and #US as supporting Israel.
They burned #US and #Israel flags and they were chanting slogans "Down with USA", "Down with UK", "Crush Israel", "Free Free Palestine".
Among the protesters Allama Qazi Ahmed Noorani of JUP, Sabir Abo Maryam of PLF, Nasir Rizwan Advocate of civil society, Abbas Noorani of ATI, Iqbal Yousof of JI and others were addressed the issue of #NakbaDay and Israeli atrocities on oppressed people of Palestine.
They demanded right of return to Palestine for all Palestinians and they said Israel is an illegitimate state and Pakistani Nation never tolerate this injustice with Palestinian people.
The said Palestine is the homeland of Palestinians and it is from the river to the sea.