Palestine Conference Quetta: "The sons of Quetta sacrificed their lives for the sacred cause of Palestine".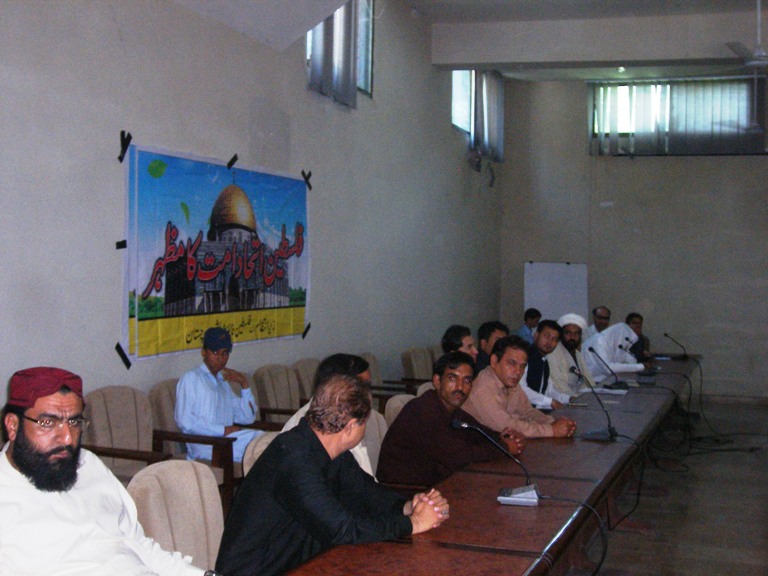 International Quds Day will observe across Baluchistan on last Friday of Ramdan
Speakers at an international conference on Palestine have said that the sons of Quetta sacrificed their lives for the sacred cause of Palestine when Zionist agents massacred them at Quds Day Rally.
They were speaking at an international conference on "Palestine: Manifestation of Muslim Ummah's Unity," that was held under the aegis of Palestine Foundation of Pakistan at a Press Club Quetta on Tuesday.
Those who spoke included Commander Khuday Dad Central Vice President of Awami National Party Pakistan (ANP), Qazi Abdul Qadeer  & Hafiz Nasiruddin of Jamiat Aehl-e-Hadith, Amanullah Shadzai of Jamat-e-Islami Baluchistan (JI), Syed Habibullah Shah of Deputy Chairman of Sunni Supreme Council , Moulana Maqsood Ali Domki of Majlis wahdat Muslameen Pakistan (MWM), Mir Abdul Rauf Sasuli of Jamhoori Watan Part (JWP) and Ali Baloch of Pakistan Sunni Tehreek (PST).
The speakers said that Palestine is just cause for all Muslims of the world and they are capable to liberate it.  
They expressed concern that around 6 million Palestinians have been made to spend lives as refugees. They said that Zionist terrorists imposed an illegitimate state on the sacred land of Palestine by the use of terrorism and violence and they forced Palestinians to leave their homeland to avoid massacre.
They demanded that immediate practical measures be adopted to ensure return of these refugees to their homeland Palestine.
They further demanded that Palestinian prisoners should also be freed without any delay. They urged the Palestinian Authority, Hamas and Hezbollah to join hands and sink their differences in view of their legitimate Cause.
They said that the Zionists and their allies punish Pakistan because of the fact Pakistan never recognized Israel as a legitimate state. They maintained that Palestine is a legitimate state and world powers have to recognize this very fact.
They condemned the conspiracies of enemies of Islam against the Muslims. They appealed to the Muslims across the world to join hands to counter the nefarious designs of the enemies of Islam and Muslims. They condemned the criminal silence of the U.S., U.K. and their allied powers against the Zionist atrocities in Palestine.
They said that credit goes to Imam Khomeini and Imam Khamenei for highlighting the issue through observance of International Quds Day on last Friday of holy month of Ramazan.
They appealed to all Pakistanis to observe the Quds Day to express solidarity with the oppressed Palestinians. They thanked Palestine Foundation of Pakistan for their efforts to create awareness among Pakistanis about Palestine problem.   
They vowed that Pakistani nation would continue their unwavering support to the just cause of Palestine and would never bow to any pressure.  
{gallery}plf_quetta{/gallery}