Palestine Foundation announces fully support the Third Intifada of Palestinians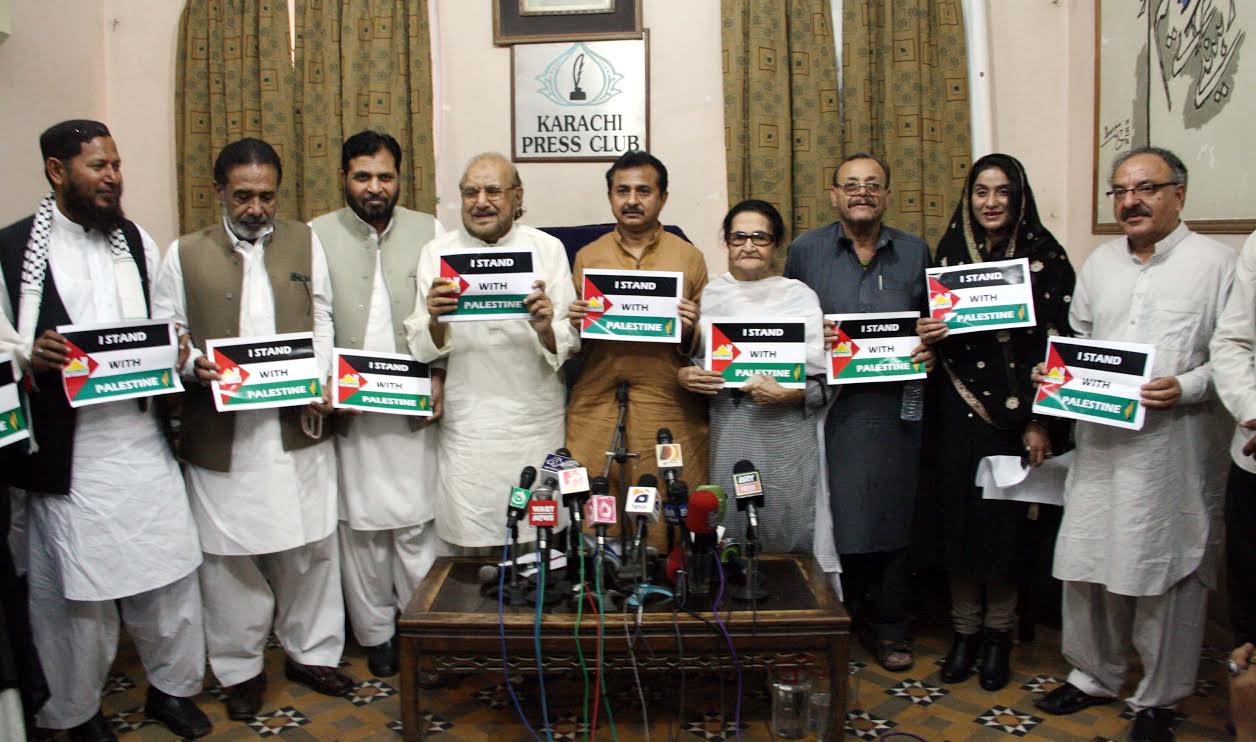 Palestine is the homeland of Palestinians, Palestine has no choice but Resistance, and people of Pakistan are with Palestinians. Said by Politicians in Joint press confernce.
The US is involved in all conspiracies be it mass murder of Palestinians or Zionist occupation of Qibla e Awal, the US is the guardian of Israel. APPC
Mutual Press Conference of Haleem Adil Shaikh, Muzaffar Hashmi, Molana Baqir Zaidi ,Aqeel Anjum, Muhammad Aslam Ghauri, Fareed Ansari, Matloob Awan Qadri, Younus Boneri, Mehfooz Yar Khan, Dr. Alia Imam, Zahida Bhand, Asad Iqbal Butt and Sabir Abu Maryam
Karachi: "We declare to completely support the Third Intifada by Palestinians. Zionist Israeli occupation of Aqsa mosque will not be tolerated. Palestine is of Palestinians, the only way for Palestine's independence is Palestinians' opposition against Israel, and people of Pakistan are with Palestinians". These thoughts were expressed in a joint press conference by central leaders of Palestine Foundation Pakistan including central leader of PML-Q Haleem Adil Shaikh, former member of National Assembly Muzaffar Hashmi,vice President of PPP Karachi Fareed Ansari,central leader of MWM Pakistan Molana Baqar Zaidi, General Secretary of Jamiat e Ulema e Pakistan Sindh Allama Aqeel Anjum Qadri, central deputy General Secretary of Jamiat e Ulema e Islam-F Muhammad Aslam Ghauri, head of Sunni All Pakistan Sunni Tehreek Matloob Awan Qadri, Spokesperson of Minister for religious affairs Azhar Hamdani, General Secretary of Awami National Party Sindh Younus Boneri, MQM's leader Mehfooz Yar Khan Advocate, Qaiser Iqbal Qadri of Pakistan Awami Tahreek, former advisor Government of Pakistan Dr. Alia Imam, President of Pakistan Muslim League-N Sindh's women wing Zahida Bhand, Human Rights Commission of Pakistan's vice Chairman Asad Iqbal Butt and central Secretary General of Palestine Foundation Pakistan Sabir Abu Maryam.
They said "On one hand, occupying Israeli military and Zionist forces have high jacked Bait ul Muqaddas since past two weeks and have stopped Palestinians from entering the mosque whereas on the other hand, they have been cruelly attacking innocent Palestinians as a result of which more than 30 Palestinians have been martyred and more than two thousand injured. The cruelty of Israeli military has reached to the extent that they also brutally murdered a women volunteer of Human Rights Watch. Mass murder of innocent Palestinians and occupation of the first Qibla everything is happening under the guardianship of the US.
Leaders of Pakistan's political and religious parties praised Government of Pakistan's condemnation of Israel's terrorist activities and said that the whole Muslim Ummah should play its role in the biggest issue of Islamic world. They also asked the Government of Pakistan to practically come forward and support Palestinians' third Intifada Campaign. Leaders, while condemning the callousness of Arab rulers, demanded that Arab and Muslim leaders should keep away their personal interests and discontinue all kinds of diplomatic and trade links with Israel in solidarity with Palestinians and for the liberation of the first Qibla.
Political and religious leaders of Pakistan said "Aqsa mosque is not only Muslims' first Qibla rather the heart of Islamic world and Israel is like a dagger however, neither any Israeli conspiracy nor any of their cruel act will be tolerated". They urged the UN and the international community to play their positive role otherwise serious consequences will have to be faced. Speakers also declared it as the basic right of Palestinians to stand against Israel and said that the people of Pakistan are with Palestinians and strongly support their every campaign, especially the third Intifada.