Palestine Foundation demands an end to Israeli attack on Gaza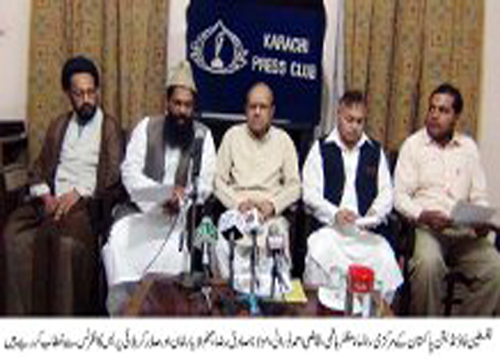 Palestine Foundation of Pakistan (PLF) has condemned ongoing Israeli attacks on Gaza, Palestine and demanded an immediate halt to the Zionist aggression.
PLF leaders Muzaffar Hashmi, Allama Qazi Ahmed Noorani, Allama Sadiq Raza Taqvi, Sabir Karbalai and Mehfooz Yar Khan, have said in a joint statement that Israeli attacks on the defenceless people of Gaza continued unabated.
They lamented that international community took no notice of the attacks that encouraged the Zionist air-force to continue unjustifiable aggression against the oppressed Palestinians in Gaza.
They demanded of the OIC and all Muslim rulers to get united against the illegitimate Zionist state of Israel and its brutalities. They demanded that all Palestinian refugees should be granted right to return their homeland Palestine. They expressed concern on the siege of Yarmouk Camp by the insurgents and foreign terrorists and demanded that Yarmouk Camp should not be held hostage by the terrorists and the relief workers should not be prevented from their relief work for the besieged Palestinians of Yarmouk Camp.