Palestine Foundation holds its first programme to express solidarity with Palestinians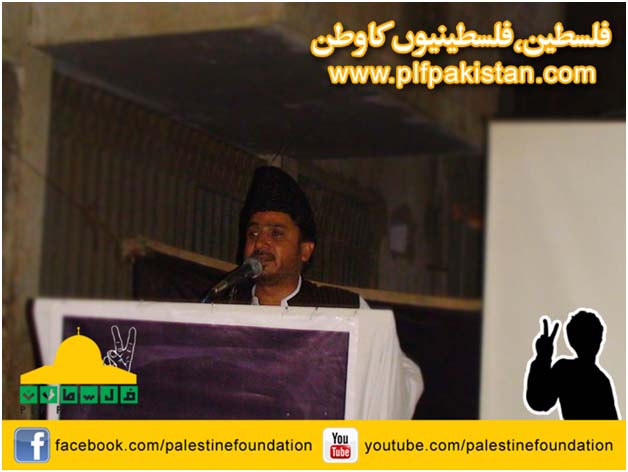 Palestine Foundation (PLF) of Pakistan has held its first programme on Tuesday to express solidarity with oppressed people of Palestine. 
The PLF had earlier announced a series of programmes including seminars, photo exhibitions, film, demonstrations to mark solidarity with Palestinians who have been experiencing worst sort of tyrannies and brutalities by Israeli regime and racist Jews for last 64 years. 
A seminar on "Palestine, a country of Palestinians" and a photo exhibition were held in Gulbahar under the aegis of the PLF. Allama Aftab Haider Jafri, patron of the PLF and a leader of Jafaria Alliance and many other scholars spoke on the occasion. They vowed to continue moral support for the just cause of Palestine. They said that founders of Pakistan had opposed Jewish homeland on Palestine. The photo exhibition included a photo in which an innocent child was lying under the debris of his house that was razed by Israeli army bulldozer. In another photograph, an elderly woman was seen at her home resisting Zionist occupation army with stones in her hand. 
A photo portrayed two innocent children mourning on the bodies of parents and brothers and sisters. They were hit by Israeli missiles. A photo showed a youth kissing Holy Quran before taking permission for joining the struggle for liberation of Palestine and al Quds. A mother was seen falling victim to Israeli forces firing while trying to save her child in a photo. In another photo school children were shown sitting disappointed after Israeli army snatched their school bags. A photo showed a peasant was martyred while he was working in his field. More photo exhibitions and conferences will be held till the last Friday of Ramzan. First Friday of Ramzan will be held as Palestinian Martyrs Day.
{gallery}plf_karachi{/gallery}