Palestine Foundation leaders meet Palestinian Islamic Jihad leader at international conference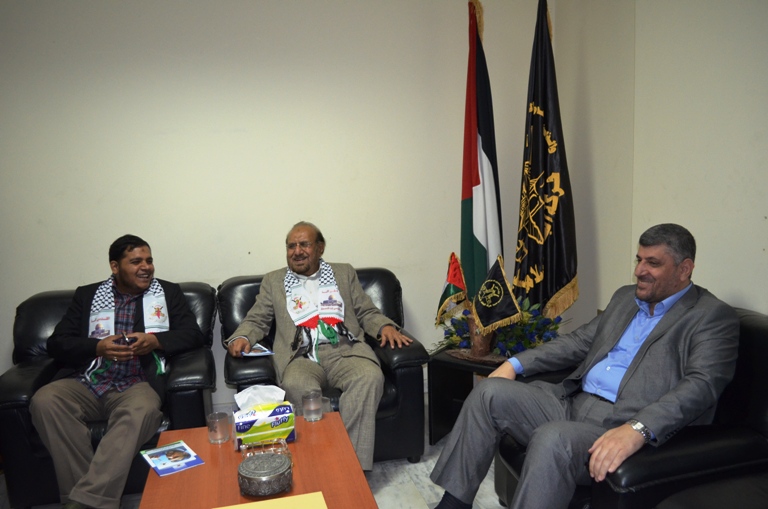 The leaders of Palestine Foundation Pakistan met Palestinian Islamic Jihad leader at an international conference on Palestine held in Beirut, according to the PLF spokesman.
Muzaffar Hashmi, former MNA and a leader of the Jamaat-e-Islami and PLF Pakistan and Sabir Karbalai, spokesman for the PLF exchanged views with Abu Imad al Rafay. Haitham Abu Gazlan of the Islamic jihad was also present at the meeting.      
Pakistani officials of the PLF apprised Abu Rafay that Pakistani nation always stood with the Palestinians and they always expressed solidarity with the Palestinians. They said that Pakistanis support Hamas, Hezbollah and Islamic Jihad because of their legitimate national resistance to Zionist Israeli occupation of Palestine and Lebanon .
They said that Pakistan's founding fathers were staunch supporters of the Palestine Cause and they had turned down the proposal of Jewish homeland in Arab Palestine. They vowed that Pakistanis would continue their support to the oppressed Palestinians.
They invited Imad Abu Rafay to visit Pakistan. Mr. Rafay accepted the invitation and assured he would visit Pakistan during the holy month of Ramazan.  He said that God willing, Palestine will be liberated from the yoke of Zionist Israel and illegal occupation of Palestine by Israel would be brought to an end soon. He expressed hope that all Muslims of the world including Pakistan will visit al Aqsa mosque and Dome of Rock to offer prayers and for pilgrimage.