Palestine Foundation Pakistan kicks off 46th Palestinian Land day campaign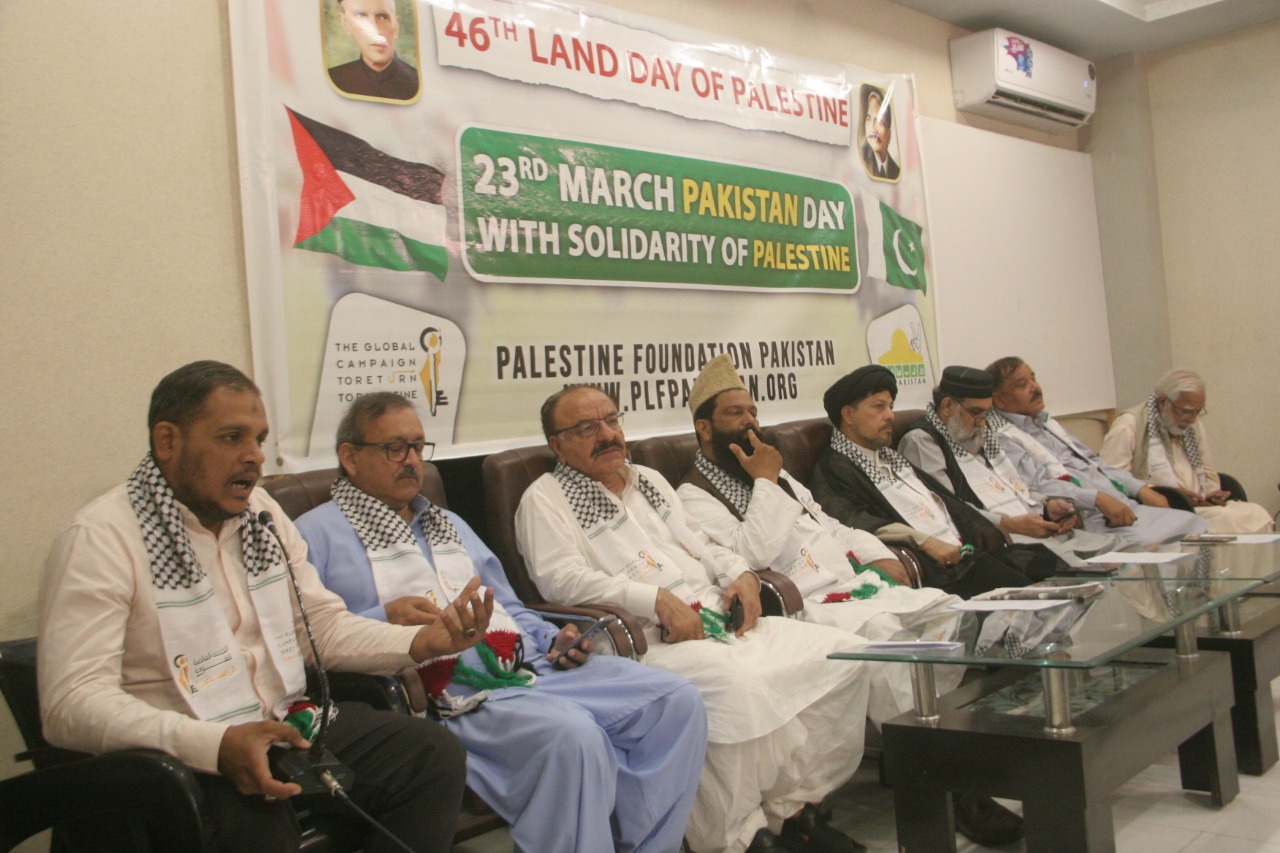 Karachi (Palestine News and Information Center): on the occasion of Pakistan Resolution Day, Palestine Foundation Pakistan (PLF) commemorates Pakistan Day and Solidarity with Palestine.
PLF guardian council, in a joint press conference on Tuesday at Karachi press club vows the support to Palestine cause and said that Pakistan day is a renewed commitment of Jinnah with Palestine by declaring Israel an illegitimate state, Muhammad Ali Jinnah, Father of the nation made it clear to the world that Israel is an illegitimate Zionist state.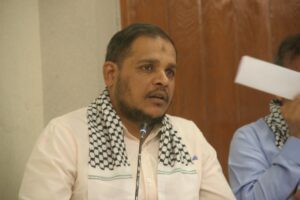 During the joint press conference leaders of PLF stated that 46th Palestinian Land Day will be observed across the country on March 30 to express the solidarity with oppressed people of Palestine. Different programs will be held in Karachi, Lahore and Islamabad, they added.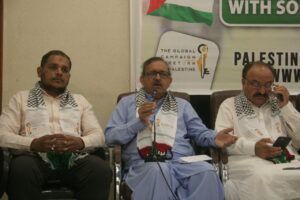 Those addressed the joint press conference including vice president of Jamat-e-Islami Karachi Muslim Parvez, former members of Sindh Assembly Mahfooz Yar Khan, Major (retd) Qamar Abbas, President of Majlis-e-Wahdat Muslimeen Sindh Allama Baqir Zaidi, President of Jamiat Ulema-e-Pakistan Sindh Allama Qazi Ahmad Noorani, Pakistan Peoples Party leader Arshad Naqvi, Pakistan Tehreek-e-Insaf leader Israr Abbasi,  Younis Buneri General Secretary of Awami National Party Sindh, Pirzada Azhar Ali Hamdani Leader of PML-N, Sadiq Sheikh of PML-Q, Bashir Saduzai Leader of Kashmir, Karamat Ali, Chairman of Piler, PTI women leader Erum But and Dr. Sabir Abu Maryam, Secretary General of Palestine Foundation Pakistan.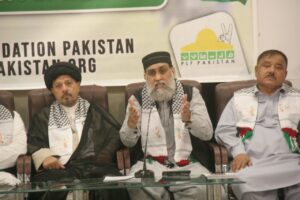 Addressing a joint press conference, the leaders said that the founders of Pakistan and especially Muhammad Ali Jinnah had strongly condemned the Zionist occupation of Palestine immediately after the Balfour Declaration in 1917 and from time to time informed the British government of their grievances. A great philosopher of east Dr. Allama Iqbal attended a conference in Palestine during his visit to Palestine and later joined the struggle against the Zionist occupation of Palestine with historical poems in support of Palestine in the subcontinent.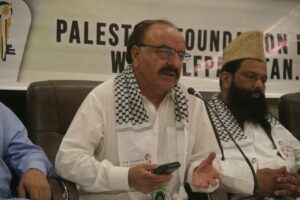 The speakers said that the All India Muslim League under the leadership of Quaid-e-Azam Muhammad Ali Jinnah presented 18 resolutions in support of Palestine from 1933 to 1946. The founders of Pakistan and Jinnah were active in supporting the Palestinians throughout the subcontinent. As the custodian of the nation, the pain of the entire Ummah was in the heart of Jinnah. Earlier, Quaid-e-Azam Muhammad Ali Jinnah vehemently opposed the British White Paper of 1939, which spoke of the limited migration of Jews to Palestine.
On the historical occasion at Lahore on 23 march 1940, Palestine Fund was established by adopting the resolution of Solidarity Palestine along with the key resolution of Pakistan.
They said that in the present time, some Arab and non-Arab states have betrayed the oppressed people of Palestine and the Muslim Ummah by establishing relations with Israel. they said that today some Arab and non-Arab governments are putting pressure on Pakistan for relations with Israel, wanting to send a clear message to all these governments that Pakistan is a free and independent state and determined by Quaid-e-Azam Muhammad Ali Jinnah. According to the principles laid down, Pakistan considers Israel as an illegitimate and usurper state. They said that some black sheep were dreaming of filling their coffers by taking Pakistan towards friendly relations with Israel but the people of Pakistan would never allow this dream to come true.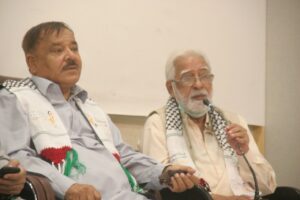 PLF leaders demanded OIC foreign ministers conference, held in Islamabad that Palestine and Kashmir should be kept at the forefront and action should be taken against the Arab and non-Arab Muslim states that have established relations with Israel and this process should be stopped.