Palestine Foundation Pakistan stage protest in solidarity with grieved Palestinian families effected in Israeli attack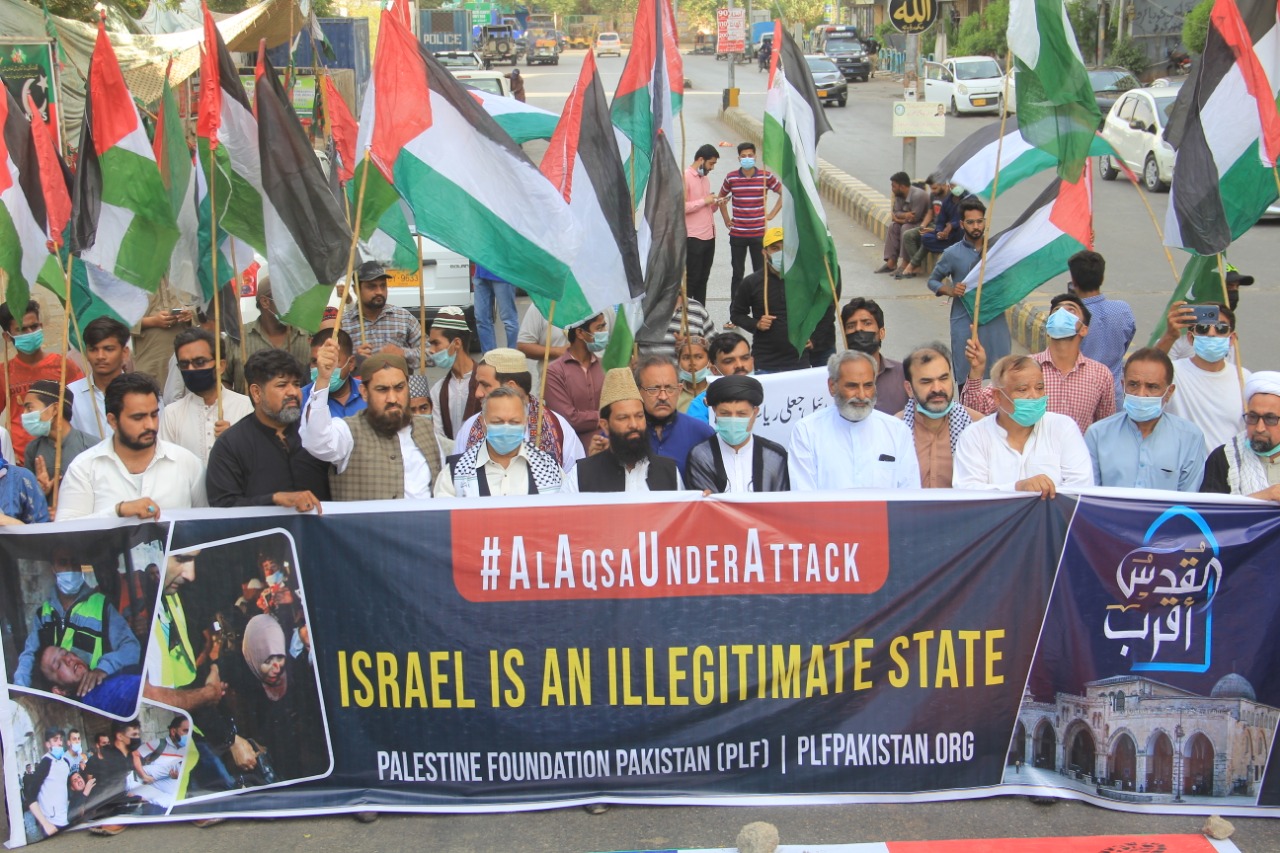 KARACHI (PNIC): Palestine Foundation Pakistan along with different political and religious organizations stage a protest outside Karachi Press Club to express solidarity with effected families of Palestinians killed and wounded by occupant Israeli forces in Masjid e Aqsa.
Protest was attended and addressed  by Dr. Sabir Abu Mariyam (Secretary  General  of Palestine Foundation), Mahfooz Yar Khan (Former Member Sindh Assembly), Muslim Parvez (Jamat e Islami), Qazi Ahmed Noorani(JUP),  Allama Baqir Abbas Zaidi ( MWM), Israr Abbassi (PTI), Major(r) Qamar Abbas (Former Member Sindh Assembly), Pirzada Azher Hamdani (PML N), Rao Kamran (PAT), Erum Butt, Talat Noureen(PTI Women Wing), Bashir Saduzai (Social Activist for liberation of Indian occupied Kashmir and others. Participants had play cards and banners cited slogan against US, Isreal and India and in solidarity with people of Palestine and Kashmir. They also condemned ongoing violence on innocent Kashmiris and Palestinian people by India and Palestine. Flags of USA, Israel and India were also burnt during the protest.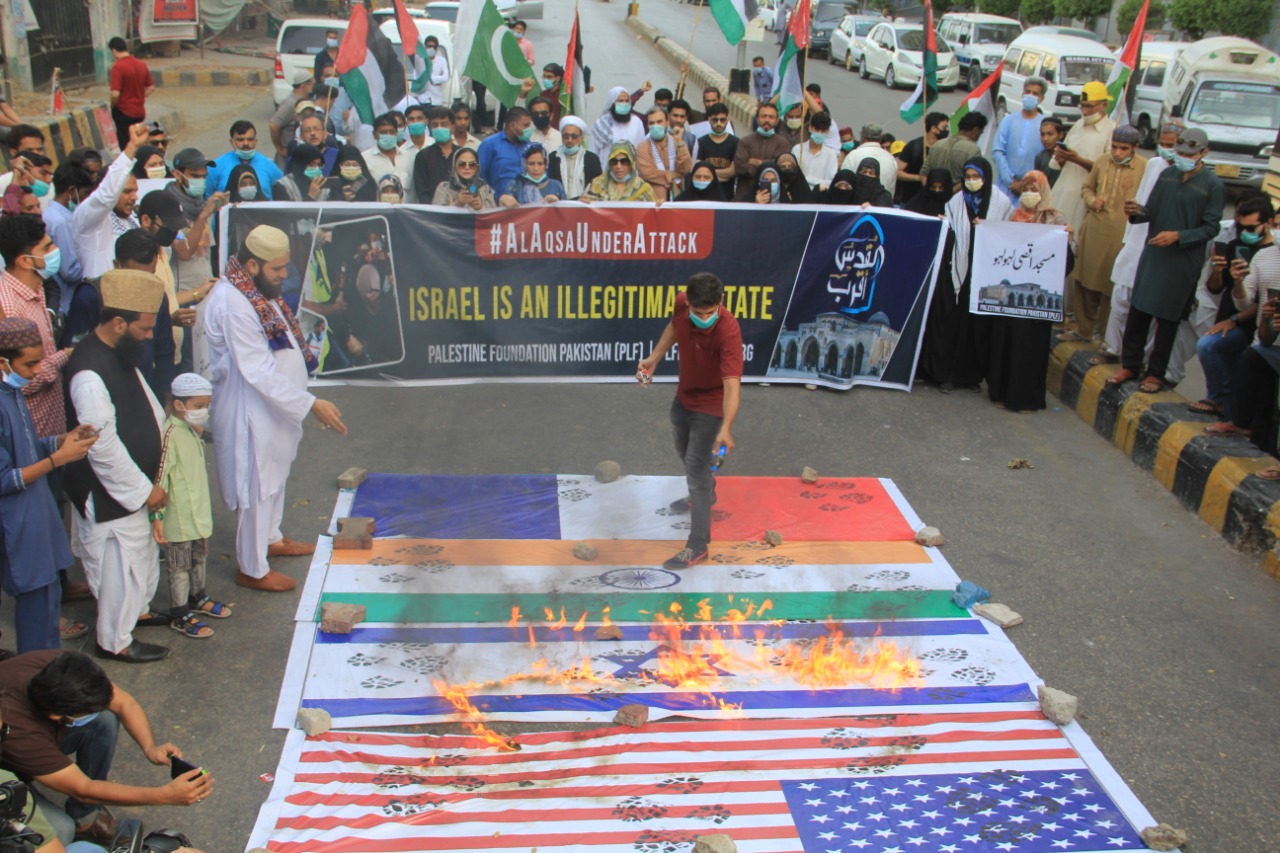 Addressing the participants, the speakers of the protest said that after Palestine and Kashmir, the Zionists have also warmed up the game of terrorism in Afghanistan. They further said that Israel wanted to destabilize Pakistan by spreading instability in Kashmir and Afghanistan. They  strongly condemned the terrorist attack on an educational institution in Afghanistan two days ago. The speakers added that the responsibility for terrorist attacks in Afghanistan lies upon United States and its illegitimate child Israel who is fueling ISIS in this region to weaken Muslim Ummah. They reiterated that the people of Pakistan would not hesitate to make any sacrifice for the defense of their first Qibla which is Al Quds. The speakers expressed outrage at the Arab countries' relations with Israel and urged on Israel-friendly Arab countries to respond to the blasphemy of Jerusalem and the massacre of Palestinians. The leaders questioned the performance of the international community and international human rights organizations, saying that the international community and institutions have become insensitive, Israel is the greatest enemy of human rights but the Western world is patronizing Israel.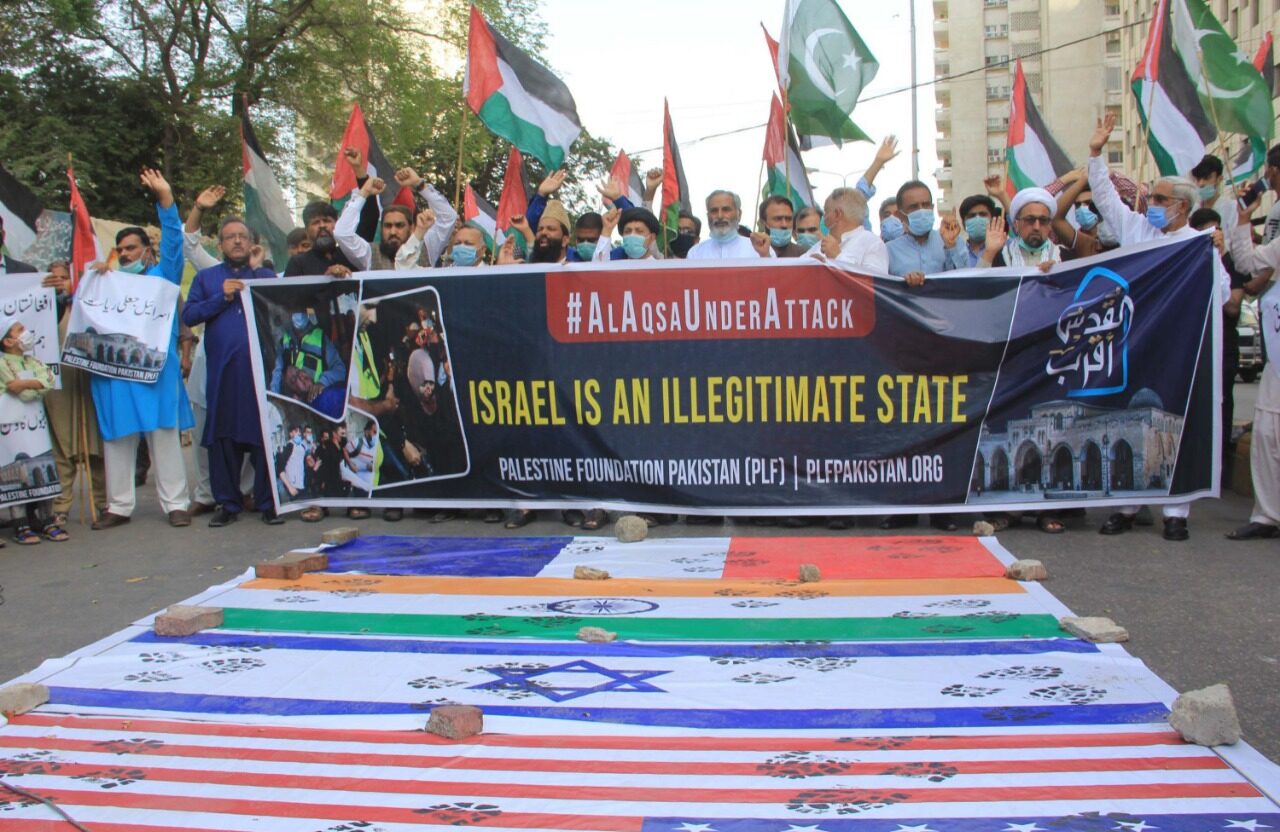 They asked that if the Western world was a champion of human rights, then it would have to abandon double standards. On the occasion, the protesters chanted slogans of solidarity with the Muslims of Afghanistan and vowed that the war against India and Israel and USA will continue till the independence of Indian occupied Kashmir and Palestine.