Palestine Foundation Pakistan's efforts to bring forth socio-politico issues regarding Palestine remain exemplary, Siraj Ahmed, Maqsood Yousufi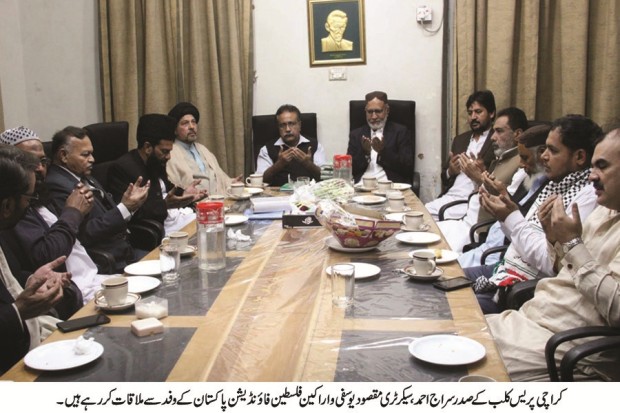 KARACHI – (PNIC) – Palestine Foundation Pakistan (PLF-P) delegation led by their central leadership and Muttahida Qaumi Movement Pakistan member Sindh Assembly Dr Mahfooz Yar Khan Advocate met the newly elected president Siraj Ahmed, Secretary Masood Yousufi and other members of the governing body.
PLF-P central secretary general Sabir Abu Maryam congratulated the newly elected president, secretary and governing members of Karachi Press Club. He abreast them with the activities of their organization, elaborating on the cause and sufferings in Palestine.
The president and secretary came forth during the occasion to commend and to assure the efforts put in by the journalist block voicing the oppression against the nation of Palestine at the clutches of the Zionist regime. They appreciated the work of PLF-P, marking it as exemplary, keeping the struggle of the oppressed Palestinians alight during dire times.
The delegation included central leadership Jamiat Ulema Pakistan and Mili Yakjehti Council Pakistan leader Allama Qazi Ahmed Noorani Siddqui, Majlis Wahdat Muslimeen Pakistan central leader Maulana Baqir Zaidi, Pakistan Tehreek e Insaaf leader Israr Abbasi, All Pakistan Sunni Tehreek leader Matloob Aawan Qadri, Secretary Shabbir Haider and Palestine Foundation Pakistan central secretary general Abu Maryam, secretary information Ali Ahmer.
Member Sindh Assembly Mahfooz Yar Khan advocate, addressed the audience claiming that the crisis in Palestine is not just a cause for the muslim ummah but the whole of humanity for the atrocities rendered.
Maulana Baqir Zaidi enlightened the masses that the root of every ill in this world can be traced back to US, Britain and their illicit child – Israel.
Religious Scholar Allama Qazi Noorani Ahmed said that it is not far that the entire world would witness the destruction of this filthy-corpus of Israel from their land of Prophets with the liberation of Palestine.
Matloob Awan Qadri added that the people of Pakistan stand by Palestine to never leave them stranded.
Israr Abbasi suggested that should the whole of muslim ummah unite, Israel doesn't stand a chance resulting in the freedom of Palestine.
The meeting included other members of the governing body, namely; Naimat ullah Khan, Arif Hashmi, Shams Karyu, Minhaj ul Rub, Saeed Sarbazi, Javed Chaudhry, Liaquat Ali etc.