Palestine Foundation stages demonstration to protest desecration of al-Quds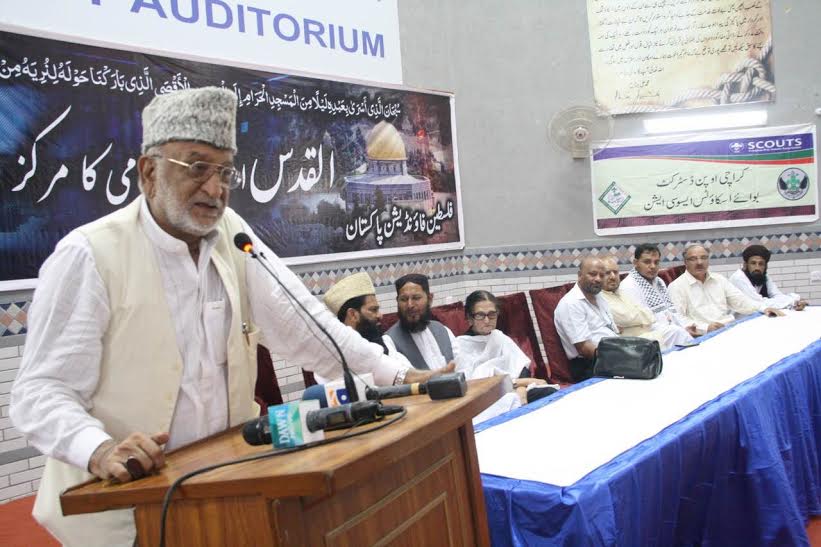 Thousands of protestors vented their anger against the Zionist regime of Israel and Zionist fanatics at a demonstration which Palestine Foundation organised on Fridayin Karachi to condemn the desecration of al-Quds and al-Aqsa mosque.
Demonstration was staged outside New Memon Masjid on M.A. Jinnah Road where PLF supporters were carrying banners and placards. They were also raising slogans against the illegitimate state of Israel, her chief patron United States and other allies of the Zionist regime.
Amid the slogans of Down with U.S.A. and Death to Israel, PLF officials Allama Qazi Ahmed Noorani,  Sabir Karbalai, Mohammad Hussain Mehanti, Muzaffar Hashmi,  Azhar Hamdani, Nasir Rizwan Advocate, Allama Shaukat Mughal Qadri spoke to the protestors.
"Storming into the Holy al-Quds and al-Aqsa by Zionist fanatics and regime' forces is nothing but a war crime and Muslim regimes must take the Zionists to task for flagrant violation of Islamic sanctities in occupied Jerusalem," urged Allama Qazi Noorani.
Sabir Karbalai, Secretary General for the PLF, said that Muslims knew the fact that under the international law, Zionist regime of Israel is an occupying power but Muslims across the world ask the United Nations to adopt punitive measures against Israel and get back the control of occupied Jerusalem from the illegitimate regime of Israel. He said Israel has no right of entry into the Holy Land of Muslims.
"Closure of al-Quds and al-Aqsa mosque for Muslims by the Zionist regime is tantamount to playing with fire because entire Muslim world expressed their anger, dismay and protest against the sacrilege of the holy sites of Islam in occupied Jerusalem," Mohammad Hussain Mehanti said.
Muzaffar Hashmi, Mehfooz Yar Khan, Mr. Hamdani and Shaukat Mughal Qadri, in their speeches, said that closure of the religious sites to the followers of that religion was declared war crime under international law and relevant protocols in late 19thand early 20th century also and Geneva Convention and Protocols of 1949 also endorsed that. They vowed that world humanity unanimously supports the oppressed Palestinians of the occupied holy land and world people would not allow Zionists to continue its aggression on defenseless Palestinians in any form.
The protestors burnt the flags of the Zionist regime of Israel and United States and raised slogans vowing that fight for the liberation of al-Quds would continue.