Palestine Solidarity Conference demands legal action against campaign to recognize Israel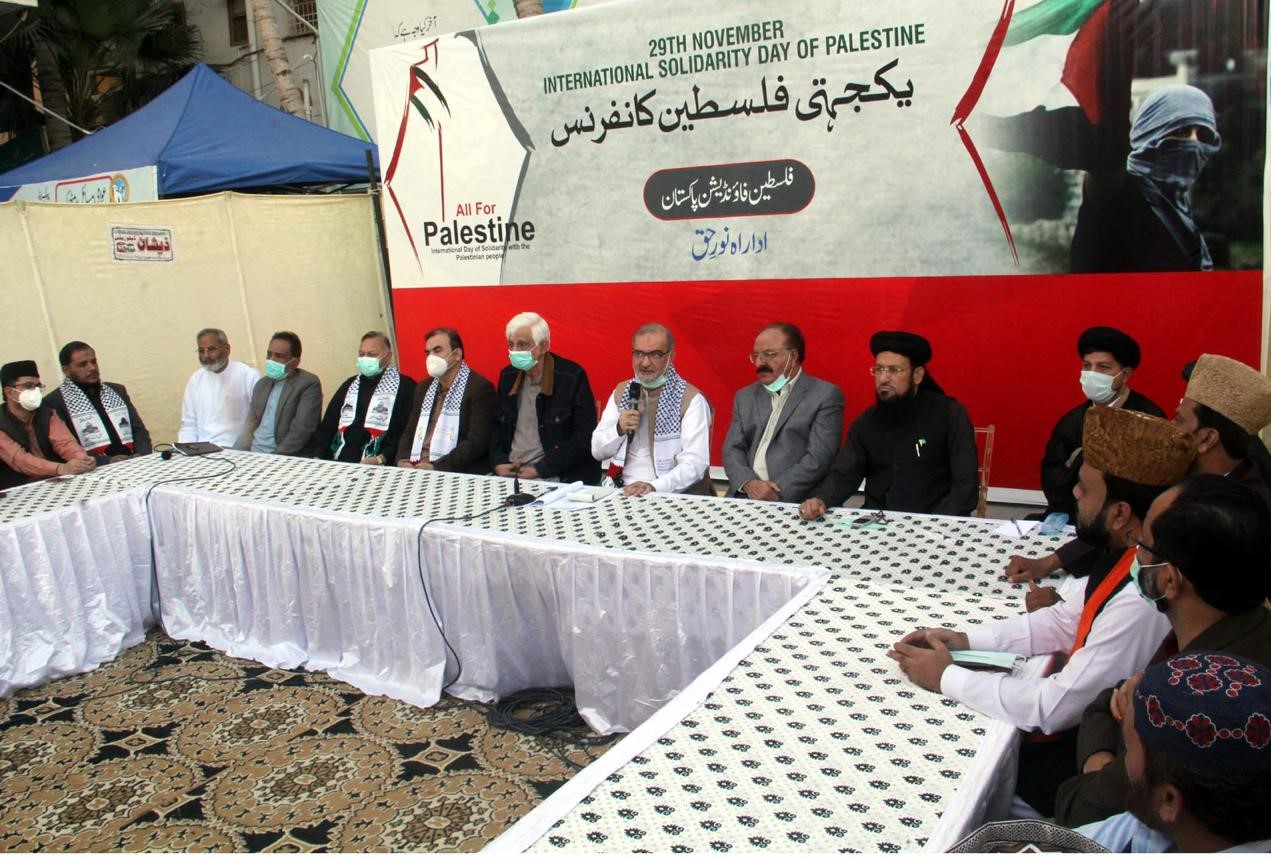 Karachi: ( PNIC) Palestine Solidarity Conference has demanded federal government to take legal action against those campaigning to recognize Israel.
The pro-Palestine All-Party Conference (APC) held in Karachi to express solidarity with Palestinians.
Renowned politicians and activists called for declaring pro-Israel campaigners as traitors.
Jamaat-e-Islami and Palestine Foundation jointly organized the event where Jamaat-e-Islami leader Naeemur Rehman presided.
Veteran leader of Pakistan People's Party Taj Haider, renowned columnist Shah Nawaz Farooqui, PLF secretary general Dr. Sabir Abu Maryam, JUP leader Qazi Ahmed Noorani, MWM leader Allama Baqir Zaidi, JUI's Molana Umar Sadiq, senior politician Mehfooz Yar Khan, MQM's Maj (retd) Qamar Abbas Rizvi, PTI's Israr Abbasi, PMLN's Azhar Hamdani, ANP's Younus Buneri, Sunni Tehreek's Matloob Awan, Shia Council's Sajjad Shabbir Rizvi and members of other parties and civil society, including Kh Syed Maaz Nizami also spoke.
They made it clear that Pakistan would never recognize Israel no matter if the entire world normalizes with Israel.
They elaborated history of Palestine issue and morally, legally and logically upright Palestine policy of founding fathers of Pakistan.
Moreover, they said that global imperialist powers created this issue and now oppressed Palestinians long for justice and support.
They called for joint struggle to counter imperialistic conspiracy against Palestine and Muslim Ummah.
Speakers of the event also slammed United Nations for its wrong decision to admit Israel as member and recognizing it.
However, they also urged the pro-Israel Muslim regimes to redeem their pro-Israel policy and change it to make it compatible with interest of oppressed humanity.
They vowed to continue their all out support for the legitimate cause of Palestine.
Speakers also lauded JI and Palestine Foundation for jointly hosting an All-Party Palestine Solidarity Conference.