Palestine Solidarity Cycle Rally organized by Palestine Foundation Pakistan on International day of Palestine Solidarity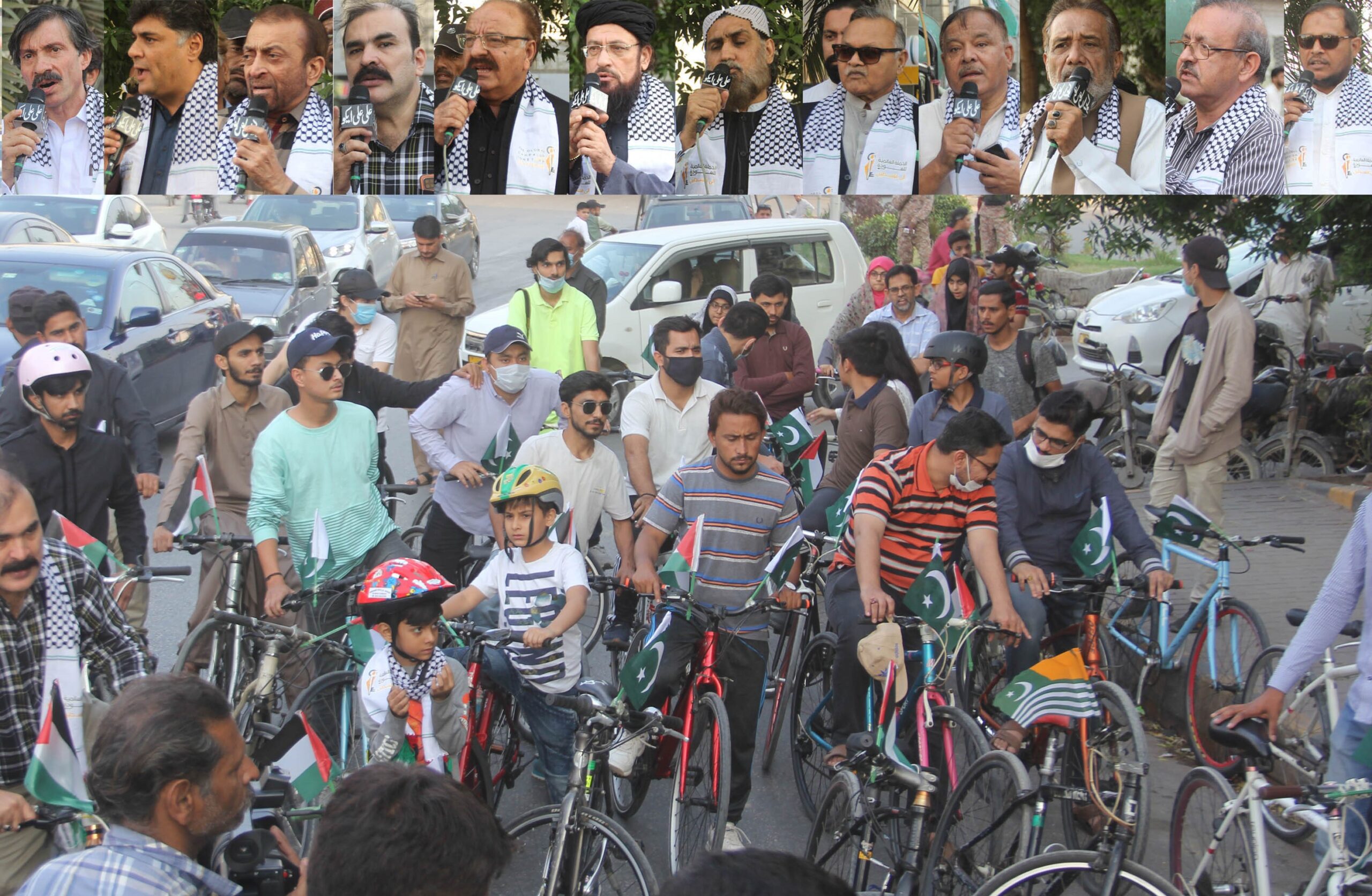 Karachi (PLF NEWS) On the occasion of International day of Palestine Solidarity, Palestine Foundation Pakistan organized a Palestine Solidarity bicycle Rally on Sunday from Nursery Shara Faisal to Karachi Press Club. The bicycle rally was attended by hundreds of youth, leaders of political and religious parties and civil society representatives.
Members of National Assembly Saif-ur-Rehman Mehsud, Member Sindh Assembly Bilal Abdul Ghaffar, Former Member National Assembly Farooq Sattar, Former Member Sindh Assembly Mahfooz Yar Khan, Major (retd) Qamar Abbas, PTI Leader Israr Abbasi, Awami National Party leader Younis Buneri, Jamiat Ulema-e-Islam (JUI-F) leader Maulana Umar Sadiq, Pakistan Muslim League-Nawaz leader Pir Azhar Ali Hamdani, All Pakistan Sunni Tehreek chairman Matloob Awan Qadri, prominent social leader Bashir Saduzai and Secretary General of Palestine Foundation Pakistan Dr. Sabir Abu Maryam, Program Coordinator Qasim Raza and Alvina Shaheen and Salman Khan participated.
Speaking at the Palestine Solidarity Rally, the speakers said that Palestine is the homeland of the Palestinians, Israel is a fake state of the usurping Zionists. They added that the time is not far when the first Qibla of Jerusalem will be liberated and the existence of the Zionist usurper and fake state of Israel will be erased from the map of the world.
The leaders said that support for Palestine is support for humanity and the existence of Israel is a threat to the world's peace.
The speakers strongly condemned the British government's declaration of Hamas as a terrorist group and called on the Pakistani government to recognize Hamas as the representative party of the Palestinians in Pakistan. They said they would not remain a silent spectator to Israel's atrocities. Participants of the Solidarity Palestine Cycle Rally held the flags of Pakistan and Palestine and were announcing their solidarity and support to the Palestinians. Rally participants reach Karachi Press Club and record their protest by chanting slogans in favor of Palestine and against US and Israel.